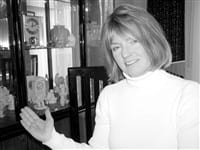 Dr. Kathleen Beith holds the tiny device used in an Essure procedure. She said the minimally invasive procedure is a new option for women seeking permanent birth control.
A new birth control option for women is gaining notoriety in the medical community, for its simplicity as well as its effectiveness.
The Essure procedure, approved by the FDA in the fall of 2003, uses a tiny device to stimulate tissue growth in the fallopian tubes, causing a natural barrier after about three months. The procedure represents the newest development in permanent birth control, and requires no incisions or punctures to complete, thus providing a less-invasive alternative to tubal ligation, the most widely used permanent birth control method among women, or vasectomy for men.
Dr. Kathleen Beith, a gynecologist and obstetrician with the Baystate Ob/Gyn Group, is one of only a few physicians in Western Mass. trained and certified to perform the procedure, and said she has seen positive results among her patients to date.
"I've had about 10 patients or so have this procedure, and they're all thrilled," she said. "It's quick, it usually requires only local anesthesia, there is no incision, and therefore post-operative narcotics are not necessary."
Beith added that because the Essure procedure requires no incisions, rates of infection will most likely prove to be less than with tubal ligation, though comparison studies have yet to be made. Moreover, the procedure only takes an average of 30 minutes to complete, and patients can usually return to normal activity the next day.
"The equipment is very straight-forward and therefore, once trained, it's easy for physicians to use," she said.
Engineering for the Future
Essure is manufactured by Conceptus, a California-based company that designs, develops, and markets medical products geared toward women's health. Essure is currently the only birth control procedure and device of its kind on the market, and Beith said she was made aware of the new product prior to its FDA approval, and therefore followed its integration into the medical field closely.
"Our practice tries to be on the leading edge," she said, "and when this product became available, we eagerly embraced it."
Essure provides an alternative for roughly 100 patients and couples that visit Baystate Ob/Gyn each year in search of permanent birth control options. Essure eliminates the discomfort associated with tubal ligation, and is also ideal for candidates who may not be able to safely undergo abdominal surgery – women who are overweight or have had previous medical procedures or conditions, for instance.
A traditional tubal ligation, Beith explained, requires that the fallopian tubes be cut, cauterized, or clamped using either laparoscopic surgery, during which one to three incisions are made in the abdomen, or open surgery, called a laparotomy or mini-laparotomy, which requires a larger incision. The surgery can leave scarring, and with any procedure requiring general anesthesia, there is the risk of side-effects that are not present when using local anesthesia.
"Anesthesia is safe," Beith noted, "But a lot of people still get sick after having general anesthesia administered."
Informed Decisions
According to Conceptus, the procedure has also proven to be slightly more effective in preventing pregnancy than tubal ligation; the company's data comparing the two procedures after two years of surgery shows a 99.86% effectiveness rate with Essure, compared to a 99.16% effectiveness rate after tubal ligation.
Like any procedure, there are some drawbacks to Essure – Beith said there is always a chance that the device cannot be placed correctly within the fallopian tubes, sometimes due to anatomical abnormalities like fibroids. People with nickel allergies cannot have the procedure, and all patients must also rely on a temporary birth control method until the device has stimulated closure of the fallopian tubes.
Further, any woman who has had any sterilization procedure is more likely to have an ectopic pregnancy, and that includes Essure. But Beith said a permanent birth control procedure resembling Essure has been on the drawing board for decades.
She added that she doesn't expect a newer, more advanced method to top the effectiveness that Essure has shown in its first year on the market and in clinical trials, due in part to its roots in proven science.
"The idea of mechanically blocking pregnancy is not a new one," she said. "In fact, the idea has been around for thousands of years."