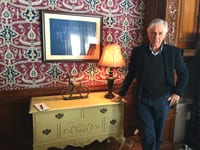 Before Steven came to the Bridge Home, he had, by his own account, hit rock bottom. After years of using cocaine, alcohol, opioids, and heroin, he found himself on the phone to a suicide hotline.
"I hit my low, and I just wanted to die," said the 25-year-old, who prefers to keep his last name private. He was hospitalized in December after calling the hotline, and heard about the Bridge Home from a hospital case worker. By January, he was living at the house at 1090 Worthington St. in Springfield. He's been clean and sober for two months now, and says his stay at the home is helping him on his journey toward sustained recovery.
"I'm comfortable here," Steven said in a recent interview in the spacious living room of the Bridge Home. "It's going really well for me."
The Bridge Home is a certified sober house — one of 13 in Western Mass. and 145 in the state — that serves as a supportive, transitional phase for people, like Steven, who are in recovery from alcohol or drug use. The home, which opened in October, currently has four guests, as they are called; the city of Springfield has licensed it to accept up to eight, and officials at the home say they hope to expand to as many as 16.
The mission of The Bridge Home is to "provide a safe, structured living environment for persons in early recovery from a substance-use disorder so they can maintain their abstinence and gain the skills through education, supportive services, and real-life experience to become healthy, responsible, contributing members of their community."
That's a tall order, but one that is crucial to long-term recovery from substance abuse, said William Cosgriff, a licensed psychologist and the director of education at the home. Cosgriff, who grew up just six houses away from the site of the Bridge Home, has worked in the field for 35 years.
"It's a commitment that I really believe is important," he said.
The way he sees it, substance-use disorder is one of the major health problems in society. And it's a growing problem, especially in view of the dramatic increase in the illegal use of opioids in the state and across the country.
According to the Mass. Department of Public Health, there were 1,979 unintentional opioid-related deaths in the state in 2016, an increase of 24% from 2015. In addition, in 2015, according to statistics provided by the Bureau of Substance Abuse Services, 127,438 people in the state received addiction-related services, including for drunk drivers, access to recovery for all addictions, case management, clinical stabilization services, methadone treatment, transitional housing, and 47 other services.
Cosgriff says addiction is a vicious cycle that can be broken with proper long-term support and education, like that provided at the Bridge Home.
Support, Not Therapy
The Bridge Home is aptly named: it aims to bridge the gap between completion of the first three phases of recovery — including detox treatment, short-term stabilization, and residential and/or outpatient treatment — and a person's successful re-emergence as a healthy, sober member of the community.
It does that by providing support services and education, not therapy, to guests who are committed to abstinence and long-term recovery.
"There are programs for people on the fence; that's not us." said Cosgriff. "We're a program for people who have made the decision: 'I really want to stay sober. I really want to be abstinent. I'm willing to do whatever it takes. I've had it. I'm done with that life.'"
A stay at the Bridge Home can last from six months to two years, and costs residents $850 a month (or about $27 a day). Health insurance, which generally covers the cost ($500 to $2,000 a day) during each of the three initial phases of recovery, doesn't cover a stay at a sober home, because it does not offer therapeutic services.
Because sober homes don't provide treatment services, they aren't licensed or regulated by any government agency, but they may be certified by the Mass. Alliance for Sober Housing (MASH), an independent, nonprofit organization whose mission is "to ensure and promote critical management, operational, and ethical standards of sober homes," according to the MASH website (mashsoberhousing.org).
Certification is voluntary, but regulations, which went into effect Sept. 1, 2016, require state-funded treatment facilities to refer patients only to certified sober homes. The Bridge Home received certification when it opened in October 2016.
"The sober houses run the range from a high-quality house, quality staffing, good services, to places that are almost exploitive, almost flophouses," Cosgriff said.
Steven says he's seen the difference: "I've been in sober houses where half the people in the house are getting high."
Cosgriff develops an individual recovery support plan for each guest that focuses on the causes, effects, and management of recovery. That plan is supported by weekly in-house meetings. In addition, guests must attend meetings at a 12-step program in the community, and secure a sponsor. Guests must be working, looking for a job, or going to school. Also, seminars are offered by Cosgriff and outside professionals, as are peer support and coaching.
"Eventually they're going to leave, and we want them to have a support network in the community," he explained.
Down to a Science
Substance-use disorder is a multi-faceted disease, and, as such, it requires a multi-pronged approach, says Cosgriff, 70, who is himself in long-term recovery; he's been clean and sober for 41 years.
"It's a biological, psychological, social, spiritual disorder," he said. Each service offered to guests at the Bridge Home is designed to address those causative factors, with a goal of long-term recovery. And while no one factor makes a person an addict or an alcoholic, there can be a cumulative effect.
"The more risk factors you have, the higher the risk you have of developing a substance-use disorder," Cosgriff said.
For example, there's a strong genetic predisposition. The drugs interact with the limbic system, which controls, among other things, emotion, behavior, and motivation. "It's loaded with receptors for opiates and alcohol to interact with. The opiates hijack that part of the brain. The brain knows — although it's a false knowing — 'if I don't have this drug, I'm going to die.' They really believe that."
To promote recovery, the home requires abstinence, and does drug screening on a regular basis. "If someone tests positive, we work with them to get back into treatment if they want," he said. "Once they're stable, if they want to come back, we'll talk with them about what's going to be different this time."
Since the opening in October, one of the initial five guests relapsed, returned to residential treatment, and is now back at the Bridge Home and "doing well," Cosgriff said. Another of the original guests relapsed, left, and has not been in touch since.
"If they're not willing to go back to treatment, we wish them well, but goodbye."
Pre-existing psychological conditions can also contribute to abuse of alcohol or drugs, he noted.
"Depression, low self-esteem, anxiety, trauma, loss could push somebody to use in the first place. Or maybe, if they started to use, these emotional factors start showing up. It's a chicken-egg thing," he explained. "We'll find out what's going on; are there losses they need to deal with? We'll work with them around that. We hook them up with therapists in the community. They get treatment outside; they get support here."
That support includes access to professionals in the community, some in recovery themselves, including attorneys, clergy, and business owners. In addition, the house makes referrals, as needed, to mental-health and substance-abuse clinics.
The culture in which someone was raised can also have a significant influence. "The media bombards us with 'this Bud's for you' … there's the idea in our culture that there's an instant fix for everything." To counter those influences, the staff (Cosgriff and two house managers, each also in recovery) and other guests at the house support one another. "We're a culture of recovery, a culture of support."
Like Steven, the other guests are male (the Bridge Home is considering opening a sober home for women in the future), all of whom share the common living spaces and daily chores at the house.
"There are a lot of good guys," said Steven, the youngest in the group ranging in age from 25 to 54 years old. He says he likes the diversity. "We get along really good. I'm not saying it's bad to have a whole bunch of mid-20s kids together, but I find it easier living with some older guys."
Finally, reconnecting with some kind of spiritual value is crucial, Cosgriff says. "It could be God, it could be a higher power, it could be nature, it could be the collective unconscious, it could be the human spirit… people who get caught up in substance abuse get disconnected from the self. They lose the real them. They get disconnected from others, and they get disconnected from any kind of spiritual activity. So they need to reconnect in recovery to find out who that true self is."
At Home with the Idea
The Bridge Home is just the fourth owner of the house, a 15-room Tudor mansion built in 1899 by E.M. Coates, who, perhaps ironically, owned a liquor distillery in Springfield. The house cost $389,000 in 2016, and, so far, about $750,000 has been invested in the property and setting up programs.
The house, which is listed on the National Register of Historic Sites, has a grand foyer with vibrant cherry walls and molding; 10 bedrooms with beds, bureaus, and desks; several comfortable sitting areas with plush seating; a large kitchen which is shared by the residents, who do their own shopping and cooking; a spacious formal dining room, which is used for meals and weekly house meetings; a living room with a big-screen TV; and wi-fi available throughout the house. Guests are allowed to have personal laptops and tablets, but not TVs.
"So much of an addiction disorder is about isolation and alienation," said Cosgriff. "Reconnecting is what's needed; part of living together is deciding what game to watch on TV."
Steven says those discussions go smoothly. "Last night, we hung out and watched a movie, Bad Grandpa," he said. "We were all together, laughing. Laughing is a big thing for me. Laughing helps me out a lot."
There's a workout room in the basement, and, eventually, there will be a YMCA membership, available for use by all guests. There's also a smaller flat-screen TV in the basement.
"That one's for the Yankees fans," Cosgriff quipped. "The big screen is for the Red Sox fans."
Funding comes from a private, nonprofit foundation, Bridge Home Inc., in Massachusetts, which, in turn, receives its money from the White Family Foundation, a 501(c)(3) in New York. The foundation was created by Christopher White, Cosgriff's brother-in-law, a retired New York City attorney and the director of the Bridge Home, who has served as a trustee at various substance-use-disorder treatment facilities.
"Chris realized this [sober home] is a critically overlooked phase, so he set up a charitable foundation in New York and branched out to Bridge Home Inc. here in Massachusetts," Cosgriff said. "They bought the house, they furnished the house, and they're paying a big chunk of the operating expenses," which run in the neighborhood of $180,000 a year. "Even when we fill the house up, it'll barely break even."
There has been some community opposition, he says, as well as support.
The response has ranged from, "that's a great idea; will you take my husband?" to "You don't belong here; we don't want you here."
As part of the home's MASH certification, officials must reach out to the community through a 'good neighbor' initiative. To that end, there was a grand opening, to which the community was invited. Some 80 people showed up, took a tour, and asked questions; a few picketed out front.
"We try to be good neighbors," Cosgriff said. He and guests regularly walk the neighborhood, picking up trash. "Every time we do, we fill up a Big Y shopping bag with litter."