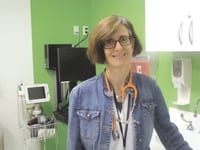 Knowledge is power. It can also be frightening.
Genetic counseling and testing for cancer is a perfect example.
Those are two distinct but related services offered by many of today's hospitals and cancer centers, and while they no doubt help save lives — by identifying cancer risks in individuals well before the disease emerges, allowing them to get a jump on screening and prevention strategies — they also bring plenty of anxiety.
"This is really stressful. It takes a lot of courage from the patient to even seek out this sort of appointment," said Dr. Mary-Alice Abbott, chief of Medical Genetics for Baystate Health, which counsels people on cancer risks through its Family Cancer Risk Program and recommends genetic screening when warranted.
The program, a collaborative effort between Baystate Genetics, the Baystate Regional Cancer Program at the D'Amour Center for Cancer Care, and the Baystate Breast & Wellness Center, features a team of medical oncologists and genetic counselors, a nurse practitioner, and a navigator whose role is to help those referred to the program make their way through each step of the process.
When a patient is referred for testing, the navigator first contacts the patient, and together they craft a three-generation family cancer history. Once the information has been collected, the team meets to review the information and craft a plan for the next steps, including, for those who meet the criteria, genetic testing at a laboratory to identify any genes showing mutations that commonly lead to cancer. If that testing reveals a mutation, patients immediately see a medical oncologist to develop strategies for cancer risk reduction and surveillance.
"Before patients undergo genetic testing," Abbott said, "we make sure they understand what kind of testing they're having and what the value of the test may be. There's also a psychological reaction to the test result, so we have a lot of counseling done before and after testing, so the results can be put into a context that's helpful for the patient."
The Mass General Cancer Center at Cooley Dickinson Hospital offers the genetic counseling and testing resources of its parent organization, helping to identify families that may have a hereditary cancer syndrome and, when necessary, providing genetic testing, screening, and support.
According to Linda Rodgers-Fouché, licensed genetic counselor at the Mass General Center for Cancer Risk Assessment, many of those family histories produce red flags, some of which jump out more than others, like cancer in the family at young ages (say, under 50); multi-generational cancer, such as both a parent and child having the same cancer; or more than one cancer in a lifetime.
"When we meet with the family, the first thing we do is gather as much information as we can about personal and family history; then we draw out a pedigree, or family tree — who's had cancer, what types of cancer, the ages of diagnosis, and any other findings," she told HCN.
"That helps us assess the likelihood of hereditary syndromes causing cancer in the family," she went on, and whether the patient should move on to genetic testing, which can identify specific gene mutations known to bring a raised risk of cancer. "Once the patient has all the information, we go over the pros and cons of genetic testing, the insurance coverage, and whether they even want to know the information or not. Then we can decide whether testing is appropriate for them or not."
That desire to know is a major factor, Rodgers-Fouché said.
"Some people feel empowered by the information, and they commit to doing more to prevent it," she said, referring to steps such as regular screening, aggressive surveillance, lifestyle changes, or even proactive surgery. "To others, it's a burden, a weight on them; they just feel like they're just waiting for the cancer to hit. That's why it's not for everybody."
Coming into Focus For those who want to know what their genes are saying about cancer risk, today's testing can detect more genetic variance than ever before — some mutations suggesting a high probability of a certain cancer, and others painting a vaguer picture.
"This field of medicine, genetic testing and genetic counseling, is still very, very young, and changes happen very rapidly," Rodgers-Fouché said. "Technology has changed, and we're picking up more mutations than we picked up years ago."
In addition, early testing was limited to single genes or gene syndromes, but about four years ago, multi-gene panels on one blood draw became the norm, offering a more comprehensive look.
"We don't just test people to find out whether or not they have a genetic mutation—we help personalize their understanding of what they need to do," said Dr. Grace Makari-Judson, chair of the Baystate Health Breast Network. "We look at their lifetime risk of developing breast cancer. We talk about what they need to do as far as screenings — when to start mammograms or a breast MRI, and how often. We focus also on what they need to do to reduce risk, such as lifestyle changes or taking certain medications."
She stressed, however, that testing doesn't automatically predict who will get cancer or when; it simply informs people whether they are in a high-risk or low-risk population.
Meanwhile, patients who do not meet criteria for genetic testing, but who — due to family history and other factors — may still be at a higher lifetime risk, may visit with a nurse practitioner to discuss lifestyle and screening recommendations.
Abbott said candidates for genetic counseling, due to their personal or family history, are often referred by their primary-care doctors or specialists, and some self-refer.
If the counseling team determines that genetic testing would be helpful, the patient and the team discuss all the benefits and costs — the latter being both psychological and financial, as fewer insurers cover genetic testing than genetic counseling. "Most insurance covers genetic counseling," Rodgers-Fouché added, "but they do have certain criteria for testing covered."
For both patients who go no further than counseling and for those who move on to testing, the team comes up with a plan for medical management.
"It is, of course, invidualized to the patient," Abbott told HCN. "But there are national recommendations for which patients we should be testing, based on the age of the patient, family history, and type of cancer. Our team uses those guidelines to figure out who the best patients are and what the best approach is for each patient, and whether genetic testing is part of that approach. And even though someone may not be a good candidate for genetic testing, another family member might be a very good candidate."
Some mutations are so well-known that clear national recommendations have emerged for them. For example, many women carring the BRCA1 or BRCA2 mutation, putting them at increased risk for breast cancer, opt for surgery to remove one or both breasts, with the aim of dramatically reducing that risk. Other mutations might call for ongoing monitoring or a ramped-up screening regimen.
Strategies aren't determined simply on a case-by-case basis, Abbott added, but also gene by gene and mutation by mutation.
"There are some patients who have a mutation or pathogenic variance in a gene that puts them at a high lifetime risk of developing cancer. In other genes, the increased lifetime risk might not be as high," she said. "Depending on the test results, the prognosis or recommendations may be different. The test may be positive, but what do you do with that? Is there a specific recommendation or intervention or screening?"
Bottom Line
That question and others, Rodgers-Fouché said, are best answered by someone who specializes in genetic counseling and testing for cancer, even though patients are obviously free to discuss their family history with any doctor.
"It's so complex, and it's always changing, so make time to meet with a genetic counselor who does this every day," she said. "We have the most up-to-date information to make sure the tests are sent to the right lab, we know the insurance criteria, all those details."
In the end, Abbott added, despite the anxiety this new knowledge can bring, it's also a tool that individuals at genetically higher risk for cancer didn't have in past generations.
When it comes down to it, she noted, "with early detection, we are saving lives."