A Place to De-stress Westfield's Genesis Center Helps Guests Create New Beginnings
Liz Walz had already talked about the Genesis Spiritual Life and Conference Center for some time, putting a wide array of words and phrases to use to explain its mission and methods for carrying it out, when she came upon some terminology that she thought summed it all up best.
"What we're offering are excuses to get still," said Walz, who five months ago became the first lay director of this facility, a sponsored ministry of the Sisters of Providence, created on the bucolic Crane estate on Mill Street in Westfield. "And that's difficult for many people; it's a challenge to shift out of our 'what can I accomplish? What's my to-do list? What's my schedule?' mode and to just really allow ourselves to have space."
Elaborating, Walz said Genesis (that name translates to 'new beginning') has, as its primary mission, the goal of helping people reduce or eliminate, at least temporarily, the stress that is impacting so many lives today. And it does that by providing a place where people can focus (that's another word she used often) and reflect, through everything from meditation to walks along the so-called 'Compassionate Curve Pathway'; from creative expression (there are art studios in the facility's Carriage House) to interaction with the facility's resident cats, Gracie and Tasha, or the small family of chickens now residing there.
"Some people just need some space," said Walz, adding that many of the center's guests — roughly 2,000 a year attend programs and retreats of varying lengths or visit for an afternoon or a week or more — come at times of change or turmoil in their lives, such as illness, a death in the family, divorce, or a career crossroads, while others visit when they simply need a break from the pressures of their lives. "We help people get to a place where that inner urgency, the 'I-have-to-do-something' mentality … that goes on mute, and people can just abide, watch the flowers bloom, and feel good."
But, as the name suggests, Genesis is much more than a retreat, where one can sabbatical for several days or several months. It is also a conference center that has hosted groups of various sizes and purposes, including a number of area nonprofits for meetings that last a few hours or a few days.
It also puts on a number of programs, many of them spiritual in nature, but others focused on the many aspects of emotional health and well-being. These have titles that include: "Rejuvenate Your Life Through Laughter," "Spring Renewal Yoga," "Journey Back to Self," "The Butterfly Effect: Living a Life of Purpose," and "Awakening the Dreamer, Changing the Dream."
Overall, Genesis has been a place of hope and healing for those who have found it, said Walz, adding that one of its goals moving forward is to increase the size of that constituency.
Indeed, the facility has recently started marketing itself more aggressively, said Walz, noting that it is also working to establish more and stronger relationships with area healthcare providers, with the goal of increasing visitation and revenues.
For this issue, HCN paid a visit to Genesis to learn more about this mission of helping people 'get still,' and how the facility's staff carries that out.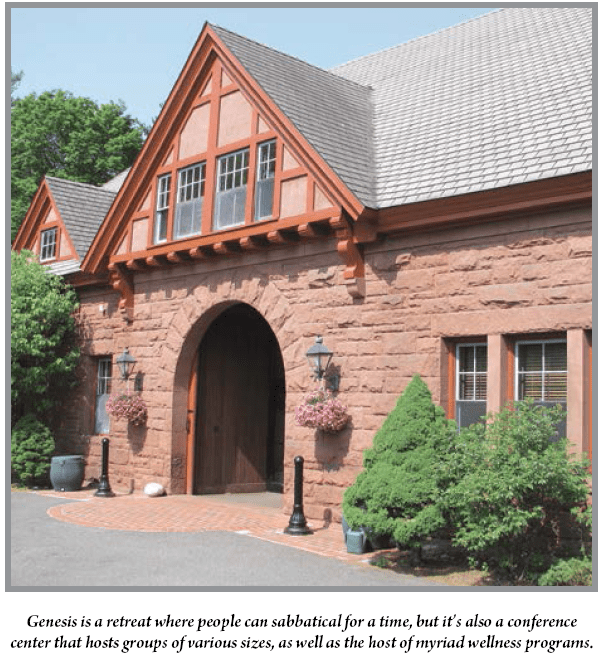 Quiet, Please
 Tracing the history of Genesis, Walz said the property was originally home to one of the owners of the Crane Brothers Paper facility, which operated just a few blocks away on the Little River. The site eventually became home to the Holy Child Guild, administered by the Sisters of Providence from 1933 to 1975, when work was initiated to convert the property into a spiritual life and conference center, which formally opened a year later.
In 1990, the 7,000-square-foot carriage house, circa 1899, underwent extensive renovations, and today includes meeting and convention facilities on the first floor and an art space, a small ecology library, and a meditation room on the second floor.
Over the past 37 years, it has hosted countless programs, retreats, and individual guests on sabbatical, said Walz, adding that, while the subject matter may vary, the goal is universal. "We help people quiet down, reflect on their lives, become inspired, and learn new techniques for thriving in the world."
And while there has always been a need for its services and environment, they are seemingly in greater demand given recent societal and economic trends and developments.
Indeed, workplace-induced stress has been mounting, she explained, noting that many individuals are being asked or told to work longer and harder as their employers, still coping with the aftereffects of the Great Recession, try to do more with fewer people. Meanwhile, the economy has also taken its toll on individuals, producing varying levels of stress.
To help people put this stress on the shelf for at least a while and give individuals methods to keep it at bay, Genesis provides a quiet, restful environment that certainly wouldn't be confused with a five-star resort in the Berkshires or a cruise ship — as reflected in the rates: generally $68 per night, which includes three meals — but provides guests with what they need.
There are 30 guest rooms on site, most of them small and simple (the walls are cinderblock), individualized with art created by guests, and without a television set, said Walz, adding that people don't come here to watch American Idol. (There are a few sets in the lounges if one really needs to tune in to something).
They do come to focus and reflect, and they can accomplish this in a number of ways, including meditation, reading, artistic expression, massage, Reiki, time with the cats or chickens, gardening, and more.
There is also the Compassionate Curve Pathway, a walkway that winds through the property's 19 acres. Along the way are markers with reflective questions. "There are so many ways that people can tap into nature as inspiration," said Walz.
And while there are what would be considered organized activities at Genesis, more of the stress-reduction work is self-directed.
"When we design programs, we really try to leave a leave a lot of space," she explained, "so we can offer people a gem for reflection or a question or thought, but really leave it to the individual to dig down.
"Most people have all these life experiences from childhood, adolescence, college, or whatever happened after high school, to work and families," she went on. "The opportunity to just reflect on the common themes of our lives … we don't really do that; we stay in motion, we stay in action, and one of the gifts of Genesis is to say, 'be a human being, not a human doing.'"
People come to Genesis for different reasons and at different (often difficult) times in their lives, such as after the death of a loved one or during or after a divorce, she continued, noting that most of the guests are women.
"We've had women who have been in leadership positions in their organizations, some of whom come at a turning point, when that role is completed, when they're retiring, for example, and closing down that chapter," Walz explained. "Others just come to have a break; they're going to go back to that role and those same responsibilities and economic challenges.
"People can choose to come here whether they're having a life transition or not," she went on. "Many times, though, it's a divorce or the death of a parent, other family member, or friend that will cause someone to stop and say, 'wow, I need some space.' And sometimes, people just need to be in a safe space to let the tears flow and let the grieving process unfold."
As the Boston Marathon bombing story unfolded last month, she told HCN, some people who had lost loved ones years before realized they had some unresolved grief, and the bombing triggered those thoughts, prompting visits to Genesis for reflection and spiritual guidance.
One of the priorities for the center moving forward is to build awareness of its facilities and the many ways it can help guests find that space they're seeking, said Walz, adding that Genesis is too much of a best-kept secret at the moment.
"We've learned that there are people who know Genesis, that use us a lot and love us, but there are many people who don't know about Genesis, even here in Westfield," she explained. "We do get a tremendous response once people are aware, so we view our job now as spreading the news that we're here and able to provide that break people need; they don't have to travel long distances or spend thousands of dollars. We're right in their backyard."
To build awareness of all aspects of the center's operations, including its ability to host meetings and conventions, the facility has revamped its website and, overall, become more aggressive in its marketing, said Walz, adding that the goal is to achieve continued, controlled growth.
Rest of the Story
Most of the facility's marketing vehicles feature the Genesis logo, a tree, chosen to reflect the belief that "creation is ongoing and that each person always has the possibility of new beginnings," said Walz.
Creating them generally starts with becoming still, even if it's just for a few hours or a few days, she went on, adding that, by doing so, people find it much easier to then move forward.
Helping people with that assignment has always been the focus at Genesis, she said in summation, adding that this mission is more vital today than ever before.