Callahan, Pitoniak, Garabacik Among CDH Award Winners
NORTHAMPTON — Several awards were presented recently at the annual meetings of the Cooley Dickinson Hospital board of trustees and the CDH Auxiliary board of trustees.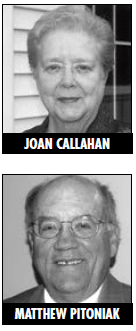 Joan Callahan and Matthew Pitoniak both received the William E. Dwyer Distinguished Service Award, given each year to outstanding individuals whose service on behalf of Cooley Dickinson exemplifies loyalty, leadership, and dedication to improving the health of the community.
Cooley Dickinson has been a part of Callahan's life for more than 55 years. When she graduated from the Cooley Dickinson School of Nursing in 1960, she received the award for Outstanding Academic Achievement along with a gift of $25 from the Ladies Auxiliary, as it was then called.
When Callahan retired in 2001 after 35 years of service, she quickly joined the Hospital Auxiliary, and now chairs the nominating committee for the Auxiliary, as well as volunteers on a weekly basis. The Dwyer Award recognizes Callahan's loyalty, professionalism, and lifelong dedication to improving the health of others, which is centered in the Florence Nightingale tradition of nursing.
Pitoniak also received the William E. Dwyer Distinguished Service Award. In remarks about Pitoniak, Joanne Marqusee, CDH president and CEO, noted that "it's not many board  chairs who would step up to volunteer as interim CEO for two months, after having just completed a CEO search and following 15 months of negotiating merger terms and navigating state and federal approval processes.
"Simultaneously," she noted, "Matt was involved in the effort to identify the best way for the health system and physicians to integrate clinical care, a process that led to our plan to form the Cooley Dickinson Physician Network. And that followed the three-year process of narrowing a search for a partner from seven to one. What all of this reflects is major commitment. For the past four years as board chair, Matt had many, many meetings. And Matt delivered on every commitment not only with an incredible devotion of time but with a willingness to learn and to listen and then to bring his passion and wisdom to difficult decisions."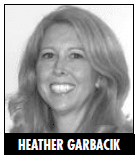 In addition, Heather Garbacik, nominated by her colleagues, received the BECOME award, a recognition that celebrates an employee who models CDH's organizational values.
Garbacik was hired in 2012 as a physical therapy assistant, but has spent the past year assisting the Rehabilitation Services team of more than 90 therapists — in six different locations — transition from paper charts to electronic medical records. Garbacik's previous background in information technology made her a perfect candidate to oversee this major transition.
For Garbacik, it meant putting her physical-therapy career on hold. Still, when approached to oversee this project, she readily accepted the challenge. Her flexibility and commitment have made it possible for her colleagues — the therapists who treat sports injuries, improve children's communication skills, and help people live independently — improve the quality and convenience of the care they provide.
As with the BECOME Award, five recipients of the inaugural Medical Staff Awards were nominated by their colleagues.
The Medical Staff Clinical Excellence Award is given by the CDH medical staff to a physician who has achieved significant improvement in clinical outcomes. Dr. Sean Mullally, a medical oncologist and medical director of the Cooley Dickinson Cancer Care program, has done just that by consistently looking to patient and family values to guide his clinical decisions with patients. In addition, Mullally was cited for having the same mindset in his role as medical director, especially in guiding the design and implementation of the Mass General Cancer Center at Cooley Dickinson Hospital.
The Teamwork Award is given to a physician who demonstrates a highly developed ability to bring teams of clinicians together to improve care. In nominating Dr. Navneet Marwaha, colleagues pointed to her collaborative style as chief of Medicine and her leadership of the Medical Staff Quality Improvement Committee by engaging a diverse team of clinicians to design and recommend a progressive process to improve care using a system approach to peer review. She also stepped up to take an interim leadership role for the hospitalists at a time of need.
Dr. Shasta Kielbasa, a hospitalist, received the Medical Staff Patient-Centered Care Award, which is given to a physician who demonstrates a high level of empathic care and always looks to the patient's values to guide decisions. One nominator described Kielbasa as "kind, compassionate, and extremely hardworking on her patients' behalf."  Another colleague called her "devoted, passionate, meticulous." Known for giving patients her undivided attention, she spends many a late evening on the phone talking to families, primary-care providers, and subspecialty physicians, coordinating patient care and ensuring a clear line of communication.
The Medical Staff Nursing Care Excellence Award is given to the nurse who best represents teamwork with physicians to drive clinical outcomes. This year's recipient, Jodi Gordon, has practiced in the Childbirth Center for 15 years, and has served as a charge nurse on the unit. Nursing care has been enhanced by her efforts, such as an improvement in nurse and provider documentation and policy changes to reflect evidence-based nursing practice.
The Advanced Practice Clinician Award goes to the provider who best represents teamwork with physicians and hospital staff to create quality patient outcomes and improve care. The recipient of this award, Robert Levine, is a physician assistant who works on the hospital's Critical Care Unit. Nominations cited his excellence in clinical care, development of protocols, education of other staff, great communication and teamwork, and electronic-health-record expertise. In particular, nominations recognized his work to implement a change in the medication used for patients withdrawing from alcohol, which resulted in fewer complications.
Rymarski Named Partner at Morison Mahoney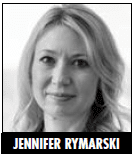 Morrison Mahoney LLP announced that attorney Jennifer Rymarski has been elected a partner.
Rymarski, who practices in the Boston-based firm's Springfield office, serves a wide base of clients in the arenas of medical malpractice litigation, as well as employment, business, and corporate law. Rymarski has more than 10 years of experience as an attorney and more than 15 years of experience in the legal field.
She has a diverse background in medical-malpractice defense work and general business law, communications, and management. Rymarski advises healthcare clients on litigation matters and other issues involving healthcare law. She also serves as defense counsel for court cases and Board of Registration in Medicine investigations and complaints. For general business clients, she offers business advice, including dispute resolution, collections, adherence to corporate and regulatory formalities, and negotiations concerning leases, contracts, financing, and bankruptcy.
Rymarski earned a bachelor's degree from Westfield State University, a certificate of paralegal studies from Elms College, and a juris doctor from Western New England University School of Law. She is a member of the Massachusetts Bar Assoc. and the Hampden County Bar Assoc., and is also licensed to practice law in Connecticut. She serves as a board member of the Children's Study Home. Rymarski has been named a "Rising Star" in Boston magazine for four consecutive years.
New Board Members, Corporator Elected at Glenmeadow Retirement
LONGMEADOW — Glenmeadow Retirement held its 130th annual meeting of corporators on Nov. 3. Newly elected to the volunteer board of directors were Crystal Diamond, a realtor with Coldwell Banker, and Ian MacNeill, director and branch manager with UBS Financial Services. Debra Taylor, a community volunteer, was also elected as a new corporator.
Diamond and MacNeill join existing board members Suzanne Smith, chair; Paul Nicholson, vice chair; Mark Cress, treasurer; Dusty Hoyt, clerk; Dr. Lawrence Bernstein; William Burrows; David Carlson; Christopher Gill; Richard Goldstein; Ellen McKenna; Susan Megas; Ann Marie Rome; and Marie Stebbins.
Established in 1884, Glenmeadow is a nonprofit, accredited continuing-care retirement community, providing independent and assisted living at its campus at 24 Tabor Crossing in Longmeadow and expanded Glenmeadow at Home services throughout Greater Springfield.