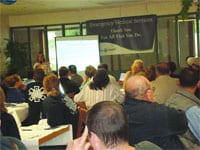 Emergency medical personnel listen as they are honored at Baystate Mary Lane Hospital's EMS Recognition Dinner.
WARE — Local EMS providers were honored recently by Baystate Mary Lane Hospital and its Emergency Department at the annual EMS Recognition Dinner held at the hospital.
Dr. Roger Lafleur, affiliate hospital medical director of the ED; and Mark Tuttle, manager of Emergency Services, reminded the nearly 70 EMTs, EMT-Is, and paramedics in attendance of the importance of their contribution to the community.
"We recognize the commitment EMS providers put forth daily to ensure that our community members receive the best possible emergency care each and every day. Through teamwork and collaboration they demonstrate the highest levels of professionalism in pre-hospital emergency care," Tuttle said.
Awards were given to Paul Lupacchino, president of the West Brookfield Rescue Squad, for his work with the Basic Emergency Medical Technician Course which armed local towns with more than 30 new EMTs; and William "Buz" Reusch, EMT-P, Warren Ambulance, on his retirement after 20 years of service.
Also recognized were Chief Thomas Coulombe and Ware Fire Department members Tyler Courtney, EMT; Christopher Gagnon, EMT-P; Laura Fandry, EMT-P; Mark Lynch, EMT; James Martinez, EMT-P; James Meagan, EMT-I; and Randy Wessels, EMT-P, who received the Teamwork, Collaboration, and Excellence in Emergency Care Award.
"EMS Providers are a critical asset in our communities," Lafleur said. "Emergency physicians depend on the excellent work and commitment, and they deserve this recognition for the work they do. People's lives often depend on the quick reaction and competent care of emergency medical technicians during the most incredibly stressful situations.Emergency pre-hospital care begins before the medical doctors, X-ray technicians, and nurses ever get a look at the patient."