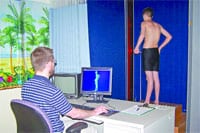 Owen Kelly, a technician in the motion analysis laboratory at Shriners Hospital for Children, performs a three-dimensional body scan on a patient.
The clothing industry and people who suffer from scoliosis both deal with body image – although in very different ways.
Now, they may have something else in common: the 3D Body Scanner, a technology first developed to standardize clothes sizes, but which could hold some promise in treating patients with scoliosis and similar conditions at Shriners Chil-dren's Hospital in Springfield.
"We see a lot of children and adolescents with deformities that cause changes in the shape of the chest wall and back," said George E. Gorton III, director of the hospital's motion analysis laboratory. These issues arise from conditions such as scoliosis, a curvature of the spine; and pectus excavatum, which manifests itself as a cavity in the chest area.
Until now, measuring the exact effects of surgery and other treatment on these deformities has been frustrating. Shriners officials hope this new imaging technology, developed by Vitronic Machine Vision in Kentucky, marks a turning point in the way patient progress is evaluated.
"We've been looking for a way to measure the shape of the body, and we came across this in our literature review and research on the Internet," said Gorton.
Dr. Peter D. Masso, assistant chief of staff at Shriners, said this research led him in the fall of 2004 to Cornell University in New York, which was using the Vitronic device in its fashion-design program.
"I went there, saw the machine, and was blown away by it," he said. "I thought it had some medical uses, especially for kids with deformities." By December 2005, an agreement had been signed with Vitronic to bring the scanner to Springfield, and it was unveiled last month.
"If someone has a change in their chest wall shape or back shape, we use this to track how severe it is and how much it changes with treatment," Gorton said. "It's the first time the technology is being applied in medicine."
This month, The Healthcare News examines how a technology created to size clothing could revolutionize the treatment of children and teenagers here in the Pioneer Valley.
A Clearer Look
Scoliosis is a lateral curvature of the spine that also causes a "rib hump" that is among the most treatment-resistant aspects of the condition – as well as one of the least understood by physicians and the most resented by patients, Masso said.
For young patients, it presents problems that extend beyond the physical into body image and self-esteem. For many reasons, then, doctors and researchers have been searching for more effective ways to evaluate and treat chest-wall deformity.
Up to now, Gorton said, it has been difficult for doctors to measure changes in a patient's chest wall over the course of treatment. Current radiographic methods, including X-rays, are flawed in that they produce only two-dimensional images. In addition, doctors worry about the increased risk of certain types of cancer resulting from prolonged radiation exposure.
"The changes that take place can't be measured with X-rays, because the two-dimensional projection flattens everything out. The same goes for CT scans and MRIs," Gorton said. "This, on the other hand, is a three-dimensional photograph that can be manipulated on the computer. We can measure distances, see cross-sections of the body, and see exactly how big a deformity is."
The 3D Body Scanner uses eye-safe laser light to produce a three-dimensional map of an object. As a patient stands inside the scanner – which is a wide-open space, unlike an MRI tube – it takes only 15 seconds for four lasers and eight synchronized cameras to create the image. By producing such images before and after surgery, doctors can accurately measure changes to a patient's body, information that's invaluable in guiding further treatment.
"When we do surgery to correct the curvature of the spine, sometimes there are changes made to the chest or back wall," Gorton said. "We want to see how surgery has changed the shape of the back as well as the spine.
"This has been used in the textile industry for the past few years to measure the size and shape of the whole body, to improve the fit of clothing," he added, as well as by the U.S. military to improve uniform inventory control and by package-delivery companies to scan parcels. "We're leasing the equipment for a trial period so we can find out whether it's helpful for us."
Developing a Model
The project might not have gone forward at all without the interest of Stryker Spine, a New Jersey-based spinal equipment manufacturer which signed on as a partner in the project, providing critical grant funding. "It's a good partnership between medicine and industry to evaluate a new technology," Gorton said.
"Stryker makes a lot of spinal implant hardware, so they have a vested interest in the way scoliosis is treated," he continued. "When we were looking for someone interested in funding the research, it made sense."
But for the experiment to be successful, the hospital will have to come up with a set of guidelines to measure outcomes – in other words, how patients' spines and chest walls change as a result of time, surgical intervention, bracing, and other treatments.
"We're developing parameters to show us how to tell the difference between mild and severe deformities, and how to track these changes over time," Gorton said. "It's very much a research project at the point."
Masso noted that these outcomes could never be completely tracked using two-dimensional imaging techniques, because not every angle and plane of the body could be examined.
"We're basically testing out a new technology," Gorton said. "It's the first application of this equipment for a medical purpose. It's an area Vitronic has been interested in, but up to now, they haven't had the opportunity to try it out."
Masso added that exploring the new technology reflects all three prongs of the Shriners mission: patient care, education, and research. "This definitely falls under that umbrella," he said.
Mark L. Niederpruem, hospital administrator, said the scanner could become an example of evidence-based medicine, with the eventual goal of improving patient care and outcomes across the board.
"We're excited to get this piece here," he said. "This is another step we can take toward making a tremendous difference in children's lives, making us a richer resource for kids today and tomorrow."