Rachel Tierney
Her Volunteer Work Connects People with Key Resources
Editor's note: In this new monthly feature in HCN, we're celebrating volunteers by introducing you to some of the countless people who provide an often-unsung but critical backbone for myriad organizations throughout the region. To nominate a volunteer for this feature, e-mail a quick description of their work to bednar@businesswest.com.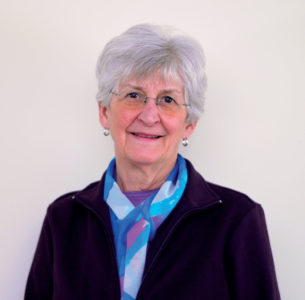 When her husband, Jim, developed Alzheimer's disease, Rachel Tierney — a retired psychiatric clinical nurse specialist — became his care partner, and being a caregiver became personal. Over the next nine years, they received care, education, and support from many sources, including the Alzheimer's Assoc. After Jim died in January 2010, Rachel turned her energies to providing support and educational programs to other individuals and community agencies.
She noted that serving as a committee member for 10 years for the Pioneer Valley Walk to End Alzheimer's has connected her with "amazing" staff and volunteers who helped develop an Alzheimer's Benefit Gala that will be held for the sixth time at the Log Cabin on April 25. To date, the gala has raised $51,000 for the Alzheimer's Assoc.
What else are you passionate about? It is gratifying to connect individuals, families, and community members to each other and to resources that can enhance the quality of their lives. A recent passion has been helping to facilitate initiatives with community members to create Dementia Friendly Communities.
Why should people consider volunteering for causes or organizations important to them? Volunteers make things happen, and every person needs to feel wanted and valued. Volunteer opportunities are everywhere. Belonging to various community groups provide meaningful experiences for me and benefit those who are recipients of the groups' activities. As a member of the First Church in Ludlow, I have been a member of the choir and various committees. The P.E.O. Sisterhood supports six philanthropic efforts that help women pursue higher education — "women helping women reach for the stars." I am proud to have been an active member in various chapters for over 50 years. As a former psychiatric clinical nurse specialist, I support the independent practice of advanced-practice registered nurses through organizational membership and legislative advocacy. Also, as a proud three-time graduate of UMass Amherst, I am honored to serve on the alumni and dean's advisory boards of the College of Nursing and on the Amherst Campus Council. These roles afford me the opportunity to participate in future planning — a way of paying it forward.
Who has been your best mentor, and why? My earliest role models were my maternal grandmother, Genevieve Hutchinson, and my mother, Margaret (Peg) Allen. They instilled in me basic values that have guided me my entire life: social justice, inclusion, diversity, and the value of each human being. They acted on these values in many ways throughout their lives. My most memorable professional role model and mentor was Mary Macdonald, the associate dean in the School of Nursing at UMass Amherst and my undergraduate advisor from 1958 to 1962. She was an initiator who was confident, bright, kind, and creative — and she brought out the best in me by challenging my beliefs, guiding my professional development, and supporting my efforts to become just like her.
What person, past or present, would you like to have lunch with, and why? My fantasy is to have lunch with Florence Nightingale, the founder of professional nursing. The tenets put forth by her in "Notes on Nursing" (1859) include principles of nursing care that are still appropriate in every healthcare environment today. She was a keen observer of sanitary and health conditions, and emphasized that the environment has great impact on health conditions.
What do you do for fun? I relax and enjoy life by spending time with my wonderful family and supportive friends, traveling, and attending various cultural events.
What goal do you set for yourself at the start of each day? Wherever I go, I try to acknowledge the uniqueness of each person and spread a little kindness.