Heart of the Matter – Cardiac Rehabilitation Helps Patients Get Their Lives Back
After Cindy Mahoney suffered a heart attack early in 2013 — an event attributed to a rare condition called spontaneous coronary artery dissection — she was treated at Cooley Dickinson Hospital and, several weeks later, was taking the right medications and otherwise felt fine.
But she's a runner at heart (no pun indended), and had run about 30 minutes a day for the past 35 years, and worried about how much exertion she could handle — and whether another heart attack would occur if she pushed herself too hard or soon.
But after entering a cardiac rehabilitation program at CDH and exercising, twice a week for two months, under the supervision of cardiac exercise physiologist Patrick Schilling and two cardiac nurses, Mahoney set aside her anxiety, convinced she could get back to what she loved doing.
"The entire rehab experience was hugely reassuring to me and my family," she said, who finished two 5K races in the months after completing the program. The cardiac-rehab program helped me realize I could do what I love again — safely."
That confidence boost, Schilling told HCN, is one of the major benefits of cardiac rehabilitation, a customized program of exercise, education, and support designed to help individuals recover from a heart attack, cardiac disease, or heart surgery.
"There's a lot of anxiety. They're wondering, is this going to happen again? It's so fresh in their minds, how they felt when they were getting treatment a few weeks ago" he said. "We can help rebuild their confidence, not only about how well they're going to do, but their ability to take control of their lifestyle."
According to the Mayo Clinic, cardiac rehabilitation is typically recommended for patients who have experienced a heart attack, coronary artery disease, heart failure, peripheral arterial disease, angina, cardiomyopathy, certain congenital heart diseases, coronary artery bypass surgery, angioplasty and stents, heart transplants, and heart valve replacements.
"The benefits of a cardiac-rehab program have been nationally proven," not just in its initial benefits, but in patients' long-term compliance with taking recommended medications, changing an unhealthy diet, and controlling issues like diabetes and high cholesterol, said Elaine McCaffrey, a nurse clinician in Baystate Medical Center's Cardiac Rehabilitation and Wellness Program.
That's not surprising, she added, considering how much of a wake-up call a heart attack or heart surgery can be.
 "There's so much folklore around the heart, a lot of religion centers on the heart — people have a lot of different feelings when it comes to the heart," she noted. "So a major surgery or major event like this does lead to some anxiety — 'how can I get back to what I really want to do in life?' That's where cardiac rehab comes in."
Four-pronged Approach
Cardiac rehabilitation — which is covered by virtually all health insurance when a patient is referred by a primary-care doctor or cardiologist — is comprised of four main components: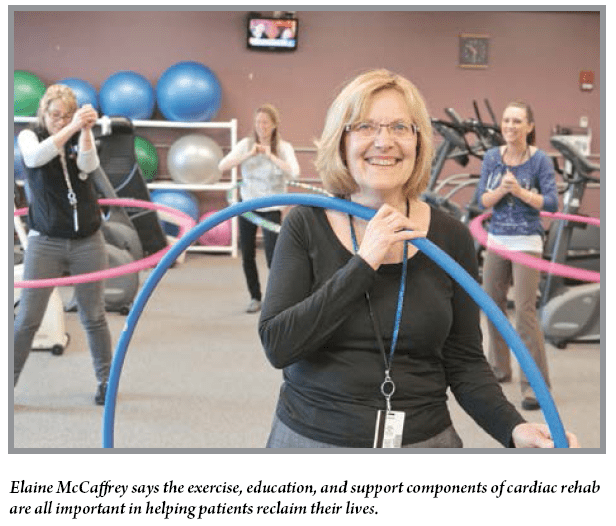 Medical evaluation. The rehab team — which might include a cardiologist, nurse educator, dietitian, exercise rehabilitation specialist, physical or occupational therapist, and psychologist — will assess a patient's physical abilities, medical limitations, and risk factors for heart disease, stroke, high blood pressure, and other conditions. They will also continue to track the patient's progress over time, along the way tailoring a safe, individualized rehabilitation program.
"The program is designed in such a way that it helps the patient reduce fatigue and improve energy levels," Schilling said.
Physical activity. Cardiac rehabilitation improves a patient's cardiovascular fitness through walking, cycling, rowing, jogging, strength training, and other activities.
"Many activities we do in the gym are cardiovascular in nature, but it also includes strength training. We use treadmills, walking bicycles, a rowing machine, upper-body exercises," Schilling said, noting that this component of cardiac rehab is a relatively recent development. "Heart recovery is fairly slow, and 30 years ago, patients were put on bed rest."
The Mayo Clinic recommends supervised exercise three to five times a week, adding that it's important to teach proper techniques, including warming up, stretching, and cooling down.
Lifestyle education. This may include guidance on everything from managing pain and fatigue to making healthier food choices aimed to reducing fat, sodium, and cholesterol, from understanding medications to getting back to sexual activity.
"There's definitely an educational component to it," McCaffrey said. "They don't leave cardiac rehab without knowing what the need to do to stay heart-healthy. When we talk about the risk factors for diabetes, high blood pressure, hypertension, these are things that can be controlled. We talk about a healthy diet, monitoring blood glucose to keep diabetes under control, exercise, and getting to a heart-healthy weight."
Of course, the number-one risk factor for coronary disease is smoking, so when a patient is a smoker, programs educate them about the dangers and develop strategies for quitting. "They need to make that big social change — for themselves and the rest of their family," she said.
Support. Depression and anxiety are natural reactions to a major heart event, which is why cardiac-rehab programs stress the emotional and social components of recovery as well as the physical and educational aspects. These might include anything from counseling to occupational therapy to help patients return to work.
"We get you to understand what you need to do to take control of your life, and make it a very beneficial, productive life," McCaffrey said. "And the whole time, you have companionship; you're meeting people who are going through it with you."
Schilling agreed. "Rehabilitation rebuilds confidence, so they realize it's not a sentence, but something they can live with," he said. "You really see their improvement, and see their confidence go up."
Full Speed Ahead
Schilling was quick to add that recovery from a cardiac event — particularly in the case of a heart attack or stroke — begins with the emergency response as it's happening.
"The gold standard from onset of symptoms to the cardiac catheterization lab is 60 minutes," he noted. "Time is definitely the enemy in this case; the quicker a person gets treatment, the more heart function gets preserved."
But once the initial crisis has passed, a team springs into action to help patients fully recover for the long term. McCaffrey and Schilling both came back repeatedly to the phrase 'activities of daily living,' emphasizing that the goal isn't for patients to return to a life that's a shell of what it was before their sickness or surgery, but, rather, resume the same lifestyle they enjoyed before.
"We have patients ranging in age from 24 to 90," McCaffrey said. "So we need to know, what are your activities of daily living? Is it returning to a job? Is it being a mother to your young children? Or, if you're a little bit older, is it just living as healthy as you can?"
Of course, some patients want to return to a high-stress career, and others want to get back to playing sports or, like Mahoney, running every day. No matter what the goal, McCaffrey said, it's the rehab staff's responsibility to tailor the program to the goals and needs of each individual patient.
"Cardiac rehab is for anybody and everybody," she said. "It really does help with recovery, and that's the key; that's the whole purpose — that feeling of confidence that they can get on with their life."
Schilling agreed. "It's gratifying to work in cardiac rehab. We definitely do it with the onus of wanting to help people. It's a real passion for me and my co-workers," he said, adding that he's amazed at how different patients look at the start and end of rehab — not just the condition of the bodies, but the level of confidence on their faces.
He's grateful, in short, to be doing life-changing work. "I've been here eight years, and I've never had a boring day."