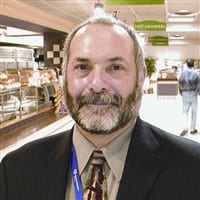 Ira Brandstein says there are many similarities between operating a restaurant and managing food service operations for a hospital.
Ira Brandstein says he used to concern himself with making the perfect pâté. "Now, it's the perfect grilled cheese sandwich."
That's a serious oversimplification of Brandstein's career shift — from working in five-star restaurants, including a stint as executive chef at New York's Plaza Hotel where he cooked for Donald Trump, to handling food service management duties in several Northeast hospitals.
And in his latest stop, as director of Food & Nutrition Services at Baystate Health System, Brandstein's menu concerns run much deeper than grilled cheese. The North Café at Baystate Medical Center, which Brandstein calls the busiest restaurant in Western Mass., features such items as salmon filet, General Tso's Chicken, Veal Cacciatore, Cajun catfish, and shrimp-stuffed chicken. (grilled ham and cheese happens to be the 'grill special' on Saturdays).
In the North Café, and also with patient menus (which feature many of those aforementioned dishes) and in the Friendly's in Baystate's main lobby and food-service facilities across the Baystate system, the goal is the same; to focus on quality service while stressing the importance of good nutrition.
"Baystate's basic mission is to improve the health of people in our community," said Brandstein, who came to Baystate from St. Vincent Hospital in Worcester Medical Center, and has also worked at Yale New Haven Hospital and other health care providers. "While food is something we need to sustain ourselves, it is important in the therapeutic treatment of a patient and making that individual well.
"We deal with patients that are ill, we deal with patients that are scared, we deal with family members that are nervous because they're waiting on outcomes," he continued. "To be able to give them a wholesome meal and educate them on ways to correct bad habits is very rewarding."
The Healthcare News talked this month with Brandstein about the food service department within Baystate, a $10 million operation that includes everything from a catering division to the gift shop and involves close to 300 full- and part-time employees. He described food and food service as an entrepreneurial aspect of the business of health care, one that is very important to the overall success of the Baystate system.
He said his twin goals are to promote healthy eating — the system embraces a Mediterranean-style cuisine that features low-fat foods, whole grains, and large amounts of fruits and vegetables — while creating and expanding business opportunities.
Cream of the Crop
Brandstein said he correctly picked the eventually winner of the first Apprentice show after only a few episodes. "I worked for Donald Trump — I knew what he was looking for."
That experience came during Brandstein's second stint with the fabled Plaza Hotel, which Trump purchased in the late-'80s. This would be one of many stops in a culinary career that also took him to the Drake Swissotel in New York and a small chain of restaurants in southern Conn.
Brandstein said he grew up (literally) in the back of restaurants in and around his birthplace, Brooklyn, New York, and that his family was involved in a number of restaurant ventures. "I started in the business when I was about 7 and I never left," he explained. "My family always said it was a decent business, and that I'd never go hungry."
In college, however, Brandstein drifted toward journalism and eventually majored in that subject. He found himself back in the kitchen, though, after failing to find work as a writer. He eventually earned an associate's degree in Hotel/Restaurant Management at New York Technical College and then hop-scotched between jobs at some of New York's finer eateries.
When asked why he left the restaurant scene for the health care sector, Brandstein said it was a lifestyle choice. Traveling with the Donald and Ivana Trump and acting as their personal chef, which he did often while working at the Plaza, can be exciting, rewarding work, but the hours are often long and crazy.
"It was great working in that environment," he said. "But I was starting a family; the first year of my son's life, the only time I saw him he was sleeping. I didn't want that."
Thus, he took a job as executive chef of Food Services at Yale New Haven Hospital, where he developed the concept — and the menu — for the facility's Atrium Café, and also took first place in the Connecticut Dietetic Association's Chef's Challenge for development of an original healthy recipe.
After nearly three years at Yale, Brandstein served briefly as operations manager of Bridgeport, Conn. Hospital, and then as food service director at the Monson Development Center in Palmer, where he managed operations for that 13-building campus. From Monson, where he eventually took the title of senior director of Food & Nutrition, Brandstein went to the Morrison Health Care system, where he served as senior director of Food & Nutrition for the Fernald Development Center in Waltham and St. Vincent Hospital at Worcester Medical Center.
Brandstein said food service operations in medical facilities are much like restaurants to the extent that the goal is the same in both settings— to make the customer happy and thus prompt return visits. The word customer refers to more constituencies in health care, he explained, listing everything from patients to employees to business groups outside BHS that utilize its catering service.
And this is where some additional challenges come into play.
Food for Thought
As he described the food service operation at Baystate, Brandstein said the numbers reveal the size and scope of this operation. Just over 700,000 patient meals served at the three hospitals in the Baystate System, BHS, Franklin Medical Center, and Mary Lane Hospital, and nearly 2 million retail meals served at those three facilities, for a total of 2.7 million total meals per year.
To meet that volume, the system makes $4.5 million in food and food-related purchases each year, including:
• 1.15 million 8-inch paper plates;
• 29.2 million pounds of frozen vegetables;
• 295,296 4-oz. chicken breasts;
• 32,472 quarts of juice; and
• 125,788 gallons of milk.
But Brandstein spends at least as much time focusing on quality as he does on quantity. He says this is part of the entrepreneurial nature of food service operations. And in a hospital setting, quality has many characteristics and it is an important part of the equation.
Gone are the days when hospital food was universally bad — or at least perceived to be — and that this fact was generally accepted, he said. "I think that perception about hospital food is a paradigm of the past; we're doing some magnificent things with food."
When asked for specifics, Brandstein said projects run the gamut, from patient services to catering, to preliminary-stage development of a Baystate line of food products that could be sold or even used as part of employee-incentive programs.
On the patient-service side of the equation, Brandstein said BHS, like many other health care providers, is working to eliminate or mitigate many of the age-old problems and perceptions related to hospital food.
One of these problems regards the broad issue of choice, he said, noting that years ago, patients were essentially told what to eat and when. Baystate has responded with a room service program that enables many patients to order what they want when they want it.
"It operates much like room service in a hotel," said Brandstein, noting that the program is popular not only with patients, but also visiting relatives who like the convenience of a moderately priced meal delivered to the room.
As for the conference service and catering division, Brandstein said it has been growing steadily over the past several years, and has handled a number of functions outside the hospital system, in addition to those within BHS facilities.
"I think there is some strong growth potential," he said, noting that the menu has a full range of breakfast, luncheon, buffet items, and a full complement of hot and cold Hors D'ouvres. "We've seen a number of groups take advantage of these services."
Brandstein also envisions continued growth of the North Café and other food operations, or restaurants, within the BHS system. More than 2,500 meals are served each day at the North Café, he said, and many visitors actually come from outside the hospital. "People come here for lunch every day," he said, noting that the facility features moderately priced meals and an 85-15 ratio of healthy foods to those that are … well, less healthy."
Still another entrepreneurial venture is the development of the Baystate brand of food items. Brandstein said the system is developing a series of products that could be sold to employees and, possibly, to those outside the system. Items being considered include soups, casseroles, and even complete dinners — foods that blend quality and nutrition.
Across the broad spectrum of programs, the goal is the same, said Brandstein: promoting healthy eating, while also delivering quality and choice — two staples of the restaurant business and health care food service operations.
Just Desserts
While there are many differences between the Plaza Hotel's Oak Room, site of untold power lunches then and now, and the patient wings at BMC, Brandstein sees one important commonalty.
"At the Plaza, and anywhere else I worked, I loved it when the plates came back clean," he said. "That was a compliment. Here, it's the same; when the trays come back empty, I know we've done our job and done it well."