Initiative Aims to Tackle Climate Change, Health as Equity Issues
The Sky's the Limit
By Joseph Bednar
Dozens of stakeholders in what's known as the Live Well Springfield Climate Justice Initiative had been meeting regularly to discuss strategies for combating climate change from a social-justice perspective when the pandemic suddenly disrupted those efforts, as it disrupted everything else.
"We had great meetings, then all of a sudden we couldn't meet in person," said Sarita Hudson, director of Programs and Development at the Public Health Institute of Western Massachusetts (PHIWM), a key player in Live Well Springfield initiatives. And shutting down those meetings was the least of participants' concerns, at a time when some of them were suddenly stressed about losing their jobs and being able to pay for food and rent, or wondering how they were going to work while keeping their kids focused on remote schoolwork at home. "There were so many other urgent issues."
But Samantha Bilal, program manager at PHIWM, was reminded by one of those residents that the discussions had to continue.
"She said, 'this work is still important. Climate change is still important to me' — even though she's an older adult who was figuring out what life would look like and how to stay safe," Bilal told HCN.
"It's kind of a balancing act — how can we think about these climate-change issues, which are global and at times overwhelming, while you're still trying to address your emergency needs in the midst of this pandemic?"
"It's kind of a balancing act — how can we think about these climate-change issues, which are global and at times overwhelming, while you're still trying to address your emergency needs in the midst of this pandemic?" she went on. "I appreciated that all of our residents and stakeholders didn't stop being involved, even though they had a clear, life-changing issue that could have taken them out of participation."
Momentum has returned, however, with a recent $600,000 grant to PHIWM from the Kresge Foundation, to advance policy solutions aimed at combating climate change and equitably reducing health risks in low-income communities.
The Public Health Institute of Western Massachusetts is one of 14 community-based nonprofits nationwide receiving grant funding as part of the Kresge Foundation's Climate Change, Health and Equity initiative. With this funding, PHIWM will work with Live Well Springfield coalition members including the Resident Advisory Board, Pioneer Valley Planning Commission, Way Finders, Arise for Social Justice, Neighbor to Neighbor, the city of Springfield, and partners from other sectors to develop multi-year work plans that address community-defined health and climate priorities.
"Climate change, health, and equity, all these policies are interconnected in how they impact communities, and especially communities of color," Bilal said. "Exorbitant changes in the climate and weather patterns are going to have a significant impact on lower-income families, transient families, and communities of color that are still struggling in other ways to meet their basic health-equity needs going forward."
Jessica Collins, executive director of PHIWM, noted that "Springfield has tremendous assets to overcome challenges created by societal issues. With this funding, residents in partnership with Live Well Springfield can advocate for policy changes as they have done before on different issues like community gardening and Complete Streets. Springfield is a model for this type of action."
As part of the three-year, grant-funded initiative, the Live Well Springfield Climate Justice Initiative will advocate for the city of Springfield to adopt the Community Choice Energy program and a race and health-equity impact assessment requirement for city development, aiming to address the climate crisis, systemic racism, and their resulting impact on health for communities of color, particularly black and Latinx.
Community Choice Energy addresses how a city sources the energy that fuels homes and municipal buildings. "The goal is to work with municipal government," Bilal said. "We're the City of Homes, so why not be the city of energy-efficient homes? So, when you turn on the lightbulb, you're making a conscious decision that your energy is being sourced with renewable or clean energy."
As for the race and health-equity impact assessment, when the city is involved with building new infrastructure or development, "how do we assess the equity impacts and health impacts of these ideas?" Bilal said. "We're holding builders and developers accountable for making sure that we are representing the voices that would say, 'hey, you're pushing my community out by building this here,' or 'we would love to have this building here, but can you build a community center as part of this infrastructure development?'
"That makes it possible for us to build better communities and be more thoughtful in our building," she added, "so we're not disproportionately pushing aside certain groups of people by building something in a place that would disenfranchise someone."
Stormy Weather
In 2019, the coalition was awarded a planning grant by Kresge to identify one or two policy ideas that could significantly impact greenhouse gas emissions, health, equity, and racism. The coalition partners worked closely with about 160 stakeholders, resident advocates, and residents, representing every neighborhood in the city, to narrow down 156 possible policies to two. The partners created a variety of engagement projects like community conversations, surveys, and workshops to gain community input and feedback.
Hudson's involvement in climate-justice initiatives goes back to her work with the Pioneer Valley Asthma Coalition at PHIWM, which asked the city in 2013 to create a climate-resilience strategy in the wake of the multiple freak weather events that struck the region in 2011, including a tornado, floods, and the pre-Halloween snowstorm.
Finalized in 2017, that project was titled Strong, Healthy & Just: Springfield Climate Action & Resilience Plan, and plenty of city residents were engaged after experiencing the effects of that string of events, Hudson said. "It was all part of extreme weather that is related to climate change. And when we look at who the populations are, who is it that are most impacted, it's people with asthma, people with respiratory disease, people with cardiovascular disease, elders, and children."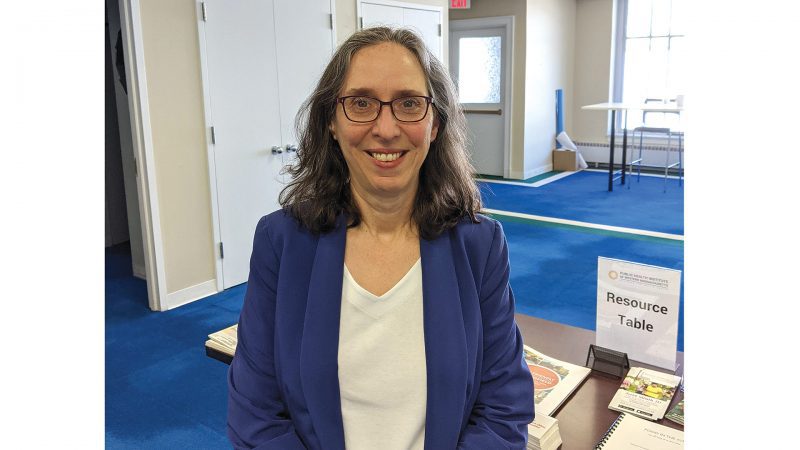 Asthma, as an enviromental and health issue, has been a major problem in Springfield for a long time. Just this year, the city relinquished its two-year reign as the nation's number-one asthma capital, and is now ranked by the Asthma and Allergy Foundation of America as the 12th-most-challenging place to live with asthma, based on asthma prevalence, mortality, and emergency-room use for asthma.
It's not reason for celebration, exactly, but it's a solid start — one that coincides with the Springfield Healthy Homes Asthma Program and other community health worker asthma interventions in the region, as well as an improvement in air quality as reported by the American Lung Assoc. State of the Air report.
"Although still a serious problem that affects many families and communities in our region, this improvement shows that the work to improve asthma outcomes is having an impact," the Pioneer Valley Asthma Coalition noted. "This is good news for our local families and communities. However, there are still questions to be answered about addressing the causes of asthma onset and asthma flareups."
If the projects being pursued by the Live Well Springfield Climate Justice Initiative put a dent in asthma incidence — the idea being that smarter choices in the realms of energy and development will have environmental payoffs — that would represent fulfillment of some long-held goals, Hudson said.
"We looked at how we, as a community, are going to work toward implementation of some of those goals," she said of the process of choosing two specific policies. "That's how we narrowed it: which one would have the biggest impact on health, which one would have the biggest impact on racial equity, and which would get us closer to impacting reducing greenhouse-gas emissions, which are causing the climate crisis?"
Another factor was deciding which policies the community would most eagerly support, Bilal added. Now, the coalition has three years to campaign for these policies and push specific aspects of their implementation. Community education will be a key element.
"It's a learning space," she said. "This is not my wheelhouse, but as we've been talking about the climate impacts, and who is impacted, it became clear there's absolutely a connection to racial-equity issues."
Bilal conceded that much work needs to be done to help people understand that populations most affected by environmental issues like asthma, and who will be most affected by climate change, are often urban, low-income, and/or communities of color.
"How can we support these communities that need to have some preparedness and understanding of how your asthma is triggered, how your environment connects to your health?" she went on. "How is our community infrastructure built around them that could perpetuate the problem? So our goal, with this grant, is to work with the community, work with city officials, and advocate for policy changes that would have an impact in addressing racial-equity issues as well as environmental-justice issues and climate."
Environment for Change
The Kresge Foundation has been pursuing such issues on a national level.
"We are proud to support organizations around the country like the Public Health Institute of Western Massachusetts that are doing crucial work to shift policies, systems, and practices that will have a lasting impact on climate, health, and racial equity, and will help to create a more just planet for everyone," said Lois DeBacker, managing director of Kresge's Environment Program, when the grant award was announced.
And Kresge isn't the only foundation paying attention to PHIWM's work. Earlier this month, the institute was awarded a two-year grant of $160,000 from the Tufts Health Plan Foundation to work with the Live Well Springfield Coalition to foster an age-friendly ecosystem and health-equity approach to policies and practices in Springfield and Hampden County.
The coalition will use this funding to ensure housing policies and solutions make resources accessible to all older people. The work includes collaboration with the Sheriff's Department, criminal-justice reform advocates, housing officials, and behavioral-health providers to advance supports for older adults with criminal records to ensure housing and health access; the development of an action plan and digital toolkit to support older adults' health at home; and an effort to recruit and train older adult resident leaders who can advocate for age-friendly best practices and initiatives. Key partners include Baystate Geriatrics, TechSpring, Baystate Neighborhood Health Centers, New North Citizen's Council, Men of Color Health Awareness, the Alliance for Digital Equity, and the Age Friendly Advisory Board.
"Older people were among the hardest-hit by the pandemic," said Nora Moreno Cargie, president of Tufts Health Plan Foundation. "These investments will support community resiliency and build on what we've learned in the past 16 months — that collaboration across organizations and sectors strengthens communities and result in better outcomes."
It's a philosophy shared by PHIWM and the Live Well Springfield Climate Justice Initiative, which is why their current work to tackle climate, health, and equity issues will continue, with plenty of buy-in from the area residents, old and young alike, with the most at stake.