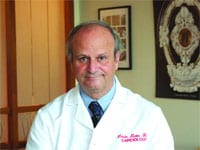 Dr. Mario Motta says that, even without a 21% rate cut, the Medicare reimbursement system is inherently unfair to doctors and should be changed.
Doctors say they're tired of playing the game.
A threatened 21% cut in Medicare payments was averted by Congress last month when the U.S. Senate voted to delay the cut until April 1. At press time, the Senate had moved to push the cuts into the fall, and the House was expected to take similar action.
It's a yearly ritual. The current system for funding Medicare generates annual cuts in payments to doctors; lawmakers typically prevent those cuts from going into effect. But even without the reduced payments each year, the system has chronically underfunded the cost of care for well over a decade, and doctors are calling for a different model.
"Medicare underpays its fair share of costs, and because of that, if you're a physician who handles a lot of Medicare patients, it's difficult to stay in practice, especially in a high-cost state like Massachusetts," said Dr. Mario Motta, president of the Mass. Medical Society. "The cost of doing business has risen by 21%, on average, across the country since 2001, but Medicare payments have increased by only about 1%."
The reason is a bill passed in 1997 establishing what's known as the 'sustainable growth rate' (SGR) for Medicare, which mandates that the amount paid to doctors for the average Medicare patient can't grow faster than the economy as a whole — in essence, tying Medicare rates to gross national product.
That was fine for several years because the economy was humming along, growing at a brisk pace. But when the economy began to slow around 2001, the SGR bit back, and reimbursements were cut in 2002. The formula has called for rate cuts every year thereafter, but since 2003, Congress has stepped in to block the cuts each time.
But not cutting Medicare isn't the same thing as increasing payments to keep up with inflation and the rising cost of practicing medicine, Motta said, and doctors are still being shortchanged each time they treat a Medicare patient.
"They're losing money on every patient who comes through the door, and as a condition of licensure in Massachusetts, we can't bill more than Medicare pays," he told The Healthcare News. "That's one reason why primary-care physicians are harder to find. It's harder to make ends meet. You see a number of practices around the country cutting back on the number of Medicare patients they see, or cutting them altogether. No one wants to do that, but offices can't stay open otherwise. It's a major problem."
Political Condition
The latest attempt to head off Medicare cuts ran into politics, so that the delay wasn't approved until the day after they were scheduled to take effect, March 1. The cuts were never implemented, however, because the Centers for Medicare & Medicaid Services held physician claims for 10 days while Congress worked out a one-month patch.
At issue was the objection by Sen. Jim Bunning (R-Ky.), who wanted the $10 billion cost of the bill delaying the cuts — which also included numerous unemployment and health-assistance programs — offset by other federal budget cuts, noting that President Obama and Democratic leadership had previously endorsed such pay-as-you-go, or paygo, budgeting.
Bunning finally relented when Senate leaders agreed to vote on an amendment to achieve that offset — a vote that later failed, largely along party lines.
While Democrats traded barbs with Bunning over allowing the rate cut to slide past March 1, the American Medical Assoc. blasted lawmakers from both parties for maintaining what it calls a broken system.
"The Senate had over a year to repeal the flawed formula that causes the annual payment cut, and instead they abandoned America's seniors, making them collateral damage to their procedural games," said Dr. James Rohack, AMA president, in a statement.
"Physicians are outraged because … the continued instability in the system will force them to make difficult practice changes, including limiting the number of Medicare patients they can treat."
"Short-term actions are the wrong answer to a long-term problem," Rohack added. "These band-aid fixes have only served to increase the size of the cuts and the cost of reform. The longer Congress delays, the higher the cost to the American taxpayer. It's time to fix the formula and ensure that seniors can count on Medicare now and for years to come."
Instead of getting that fix, however, the AMA and other doctors' organizations, many of whom support the general framework of health reform, are worried about one element in President Obama's proposed overhaul of the system, which would give an independent commission the power to control Medicare rates.
"If the solution is we're just going to have a big board that will make draconian slashes, that's not getting at the root cause of what the problem is," Rohack said last year when the idea was introduced.
Dr. Lori Heim, president of the American Academy of Family Physicians — which has enthusiastically backed Obama's reform plans — also called for a simple, fair formula for Medicare rather than another layer of rate oversight.
"We are pleased that our patients and members will not have to endure the effects of a 21% reduction in Medicare payments," she said in a statement last month, but at the same time called on Congress to enact a permanent SGR payment fix, arguing that the current rate structure has created an unstable payment environment for physicians and their patients.
"Family physicians need to know that their practices are secure," she said, adding that Congress's habit of providing only a temporary patch "once again highlights that physician payment is being held hostage by Congress."
Unfair Burden
Another problem with the SGR, Motta said, is that it saddles physicians — but not hospitals, drug companies, or other players in the health care field — with the burden of underfunding.
"It wouldn't be so bad if everyone suffered the same hit," he told The Healthcare News. "But when this law was passed in the 1990s, everyone was exempted except for physicians.
"Republicans and Democrats both recognize that, but they just haven't had the political will to fix the problem," he continued. "Talk to any senator or representative from either party, and they'll say, 'we know this is flawed; we know there's a need to fix it.' But they never fix it."
The Medicare cuts that have been put off in annual votes by Congress total some $320 billion over the past decade. "They say we're borrowing from the future, but in a way we're not, because the money was never there to begin with, and the money's already spent," Motta said. "What the paygo formula means is that they have to come up with $320 billion just to fill the hole from the past nine years to fix the problem, which — in my opinion and that of other doctors — is an artificial problem created by a bad law."
Dr. Robert Lounsbury, president of Agawam-based Riverbend Medical Group, noted that, even if Medicare isn't cut, the effect on physicians is the same: cost-of-living increases alone mean they're losing money on every Medicare patient they treat, which seriously slices into their margins and hinders their ability to grow their practices and invest in new, often-expensive equipment.
Given that fact, he posited, how much worse would it be if the cuts did go into effect, either this month or later this year?
"Most physicians kind of expect the government is going to reverse the cuts that would otherwise go into effect," Lounsbury said. "If physicians were to take a 21% cut in the fees they receive for Medicare patients, that would be a huge problem.
"Essentially every practice takes care of adult patients, Medicare patients," he continued. "I wonder what business in any other field could sustain that kind of reduction. The margins in a medical practice are very, very low. If you cut your revenues by that much, even if your expenses go down — and, if anything, expenses go up every year — you can imagine what the bottom line starts to look like."
"Just to put things in perspective with a 21% cut," Motta added, "let's assume a practice is 80% Medicare, which is not atypical. You still have to pay the same rent, nurses, staff expenses, etc. Overhead at most practices is between 50% and 65%, at minimum. So you're talking about a 40% pay cut on what's left. No practice can sustain that. We're getting paid 1980 prices with 2010 expenses. If the cuts took effect, practices would fold like leaves falling off a tree. They wouldn't be able to meet their expenses.
"Everyone recognizes the flawed formula," he continued, "but they just haven't been able to fix it. So every year they just freeze the cuts and avoid the issue."
Lounsbury said many people don't understand the seriousness of the situation, which is exacerbated by the rigidity with which physicians are paid.
"You hear people saying, 'well, if doctors get paid less from Medicare, they're just going to charge other insurance companies more,'" he said. "That's a misconception. You can charge whatever you want, but you're only getting paid what the insurance company will pay you for that service."
Same Old Story
Rohack has been sounding this alarm for years, but he said doctors are long past being frustrated.
"Already," he said, "Medicare payment rates are far below the costs of providing patient care, and physicians are left wondering how they can continue to run a medical practice if Congress does not inject security and stability into the Medicare program."
It's uncertain how many doctors would actually stop treating Medicare patients if Congress allowed the cuts to be implemented, but Lounsbury is sure that patient access would be affected to some degree.
"Generally, physicians get paid differently by different insurance companies, and Medicare is already one of their lowest payers," he told The Healthcare News. "And if cuts of that magnitude go into effect, no doubt you would see a number of physicians pulling out of Medicare.
"It's barely tolerable as it is," he added. "Even if the rates stay the same, it's a problem. This really is something the federal government needs to fix, but I'm not sure how they're going to do that."
And the game — a losing game — continues.