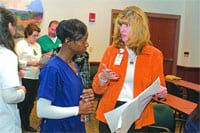 Cristina Goncalves (right), nurse educator for Baystate Medical Center, talks with Yanick Yoyo-Dunwell, who has taken advantage of a nursing workforce initiative.
Kelly Aiken says that, contrary to somewhat popular opinion, the health care industry is not recession-proof.
The events of the past 12 months have proven as much, said Aiken, project director of Healthcare Initiatives for the Regional Employment Board of Hampden County (REB). She noted that hiring has been less robust in many specific professions, and that even with nursing, the outlook for recent graduates has changed somewhat.
Indeed, where once nursing grads could essentially write their own ticket and choose from several attractive job opportunities, some looking to enter that profession have had to settle, if that's the right word, for a less-than-ideal situation.
But looking at the long-term big picture, health care will continue to be one of the mainstays of the local economy, said Aiken, and it will be a sector with many attractive opportunities for people who can achieve access to them.
There are, however, issues and challenges — everything from a recognized skills gap in some fields to diversity in some professions (or a lack thereof) to that matter of access, and allowing people a chance to seize job opportunities that previously might have been beyond their reach. Addressing these issues and challenges is the main assignment for something called the Healthcare Workforce Partnership of Western Mass.
That's a relatively new name, or brand, given to a large consortium of parties that includes employers, workforce-development leaders, and training and education partners (see box, page 21), and is dedicated to strengthening the region's health care workforce and enhancing the quality of patient care.
The partnership had a coming-out party of sorts on March 5 at a legislative breakfast at which Aiken talked about the economy and its impact on health care hiring, but focused mostly on a host of programs that the partnership is involved with. Listed in a box on page 34, they include everything from a certified nursing assistant pilot program to something called the Nurse of the Future Competencies for Education and Practice Project, to an initiative to increase the number of disadvantaged nursing graduates at American International College.
Together, these efforts are creating a larger, better-qualified, more diverse health care workforce, said Aiken, adding that the partnership is gaining some attention for its ability to bring various parties (including competitors) together to solve common problems. Indeed, Aiken spoke recently to representatives of the Boston Foundation about the partnership, what it has accomplished to date, and the goals moving forward.
"They said they don't have anything that looks and feels like what we're doing, and that maybe they should," she recalled.
The partnership has helped script a number of success stories, she continued, including that of Robert Calaf, a Springfield resident who cleared a number of obstacles to land a job as a patient-care technician (PCT) at Baystate Health. Calaf recounted his experiences at the breakfast in an emotional talk that focused on how the shooting death of a friend shocked and energized him to turn his life around, and eventually participate in a program to train new PCTs for Baystate and Mercy Medical Center.
There are several stories like Calaf's, said Amy Rist, workforce-planning specialist and project coordinator of the PCT program, which is funded by a Workforce Competitiveness Trust Fund grant from the state due to end in June. They have been made possible by connections, or the ability to connect participants with partners ranging from area colleges to the two one-stop career centers; from the Springfield Housing Authority to the Puerto Rican Cultural Council — and to connect partners with each other.
For this issue, The Healthcare News takes an in-depth look at the partnership, and how those connections are helping the region expand a skilled workforce.
A List of Key Partners
Colleges and Universities
Employers
• Elms College
• Baystate Health
• Greenfield Community College
• Baycare Health Partners Inc.
• Holyoke Community College
• Cooley Dickinson Hospital
• Springfield Technical College
• Genesis Healthcare/Heritage Hall
• Springfield College
• Holyoke Health Center
• UMass Amherst
• Holyoke Medical Center
• Westfield State College
• Kindred Hospital Park View
Workforce Development
• Noble Hospital
• Regional Employment Board of Hampden County
• Mass. Senior Care Assoc.
• Franklin Hampshire Regional Employment Board
• Shriners Hospital for Children
• FutureWorks One-stop Career Center
• Sisters of Providence Health System
• Career Point One-stop Career Center
Philanthropy
• Franklin Hampshire Career Center
• The Irene E. & George A. Davis Foundation
• Springfield Department of Health and Human Services
• Pioneer Valley Area Health Education Center
Work in Progress
Aiken told The Healthcare News that almost every profession in medicine has its own set of issues with regard to staffing and hiring.
She cited medical assisting as just one example.
"It's not that we're not necessarily producing enough of them — in some cases there are surpluses," she explained. "But there's talk that the quality isn't high enough, and that we need to make sure that every medical-assisting program gives people the right types of experiences so they're job-ready.
"So we're working on curriculum re-design and better integrating employer needs with the academic programs," she continued. "There are different sets of strategies for every type of occupation, such as health IT. We still don't know what the specific strategies are, because they're evolving as the federal government figures it out and as technology changes. We're just peeling back the onion on each of these priority occupations, and doing it collaboratively, with the right organizations sitting at the table."
Such onion peeling is the unofficial job description of the Healthcare Workforce Partnership of Western Mass., said Aiken, noting that various subgroups of members meet regularly (quarterly or monthly in most cases) to review initiatives and plan what should come next.
At its core, the partnership was created to build awareness of careers in health care — too many individuals still believe nursing is the only attractive option — and also ease access to those careers. Using funds provided by a number of sources, from the Commonwealth to the federal government to various foundations, partners are addressing various concerns and, overall, building a reliable pipeline of qualified workers.
The partnership works to help individuals with everything from fully understanding various health careers, thus improving retention rates, to overcoming many of the many obstacles that could hinder access to a career in medicine. And in many cases, the workforce partnership's programs are designed to expose people to careers, get them in on the ground floor, and help them move up the ladder to positions that are currently experiencing shortages of qualified help.
The patient care technician program is one such initiative, said Rist, adding that the first phase of the program involved incumbent workers — those already working in health care but not in clinical positions — and later involved members of the community, 68% of which were unemployed when they entered, with the rest in mostly dead-end jobs.
"We've had some who were homeless," said Rist, adding that she has made the most of the $475,000 awarded for the program to provide participants with everything from transportation to a cell phone.
Calaf's story is now the best-known — it garnered considerable media attention, said Rist — but there are many like it, if perhaps not as dramatic.
Casandra Washington's boyfriend moved through the incumbent workers' phase of the program, and his success in becoming a PCT inspired her to participate.
As she talked with The Healthcare News, Washington was getting ready for her first day on the job, and what she expects to be the beginning of an intriguing process that will enable her to reach her stated career goal: becoming a midwife.
"This is going to be a stepping stone for me, not a permanent thing," she said of her work as a patient care tech. "But it's a great start … it pays well, I'm going to get great experience, and Baystate is a great place to be."
Yanick Yoyo-Dunwell, a native of Haiti, used similar language to describe work she's now doing on Daly 5A, the cardiac unit, at Baystate, as a certified nursing assistant. Formerly a worker at a behavioral health facility in Boston, her story is typical of those involved in the worforce initiative. Living essentially paycheck to paycheck, especially after her husband was laid off last fall, Yoyo-Dunwell was looking for entry into a steady job within health care that could lead to more-promising opportunities down the line.
She found one in the CNA program, which involves many partners, including Holyoke Community College and Springfield Technical Community College, the Mass. Career Development Institute, the career centers, and others. She's now enjoying her work on the cardiac floor, where she assists patients before and after surgery, among many tasks, but is already thinking about the next step, possibly getting into phlebotomy or pursuing a nursing program.
"I'm having fun, and I'm learning each and every day," she explained, noting that she started just a month ago. "It's interesting work and a great place to start."
Hire Ground
Moving forward, Aiken said the partnership has a number of initiatives in the planning stages, some closer than others to obtaining needed funding.
One, called Bridging the Healthcare Skills Gap Program, will have the REB as lead partner and provide training, education, and job placement for 40 unemployed, dislocated, and incumbent workers as certified nursing assistants or medical assistants.
Another, also focused on closing the skills gap, will involve the Franklin Hampshire Regional Employment Board in a similar effort in training and placement for nursing assistant and medical assistant positions, with a particular focus on new Americans.
And there will be more to follow because, while health care will continue to be a major force in local employment, there will always be issues and challenges to accessing careers in this field. And tackling such matters requires teamwork, collaboration, and a strong group of partners.