ServiceNet's Enrichment Center and Strive Clinic and Its Partners at Springfield College and UMass Amherst
Collaboration in Health/Wellness
ServiceNet's Enrichment Center and Strive Clinic and Its Partners at Springfield College and UMass Amherst
Helping People with Brain Injuries Maintain Function Is a Unique
Group Effort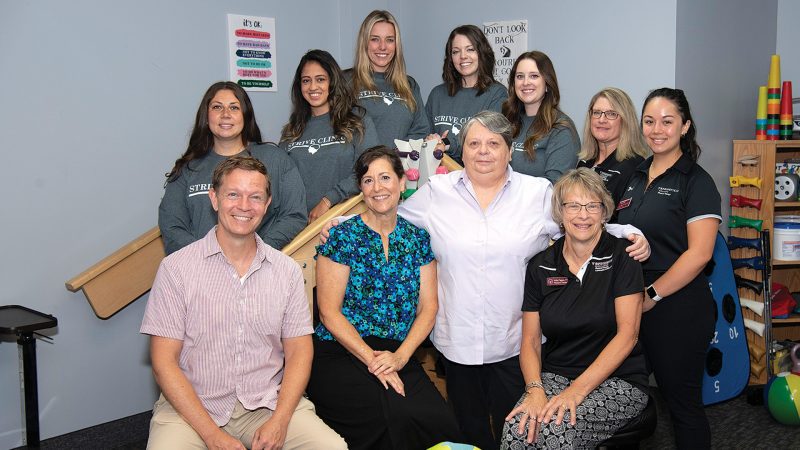 Ellen Werner has been helping people with acquired brain injuries for decades.
But since she arrived at ServiceNet a decade ago, she's learned how powerful collaboration can be in serving this population that often falls through the cracks in today's healthcare system.
Werner's work with ABI patients began in Pennsylvania, at one of the first dedicated brain-injury rehabilitation programs in the country, Bryn Mawr Rehab. After moving to Massachusetts, she did homeless outreach through the Statewide Head Injury Program that was created in 1985. "I was trying to find people in shelters that had brain injuries and needed proper medical care and housing."
When she was approached by the then-vice president of ServiceNet to help launch its Enrichment Center in 2013, she was intrigued; the center helps people with brain injuries to become more functional and engaged with others and their community.
"I had some kind of an understanding of what I wanted to do for these people and what kind of opportunities I wanted to be able to provide them," said Werner. "But I just didn't know how we were going to afford therapies. The agency had already put in a lot of money just opening the program, so that's when I started sending out messages. Springfield College was the first to respond to them."
Today, the Enrichment Center and ServiceNet's Strive Clinic in West Springfield — day programs for adults with brain injury caused by trauma or medical conditions — actively collaborate with two area academic institutions to provide outstanding rehabilitative care, while helping train the healthcare professionals of tomorrow.
I had some kind of an understanding of what I wanted to do for these people and what kind of opportunities I wanted to be able to provide them."
This work began in 2014 when Werner, director of Operations at the Enrichment Center and Strive Clinic, met with leaders of the Occupational Therapy program at Springfield College to develop an innovative model of community-based care that would bring in graduate students, under the direction of their instructors and on-site clinical staff, to work with clients on a variety of OT modalities. The model proved so successful that this partnership expanded in 2017 to involve the Communications Disorders program at UMass Amherst's School of Public Health & Health Sciences in developing and providing speech-language pathology services at the Enrichment Center.
Since she facilitated those partnerships with Springfield College and UMass Amherst to better serve people with ABIs, the program has grown from a small group of students and instructors to a full-fledged clinical team.
Lisa Sommers, clinical director and clinical associate professor in Communication Disorders at UMass Amherst, said the partnership with the Enrichment Center is a natural offshoot of the clinical training program first-year graduate students have to complete.
Kathleen Pappas, associate professor of Physical Therapy at Springfield College, agreed. "It really aligns with the mission of Springfield College to educate our students to become leaders in service."
Specialized Care
The Enrichment Center is an adult day-care center that offers physical, occupational, and speech and language therapies as needed, but clients also have the ability to choose from an array of activities to help promote cognitive growth and social interaction, such as support groups, music and dance sessions, arts and crafts, and trips to museums, bowling alleys, and movie theaters.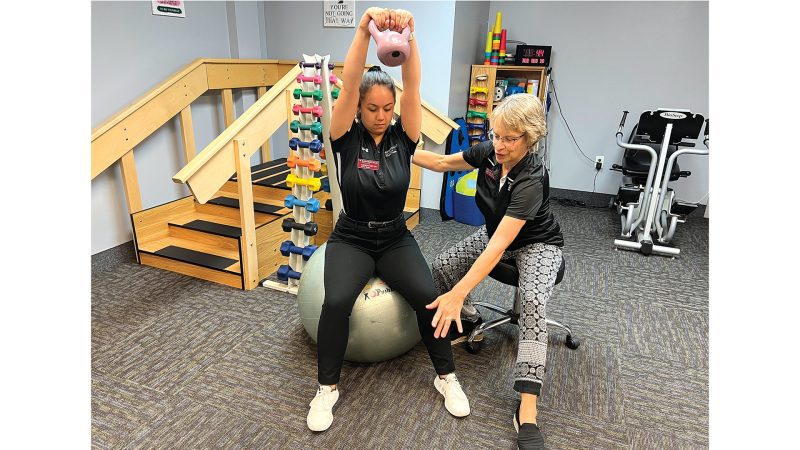 The Strive Clinic uses the Enrichment Center's well-equipped gym, providing a safe space for limited-contact services by appointment only, which allows for more individual work for a client.
Clients at the Enrichment Center and Strive Clinic are typically adults with ABIs, many of whom suffered them years ago. Brain injuries can be inflicted by traumatic, external forces, such as car accidents, assaults, and other forms of violence, or from medical issues, such as strokes, aneurisms, and brain tumors. An ABI can cause changes in identity, mental health, relationships, family structure, the ability to work, and economic status.
Years past the big event that altered their life, people with ABIs sometimes fall off the radar in the healthcare system, but ServiceNet and its partners want to change that. Clients are able to go through the Acquired Brain Injury/Moving Forward Plan (ABI/MFP) waiver program.
"With the waiver, there's really no end to the amount of therapy that we could provide people," Werner said. "Our clients have really benefited from it; it's just wonderful. We've had people that have been in wheelchairs for years, and now Kathy is getting them up, standing and walking. And we have clients that didn't have communication devices that really benefit from them and the sessions provided now. There are all sorts of things that we're able to do that we wouldn't be able to do if we had just traditional insurance."
Maintaining the client's level, or hopefully going beyond it, requires constant, consistent therapy, she noted, so the waiver program allows the center and clinic to be more flexible in accepting and keeping clients. At the same time, the State Licensing Board of Massachusetts requires the facilities to follow all the same regulations any other clinic would follow.
The main focus for both facilities is to help people who are living with a brain injury to become more functional and engaged with others. And because every brain injury is different, students get a more varied education than they might elsewhere.
"By having us, the instructors, available on site, providing the supervision, we know exactly where they are in the curriculum," Pappas said. "We hold them accountable to applying the knowledge they've learned in the classroom and measuring that as they prepare to become entry-level clinicians."
Because there isn't any prior conditioning, students are able to adapt to the center and provide the care clients need, she noted. In short, they come in with a learner attitude, so they're more receptive to the clients and their habits.
Many people have a narrow idea of what therapy is and what it should look like, but the programs provided by the Enrichment Center and Strive Clinic "really explode that," said Michael Starr, clinical instructor and supervisor in Communication Disorders at UMass Amherst. He went on to explain the relationships this intense care creates in the center.
"At the end of a recent spring semester, the student clinician got a beautiful thank-you note written by this client who has a really hard time expressing herself through writing. They had been working on it all semester. So she was able to do that and send it to the clinician, which was amazing and left everyone in tears."
Sommers said the client and student spend the semester teaching and connecting with one another, and that connection leaves a lasting impact on both of them.
"There's some kind of a beautiful milieu, like Michael said, that is developed between them," she added. "I think it teaches them how to provide services across the continuum of a person's life who is living with a brain injury."
But while students and faculty are impacted, Starr added, the program can be life-changing for the clients at the Enrichment Center and Strive Clinic.
"There's some kind of a beautiful milieu … that is developed between them."
"The clients really love it so much. Certain clients will park themselves outside of our offices and wait and sometimes demand a session," he noted. "Or I'll go to get someone and say, 'hey, do you have 30 minutes for a session?' and they really want it, but they say, "I have to go to PT first," and they're on their way to PT because they're not going to miss their appointment for love or money. They'll come back and see me after. They just really love our services."
He noted that, because of their injury and especially when living in small group homes, clients can be marginalized or cut off from what's happening in the world around them. Sommers agreed.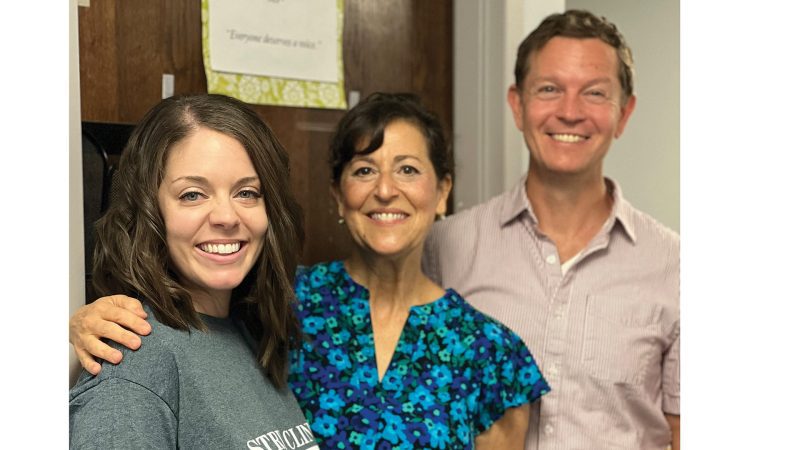 "When people encounter the medical system, there is so much that is determined for the patient, particularly when the patient can't communicate or has cognitive impairments," she said. "They don't get to participate in person-centered care, which we know has the best outcomes, but is not really the model used in our healthcare system. And there are so many barriers for people — just think of all the cognitive challenges that are in our healthcare system. I can't even navigate my own health insurance half the time and struggle if something isn't covered or denied."
Historically, the healthcare system has been "a top-down, patriarchal model," Sommers added, putting clients in a vulnerable position emotionally, financially, medically, and more. Through the Enrichment Center and Strive Clinic, that model is upended, allowing clients "to have agency, to have a voice, to be able to say what they want and be able to say."
Striving for Tomorrow
In supporting the program's Healthcare Heroes nomination, Amy Timmins, vice president of Community Relations at ServiceNet, noted that "the partnership between ServiceNet, Springfield College, and the University of Massachusetts exemplifies the vision and innovation so central to the Pioneer Valley — where academic and healthcare programs are each strengthened by the other, for the benefit of those they serve. In working together, they have created an environment where new goals and possibilities are free to take hold every day."
That they have, which is why Sommers sees potential for other collaborations; in fact, the clinical educators she's worked with have also articulated as much because of the opportunities collaboration brings to the community.
Their next goal: "world domination," Werner said with a laugh. Actually, she wants to continue to create more opportunities for people living with ABIs.
"In healthcare, it's all about collaborating with other professionals, and Ellen has brought that to the top and forefront of what's best for these clients," Pappas said. "Without her vision and enthusiasm and ability to really work within and out of the system to make things happen, none of us would be here. So I am eternally grateful to her for what she's given our students as opportunities and what she's given to the clients on a daily basis."
For finding and fostering the connections that not only help people with acquired brain injury, but cultivating the next generation of therapists, ServiceNet's Enrichment Center and Strive Clinic, and its academic partners, are certainly worthy of being called Healthcare Heroes.