Setting the PACE Mercy Life Aims to Keep Seniors in Their Homes
Senior citizens with health needs have plenty of options, running the gamut from home care to assisted living to nursing-home care.
But what about individuals who are struggling at home alone, but feel they're not quite ready for residential care?
For such people, PACE — Medicaid's Program of All-inclusive Care for the Elderly — could fill the gap.
"PACE is a program that's designed for folks who would normally be living in a nursing home long-term, and provides everything they need to keep them at home," said Joseph Larkin, executive director of Mercy Life, the PACE program recently established by the Sisters of Providence Health System (SPHS).
"The overall goal of PACE is to align the financial incentives of the PACE organization with the patient's life goals — namely, to stay home and stay as independent as they possibly can be," he explained, adding that the program relies on lower-cost preventive care to avoid higher-cost inpatient care. "The idea is to spend more money on preventive things and thereby avoid more expensive medication, hospital stays, and nursing-home placement."
SPHS envisions Mercy Life — which will be housed, along with Mercy Home Care and Mercy Hospice, at the former Brightside for Children and Families campus in Holyoke — as a bustling facility, staffed by a host of medical professionals, where seniors can go to meet basic wellness needs. At the same time, PACE also provides in-home care when necessary.
Simply put, PACE programs serve individuals with long-term-care needs by providing access to the entire continuum of health services — preventive, primary, acute, long-term, and end-of-life care included. The model is centered around the concept that it's better for the well-being of elders with chronic-care needs, and their families — to be served in the community whenever possible.
 "PACE is a niche program," Larkin said. "People who are doing well with home care or visiting nurses, or doing well with traditional adult day health programs, those aren't necessarily good PACE enrollees." On the other hand, people who find their needs aren't fully met by such programs, yet don't necessarily need to be in nursing-home care, are more likely to thrive in PACE.
Christopher McLaughin, chief operating officer of the Mercy Continuing Care Network — which boasts a number of independent-living, assisted-living, and skilled-nursing facilities, as well as home-care, hospice, and adult day programs — says Mercy Life will fit well in that continuum when it opens later this year. "This gives seniors new options they have not previously had."
Team Approach
Larkin noted that enrollment is open to anyone 55 or older who lives in the service area of a PACE organization, and who is also screened by Medicaid and determined to be eligible for nursing-home placement. An open house for Mercy Life will coincide with a groundbreaking ceremony on June 17, starting at noon.
"People who enroll assign their Medicare and Medicaid benefits to PACE," he said, "and the PACE organization provides everything they need, from hospitalizations to primary care to medications to help in the home — home modifications, pretty much anything the organization thinks makes sense to help people stay in their homes."
Each client is typically served by an interdisciplinary team made up of a primary-care physician, the PACE center manager, a nurse, a social worker, a physical and/or occupational therapist, a home-care coordinator, a pharmacist, a dietitian, a transportation manager, a personal-care attendant, and other caregivers as appropriate.
If that sounds a lot like an accountable-care organization, it should, Larkin said, noting that PACE program fits well into the growing ACO movement in the healthcare industry, in which patient care is overseen by a similarly diverse group of providers.
The difference — and it's a significant one — is who makes coverage decisions. While an ACO is still bound by payment limitations, PACE has none. In short, because the organization serves as both provider and insurer, the care team decides not only what services the patient needs, but which ones to pay for. There is no fee-for-service concept, as PACE takes on all the risk.
"That's a huge difference from everything else; there's not anything else I know of where that's the case," Larkin said, adding that PACE programs rely on a small-scale model of care, so enrollment is limited. "Once you get over 100, 120 patients, it's harder. You need to know these people intimately to know what's going to work for them. If you don't, you underserve them, and they fail, or you overserve them, and PACE goes out of business. So it's a real balancing act, and you have to know your patients well in order to strike that balance."
But he emphasized that PACE does not scrimp on preventive services, which have been proven to save money over time. "Many times, the PACE organization pays for things that other insurance companies won't pay for," he noted, citing the example of a client whose dog's flea dip was covered, because dealing with the health effects of fleas in the house would have been more expensive.
"The organization gets really creative in terms of what they do for people," Larkin said. "They decide what is covered for each participant; there aren't decision politics like you typically have with insurance. Decisions about what they pay for are made on a case-by-case, individual basis."
To qualify, clients must dis-enroll from any managed-care programs and must meet Medicaid financial eligibility, or pay privately for that portion. They may also dis-enroll from PACE at any time, and PACE coordinates their insurance reinstatement.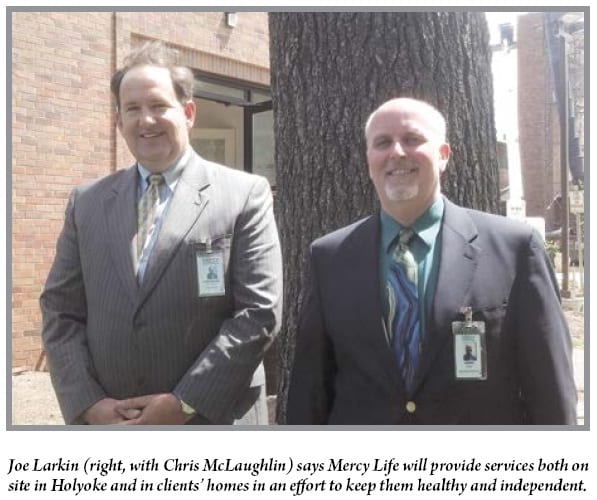 Day and Night
During the day, Mercy Life will feature a host of wellness activities and morning and lunchtime meals, as well as offering treatments ranging from infusions to complex dressings, as well as routine medical appointments with doctors and nurses. "On average, people come to a PACE center 2.2 times per week — some every day, and some once a month," Larkin said.
And sick people are welcome, he noted. "In adult day care, if you're not feeling well, they tend to ask you to stay home. In PACE, if you're not feeling well, that's all the more reason to come in; they want to see you, to be able to help you." In many cases, he added, "aides will go into the home, help people wash up, and bring them to the center."
Indeed, "PACE also provides a lot of services in the home, as well as transportation," Larkin said, adding that drivers often serve a critical role in observing and reporting clients' unmet needs. And the level of services can change often; "there are no hard and fast rules, so it's a negotiated process."
PACE is not hospice care, he emphasized, but it's a better fit for people who are focusing more on quality of life than for individuals who demand copious medical tests and workups for every physical symptom that arises. "It does tend to be people in the last four, five, six years of life who have made a decision to take this different approach. Having said that, there's no limit to how long you can be with PACE."
Clients are typically referred to PACE programs from a variety of sources, including healthcare providers, discharge materials, marketing materials, and word of mouth. "Some are people who have been calling their doctor with vague, non-specific complaints, and they're lonely and scared," Larkin said.
"Once people in a community get to know PACE, a lot of providers embrace it. It's an opportunity to help those people providers know they're not able to help anymore" in their current living situation, he added. "It's an alternative to nursing-home placements for people who, if they just had a little more help, they could go on living in their own homes, where existing programs are not enough to fill that gap."
Currently, Larkin said, there are 92 PACE organizations throughout the U.S., serving just over 200,000 people. "It actually started in the 1970s in San Francisco, where it was called On Lok," he explained. "They did it as a charity, and then PACE regulations were developed, and by the '90s, we started to see other PACE organizations. It's really catch as catch can where you see PACE programs; there are six in Massachusetts, but none in Connecticut."
McLaughlin said the Sisters of Providence — with its 140 years of local history — sees itself as a critical provider of senior care. Meanwhile, "our corporate parent, Catholic Health East, is the largest single provider of PACE programs in the country, so we had corporate support for this," he added.
"When we think about this program, we think it complements other services we hold near and dear to us," McLaughlin told HCN, while also reflecting the Sisters' philosophical emphasis on the dignity of the individual and the "spark of the divine" in each client.
"We feel this program does a really nice job providing services to people where they need it and respects their desire to live at home," he said. "Basically, it allows them to live the fullest and most enriching type of life they can."