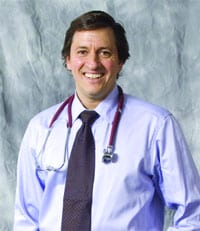 Dr. Steven Schonholz
Dr. Steven Schonholz says he'd rather see a woman 99 times for a breast lump that turns out to be nothing than to fail to catch a real problem the 100th time.
"Breast lumps are very common, but the majority of the time they're not much of anything," he told The Healthcare News. "Women get very concerned, but in fact, the majority of things that go on in the breast are not cancer. Still, sometimes it's the fear of cancer that keeps women away – they don't want to find out what it is because they fear the worst."
To counter that fear – and to encourage women to regularly bring their concerns to their doctors – Schonholz, a surgeon at the Breast Care Center at Mercy Medical Center, recently staged a lecture titled "Ten Things Every Woman Should Know about Breast Lumps."
"Whenever someone feels a lump, there's always a concern," he said. "You can have a lump even in your teen years, but they're most commonly benign, and the risk of cancer is low."
Schonholz shared information about the types of things that cause breast lumps, and kept the discussion informal, answering plenty of questions and sticking around as long as attendees want to talk – because the more information women have, the less anxious they will be.
"A lot of times, people come in about a lump, and they don't know what it is, and that causes a lot of fear and anxiety," he said. "I can explain the different reasons for having a lump, and what we look for and what we can do. Then, if they get a lump again, it's not the same concern. I hope that, when they leave here, they won't always think it's a worst-case scenario."
Dispelling the Fear
Certainly, women need to get lumps checked by a doctor, Schonholz said – but too many people still feel like they're being a nuisance by scheduling an appointment for something that might prove benign.
"We want people to realize that it's OK to look for something; it's OK to come here and be checked," Schonholz said. "Our breast center is not just for people who have cancer. Yes, we take care of people with breast cancer with up-to-date technology and minimally invasive procedures, but we also want to see someone who may be concerned about breast pain or a discharge or a new lump. They don't have to have cancer to come here."
He noted that many women become worried about the onset of breast pain, not realizing that cancer doesn't cause pain – which is why it generally wasn't detected early before the emergence of modern imaging technology. Meanwhile, some lumps are tied to the menstrual cycle.
"I tell them, the next time you feel a lump before your period starts, wait a couple of weeks," he said. "If it gets smaller, it's not cancer. Cancer doesn't get smaller – it gets bigger."
Knowing these basics – plus many others Schonholz will address during his discussion – only helps reduce the fear of seeing a doctor for breast concerns, making it less likely that a woman will ignore possibly major health problems.
"It puts a lot of women at ease knowing these things," he said. "The next time they come in, they're not automatically saying, 'I have cancer. They're going to take my breast off.'"
Testing, Testing
Of course, breast cancer is an all-too-prevalent possibility for women, and Schonholz will touch on the ways doctors diagnose a breast lump – from biopsies to minimally invasive surgeries to remove them.
"Simply by educating people, we can make them feel more comfortable, so that the next time they find a lump, they'll have a better idea of what to expect," he said – and hopefully be less fearful about taking the necessary steps to get it examined.
"I hear patients say, 'I'm sorry to bother you – could you check it?'" Schonholz said. "I say, 'absolutely. Come on down.' You shouldn't just ignore it."
The lecture was part of Mercy's Health Coach series.