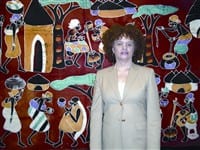 Helen Caulton-Harris, in the Department of Health and Human Services office, said that Springfield's people are its greatest strength
Helen Caulton-Harris says that, when working in the field of public health, you often learn as you go.
No other experience illustrates that point better than the post-9/11 anthrax scares that Caulton-Harris, director of Health and Human Services for the City of Springfield, found herself dealing with rather suddenly.
After 9/11, public health departments across the country were charged with becoming part of the process of training and responding to bioterrorism and other emergencies involving biological agents. Caulton-Harris said that after the terrorist attacks occurred and bizarre accounts of anthrax-tainted envelopes popping up at government agencies and media outlets began to surface, she was ready to learn, to train, and to drill in order to be ready if such an emergency ever occurred in Springfield.
But she never got the chance.
After only a few envelopes containing nondescript white powder were reported nationwide, the panic that spread across the country hit Springfield. In only a matter of days, 60 calls reporting possible anthrax attacks were made to the Springfield Department of Health and Human Services (SDHHS).
"I wanted to drill, but the real thing happened so fast," Caulton-Harris recalls. So, she and her team did their best; they erred on the side of caution, donned HazMat gear, and sent a full brigade of fire trucks and police cruisers to respond to the first few reports.
Then, as they learned more about anthrax – the truth, the myths, and the effect that the handful of actual anthrax attacks were having on the mentality of an already fragile country – they pared down the lights and sirens to a more appropriate level. There was never a real anthrax emergency in Springfield, Caulton-Harris said. Sometimes, it was just insulation that had fallen from the ceiling on to someone's keyboard.
Overall, though, Caulton-Harris looks at the experience as one she and her department handled well, although it was a situation she never could have predicted she would find herself in.
City Life
Caulton-Harris also never saw herself working in government before she took the helm at SDHHS.
A sixth-generation Springfield native, she entered the health care profession in 1972, when she worked with the Neighborhood Health Center. She later moved on to outreach work in the area of women's health, and eventually became executive director of the Pioneer Valley Health Education Center on the Springfield Technical Community College campus.
All of her career choices led her to opportunities within Springfield, and offered close and constant interaction with several different populations within the city. That, she said, is a large part of the passion she still has for her professional field as well as her home.
"When you work in the city you live in, you have the opportunity to see the positive difference that can happen over time," she said. "And the individuals that live here and invest in this city are our biggest strength."
Conversely, the largest problem facing Springfield's residents today, she said, is the impact of poverty on all facets of life.
"It's the number-one problem, and impacts many things," she said. "We have a growing HIV and AIDS epidemic. We keep a close eye on infant mortality rates. We have an oral health problem, with people in the community not receiving adequate dental care. Poverty also affects the overall health and wellness of the community in terms of access to health care and nutrition – we try to link people with health care centers and educate them on healthy eating habits. But part of the problem is healthy food costs more than junk food."
Recognizing poverty as the root cause of many problems targeted by the department is an important aspect of all services, said Caulton-Harris. It is one of the constants that binds all of the diverse initiatives, which offer education, but also nursing services, homeless assistance, enforcement of sanitary codes, HIV/AIDS outreach, and even violence mediation and fair housing compliance checks.
She added that in her 23 years as a health professional, not a day has gone by that hasn't satisfied her appetite for social justice.
"Working with the underserved population of Springfield fits my '60s mentality' and my passion for public health," she said. "It is consistent with my spirit, and I'm a very spiritual person."
Municipally Minded
Caulton-Harris has directed the SDHHS since 1996, when she was appointed by former Mayor Mike Albano to merge the then separate departments and create a new infrastructure. The two legs of the department now focus on the enforcement of mandated public health Mass. General Laws (MGL Ch. 111) and implementing a broad spectrum of human services.
Since she assumed her post, Caulton-Harris has seen firsthand the financial challenges that surround health planning — "funds for prevention efforts are the first to go," she said — and concurrently has seen the SDHHS grow in both size and scope.
The department's services are so broad that its informative brochure is 19 pages long and includes contact information for 12 program directors and coordinators that work under the auspices of Health and Human Services, including an area health education director, an HIV/AIDS mobile outreach coordinator, a violence prevention coordinator, and a 'Safe Schools/Healthy Students' director, among others.
The department's still-fledgling bioterrorism and emergency preparedness duties have added another layer to operations at SDHHS. Currently, Springfield is pairing with other area cities and towns in the region to fine-tune emergency preparedness plans and perform field training and tabletop exercises.
Bioterrorism and similar emergency training are a particular challenge for Caulton-Harris because they are such new additions, and because they require public health departments to work in a field that was once reserved for police, fire, and other emergency personnel.
"The events of 9/11 changed all that," she said. "Now, we need to educate the public on these issues, but first we need to be educated ourselves. There is a distinct challenge in learning how to respond to very specific questions, and in turn to feel competent in your answers."
Caulton-Harris has approached the added responsibility, however, in much the same way as all of the SDHHS' services. "Our planning and our work will be ongoing," she said, "and will closely involve the community."
With community service the underlying reason for all of the SDHHS' programs, grant funding has become a necessary staple as well as a constant goal. New services like bioterrorism prevention are constantly surfacing and evolving, and existing programs such as violence prevention and nursing services become increasingly important.
Dispute-resolution services, for instance, have been offered since 1983, but Caulton-Harris said non-adversarial problem solving in the communities, schools, and businesses of Springfield has become one of the most necessary services of the SDHHS; it's also one of the largest alternative dispute resolution services in the state. Additionally, more tangible services like the administration of flu shots (the department gave 4,000 shots this year) require steady funding to remain available.
There has been some state funding rolling in for programs such as tobacco control, which includes everything from education on the dangers of smoking to environmental tobacco smoke legislation. But in many cases, tobacco control included, the workload grows with or without added funding. With the statewide decision to make all restaurants and bars smoke-free in 2004, for instance, surveillance and compliance checks that already exist as part of the SDHHS' tobacco control program expanded to include those establishments.
"We have developed relationships with restaurants to assist in those efforts," said Caulton-Harris, returning to the idea that community involvement on all fronts is essential to continuing adequate, if not exemplary, service to the city. "Everything we do is ingrained into the community, and aimed at its well-being."
Under Construction
She tempers that outlook with the knowledge she has gleaned as one of Springfield's leading professionals, activists, and residents over the years. The city is in transition, she says, and the department's workload will only continue to increase.
"As far as the work is concerned, our duties are extremely broad," said Caulton-Harris. "Each day is different, each day is challenging … but each day is also satisfying."