CHD Program Empowers Parents as It Helps Children Grow
By Kayla Ebner
When looking at 2-year-old Jazeilis "Jazz" Jones, she seems like any normal toddler who loves to eat and play. But what you can't tell from looking at her is that Jazz, born a month prematurely, has overcome several developmental hurdles to get to where she is today.
When Diany Dejesus gave birth to Jazz, she was already fighting her own battle with anxiety and depression. A newborn baby who wouldn't latch to her breast or drink from a bottle only added to her stress and made it nearly impossible for Dejesus to sleep at night. After talking with her therapist, she was referred to the Early Intervention program at the Center for Human Development.
Today, Jazz could seemingly eat all day if you let her, and Dejesus is exponentially more confident as a mother.
This success story, like others similar to it but unique in some ways, wasn't written overnight, but rather over time and through perseverance — as well a partnership, if you will, between the parent and the 22 staff members of the Early Intervention program.
Erinne Gorneault, a licensed clinical social worker and program director, explained how it works. She told HCN that each child is unique and grows at his or her own pace. But sometimes a child needs help.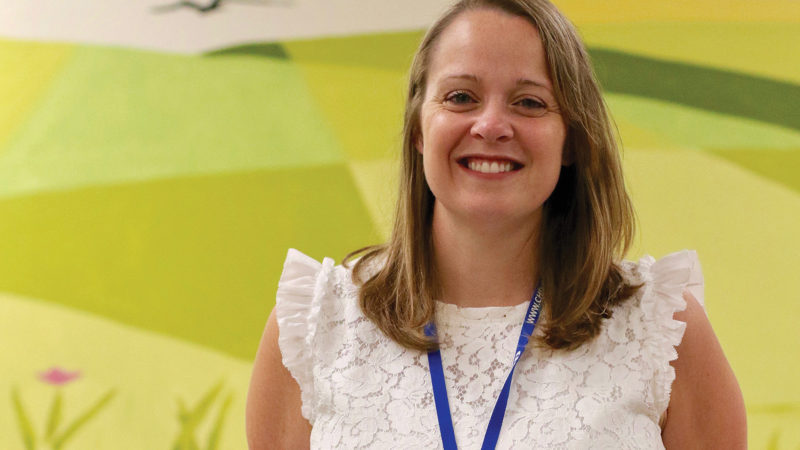 With a caseload of 230 families, CHD's Early Intervention program works with infants and children from birth to age 3 who have, or are at risk for, developmental delays. A CHD team can assess a child's abilities and, if indicated, will develop an individualized plan to promote development of play, movement, social behavior, communication, and self-care skills. Staff members work with children and their families in their own environment.
The work is extremely rewarding, said Cindy Napoli, an occupational therapist and program supervisor of Early Intervention, who cited, as just one example, how the program can help give parents the gift of being able to feed their child.
"It's the best feeling in the world to feed your kid," she said. "Everybody should be able to have that joy in feeding, and it can be so stressful for our kids who are developmentally delayed or on the autism spectrum."
For Jazz, her biggest challenge was with feeding. At one point, she was labeled as "failure to thrive," meaning she was unable to grow or gain weight. Even when Napoli and other CHD staff found a solution by having her drink through a straw, she was still struggling. Now, Jazz is thriving, eating more than enough food to keep her healthy, and speaking in full sentences.
"She's doing so great, I'm so amazed. At the beginning, it started off so slow, I was really afraid for her. I didn't know what I was going to have to deal with, but she's way ahead of herself now."
For this issue and its focus on pediatric care, HCN takes an in-depth look at CHD's Early Intervention program and that aforementioned partnership between team members and parents to achieve life-changing results for both the child and the parents.
Food for Thought
Gorneault said parents often contact CHD's Early Intervention program because they are concerned about their baby or toddler's development in the areas of speech delays, or delays in walking or crawling.
The experienced team can assess the possibility of a delay and work with parents and their children to help them attain their milestones — essentially, to catch up — if that's what's needed.
Program staff members also work with children diagnosed on the autism spectrum, infants and toddlers with feeding concerns, toddlers with sensory issues, and infants and toddlers with medical needs. They support the family by providing education and improving developmental milestones through teaching parents to interact with their infant or child while building strong emotional relationship. In all cases, staffers work with families to connect them with other community services that might be helpful and provide several playgroups for both community members and CHD Early Intervention families to participate in without interactive team members.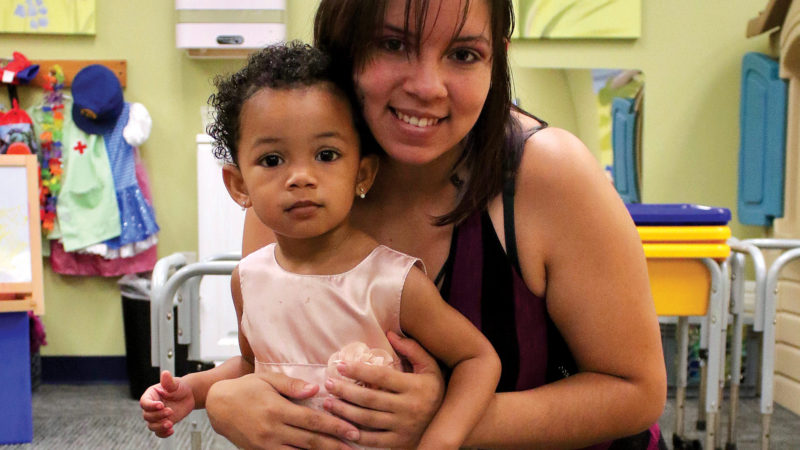 Although the 22 staff members in the program may be the experts, Napoli said the most important part of their work is going at the parents' pace and empowering them to be advocates for their child.
"It's about enabling and empowering the parents to be the lead person and the specialist," she said. "We believe the parents are the specialists. It's about empowering them and teaching them how to be advocates."
Gorneault agreed, adding that the trans-disciplinary approach used at Early Intervention allows them to guide parents effectively while also keeping them in the driver's seat.
"We just help; the parents are the ones doing all the work," she told HCN. "They're the ones working on the outcomes; they are making the difference."
With occupational therapists, physical therapists, and speech therapists in the program, staff members use a trans-disciplinary approach to work with families and find the best way to help achieve milestones.
"You don't go in there with blinders on, thinking, 'I'm only here for feeding,' or 'I'm only here for walking,'" said Napoli. "It's about where the child is at, where do we want them to go, what are the priorities of the family, and how can we all do it together?"
One of the most important aspects of this program, said those we spoke with, is that the specialists work with the families in their most natural environment, usually the home or a day-care facility, in order to get the most successful outcomes.
"Being in the home, you're able to adapt the environment," said Napoli. "You're able to see what they're cooking. I can't say enough about the natural environment."
One of the priorities during the hour-long sessions staged over several weeks is working on what is most difficult for the parents, said Napoli. Once staffers have made their suggestions, their goal — and their hope — is that parents continue to practice the suggested strategies on their own.
"You're modeling in hopes to encourage the parent to do the same thing," she explained.
This is important, she said, because while CHD staff see the child for only one hour a week and specialists may visit a family at different times, parents are with the baby daily, almost 24/7.
Gorneault agreed, adding that being receptive to the parents' wants and needs is a critical part of the process.
"They run the show," she explained. "We make recommendations, but if they're not ready for that, we slow down and just stay at their pace and support them and build their confidence as parents."
A Matter of Confidence
And a confidence boost was exactly what Dejesus needed.
"I started off doubting everything, due to the fact that I have anxiety and depression; it just made it so much harder for me," she said. "Little by little, with a lot of help from here and from my therapist, I just got reassured more, and it made me that much more confident."
Dejesus said the people she interacts with at CHD are like another family, and have helped her achieve the confidence she needs to be a great mother.
"Having more people that can help you and guide you, that really did help me a lot," she said. "Now, I trust myself and my instincts as a mom when it comes to Jazz."