When Time Is of the Essence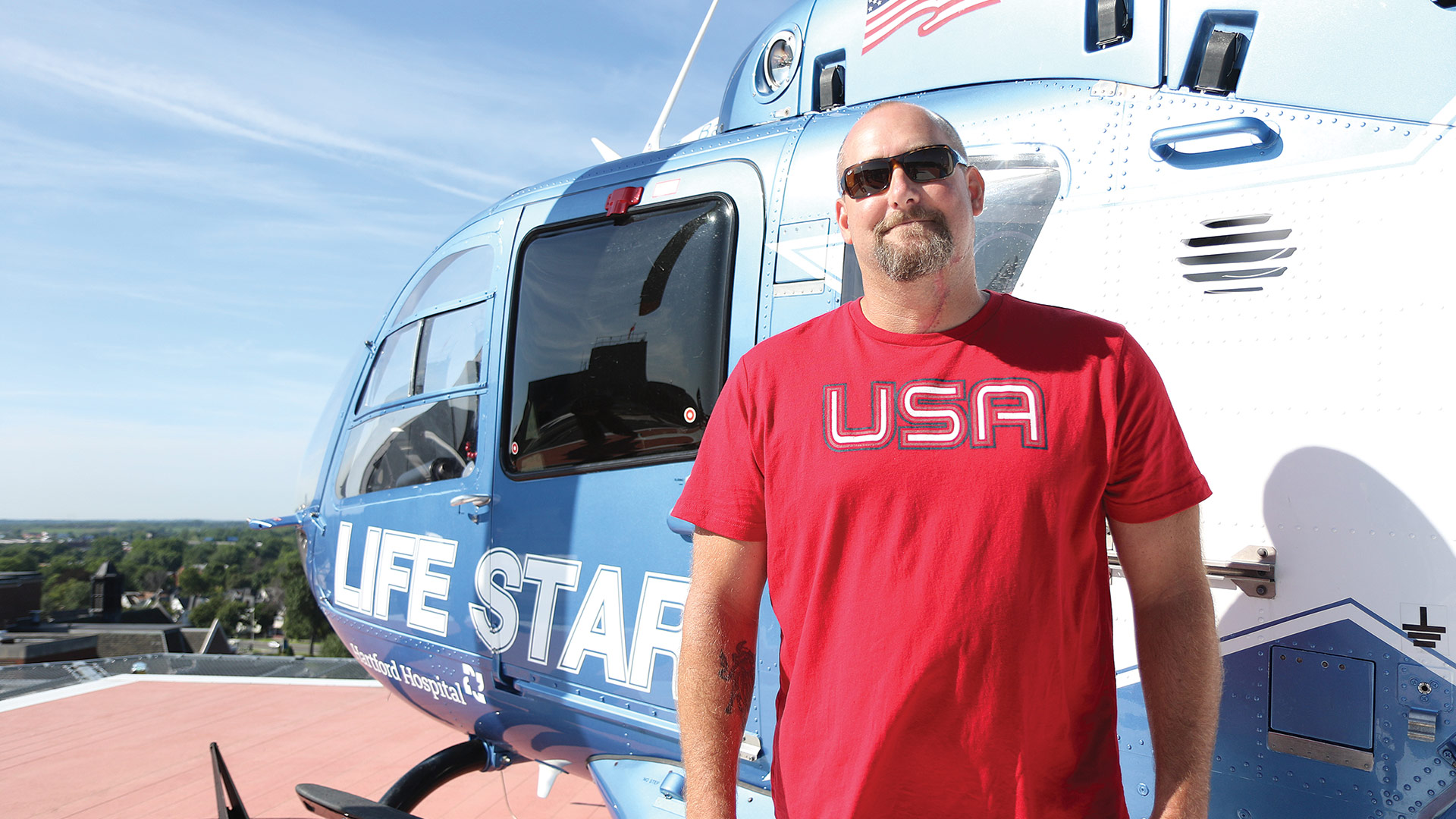 This Life-saving Effort Was an Exercise in Teamwork
By Kayla Ebner
The last thing Shawn Bull remembers before waking up in the hospital is seeing purple, the blood coming out of his neck, and one of his co-workers rushing to help him.
What he doesn't recall, but was told soon after he woke up, is that his life was saved that afternoon in early June because of those quick actions and a subsequent chain reaction of efforts and services, including transport to Baystate Medical Center via the LIFE STAR air ambulance.
At a moment when time was of the essence, precious minutes and seconds were saved, and each one was needed to keep Bull alive.
Working for the Public Works Department in Ellington, Conn., Bull, 48, began cutting a riser for a catch basin with a 30-pound saw — a job he'd done countless times before. But this time, the 14-inch blade kicked back and sliced his neck, severing both his carotid artery and jugular vein.
"It just felt like I got punched in the throat," Bull said. "I set the saw down, and it looked purple. My blood."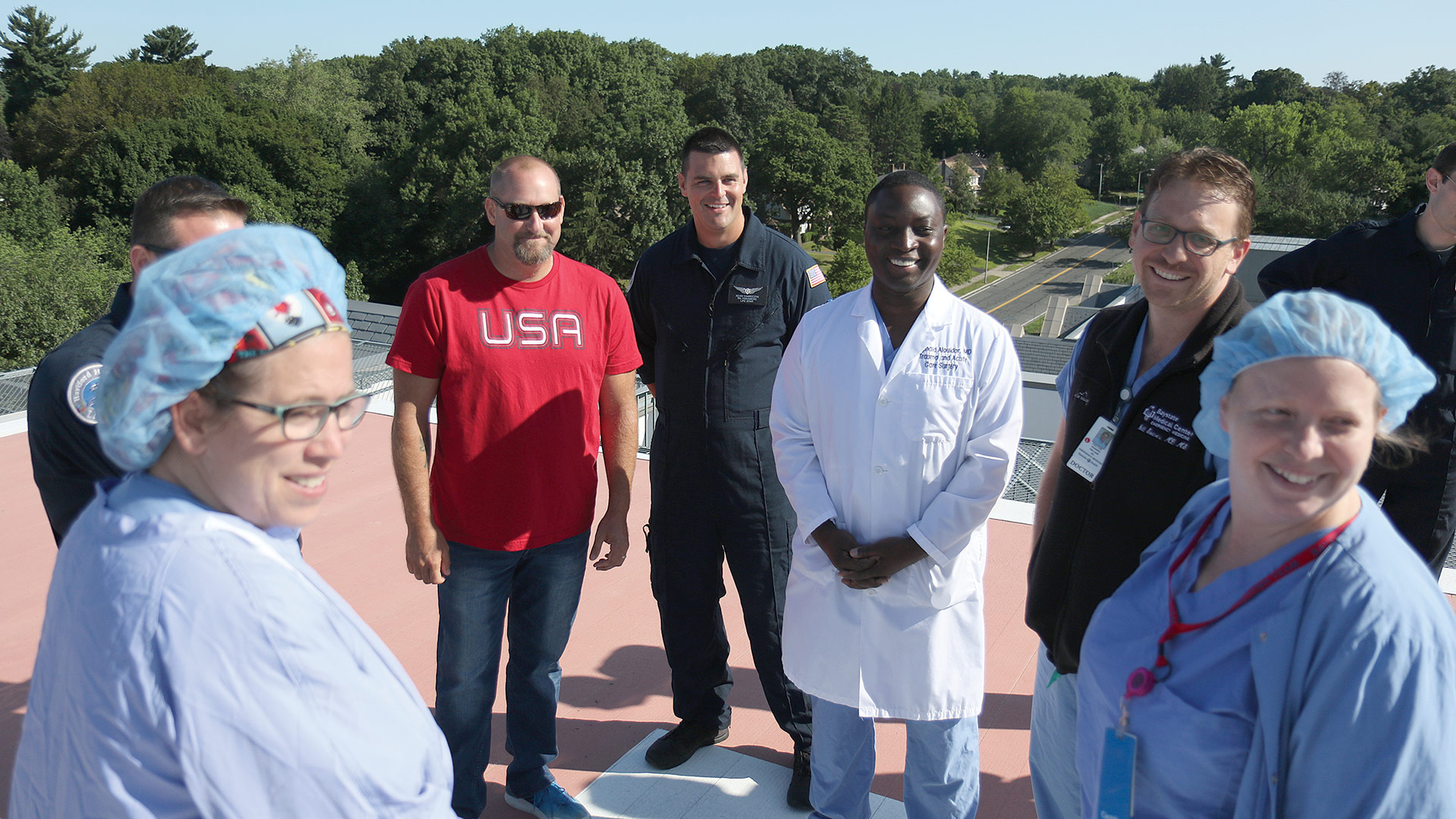 As his co-workers applied pressure and stopped the bleeding, an emergency call was placed. EMTs arrived on the scene, and the LIFE STAR air ambulance was summoned. At Baystate, a team of responders was ready when he arrived.
"When he came to the OR, the first thing I did was take control of the situation," said Dr. Reginald Alouidor, a trauma surgeon based at Baystate, adding that this meant getting control of the bleeding vessels, identifying all structures that were injured, and repairing them one by one.
"I've seen similar situations play out, and they don't have the same outcome because there wasn't someone there to immediately get control of the bleeding or attempt to get control of the bleeding."
But, as noted, the actions in the ER were just some of many that enabled Bull to return to Baystate on Aug. 6 to relive what happened (sort of) and talk with and thank all those first responders who contributed chapters to this remarkable story.
"There are a lot of links in the chain, and out of all those links, none of them were missing, and that's why Shawn is here today," noted flight paramedic Brendan Colt, who, along with colleague Adam Dawidczyk, treated Bull in the helicopter. "All the way down to his co-workers immediately stopping the bleed, to EMS showing up, to the fact that where we were landing is right next to an airport with helicopter training going on. They were aware that they were coming in, so they stayed away in order to let them get on the ground quickly.
"Everything lined up perfectly," he said in summation.
For this issue, HCN recounts how everything came together and how Shawn Bull's story is a fitting example of what has to happen when time is of the essence.
On the Cutting Edge
As Bull retraced the route he was taken through nearly two months ago at Baystate — from the helipad to the hospital elevator to the operating room — he said repeatedly that he doesn't remember anything from that fateful day after the saw clipped his neck.
And he's happy he doesn't. Indeed, when he hears the story of that traumatic day from nurses, surgeons, and family members, he is quite shocked.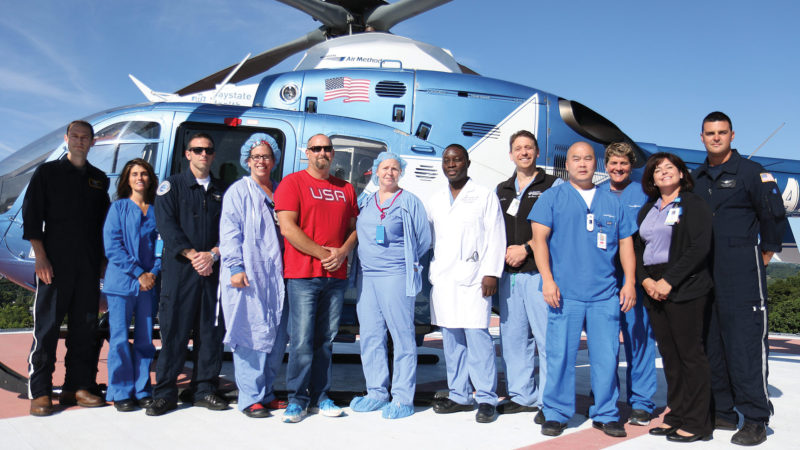 "I was amazed," Bull said when asked about how he felt when hearing the stories of what happened to him that day. "When somebody tells you something you don't remember, it's a hard pill to swallow."
As those who were there and do recall the story told it, the heroic work began with Bull's co-workers, Ronald Moser, Richard Daugherty, and Denis Giroux. They took action to stop the bleeding, putting pressure on the wound to slow blood loss. Dawidczyk and Colt say this made a critical difference in saving Bull's life.
"I've seen similar situations play out, and they don't have the same outcome because there wasn't someone there to immediately get control of the bleeding or attempt to get control of the bleeding," said Colt. "Stopping the bleeding is the most important part. His co-workers and EMS that showed up prior to us had way more to do with his survival than we did, for sure."
But the work of the flight paramedics — and the LIFE STAR helicopter itself — certainly played huge roles in this story.
Last year, Hartford HealthCare, Air Methods, and Baystate Health created a three-way partnership that brought LIFE STAR air-ambulance services to the Western Mass. area. The helicopter is based at Westfield-Barnes Regional Airport and is used when a patient suffering from a medical emergency or trauma needs a timely transport.
According to Hartford HealthCare, a LIFE STAR helicopter can fly at 155 miles per hour and can be airborne within minutes of a request for service.
This meant Bull got to Baystate in 10 minutes, when it could have taken twice or even three times as long by ground ambulance.
"Time is certainly of the essence in any scenario in this case, but also [important] is our experience with the critical-care background that we both have," Dawidczyk said.
Both Dawidczyk and Colt said the combination of the quick actions of Bull's co-workers and the quick transport and treatment the pilots were able to deliver to Bull on the ground and in the air made a huge difference in the odds of his survival.
All this happened in under 30 minutes, and this was only a fraction of the time that Bull would be fighting for his life that day — a long five- or six-hour wait for wife Rachel, 19-year-old daughter Ashley, and 21-year-old daughter Kayla, to find out if their husband and dad would survive.
Many are calling Shawn Bull's story a miracle, and while those sentiments are understandable, from a healthcare perspective, his saga represents the many critically important aspects of teamwork in a situation like this.
"He's lucky because somebody identified that he was dying, and that person immediately understood to apply pressure," said Alouidor. "He's lucky because the helicopter crew got to him in time. He's lucky because he arrived at a hospital where they had the equipment, the staff, and the knowledge to address his injuries.
"He's lucky because, at the time he arrived with his injuries, there was an entire team ready and available to take care of him," he went on. "Shawn is a very lucky man; If you want to call that a miracle, let's call it a miracle."
Saving Graces
Today, Bull is on his way to recovery, but still has a long way to go. He must undergo two more surgical procedures — one to aid the healing of his vocal cords, now at about 40% strength, and one to fix nerve damage in his shoulder.
He said he is incredibly thankful to be alive and is glad he was sent to Baystate, where the team of surgeons and nurses were able to keep him alive.
"I don't think they get enough recognition," Bull said, referring to the entire team who helped him, including first responders and pilots. "I hope they do from here on out."