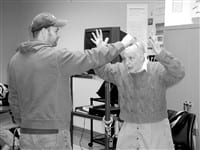 Elizabeth George, a nursing professor with a black belt in karate, reviews some self defense tactics – and some common assaults attackers may try to use with AIC nursing student Tom Kane
One night, while working as a nursing supervisor at Worcester State Hospital, Elizabeth George was punched in the face by a patient named Jesus.
A year later, it happened again.
George, now an associate professor of nursing at American International College, decided to arm herself with the skills and confidence needed to avoid another attack, rather than live in fear of another blow. She took up karate, and now holds a black belt in the sport and owns her own school, The Karate Center, in Worcester.
Her self-defense training has blended well with her career; not only does she feel better equipped to deal with the growing problem of workplace violence in health care settings, but also qualified to pass on some potentially life-saving techniques to her fellow nurses and to nursing students.
George specializes in teaching psychiatric nursing, one of the areas that all nursing students must study during their training. She said the incorporation of self-defense for nurses into her classes began during the introductory phase of a psychiatric nursing course at Becker College, where she was teaching at the time.
"Part of the orientation to the field of psychiatric nursing is understanding the danger involved," she said, adding that typically, addressing dangerous situations when reviewing the field of psychiatric nursing with students involves teaching de-escalation techniques.
"We discuss talking a patient down, staying calm, and keeping your distance," she said. "Most of the time that works. But when it doesn't, nurses need a second line of defense."
Strategic Maneuvers
So after discussing traditional techniques with students at Becker one day, George coaxed them out of their seats to try a few basic self-defense moves – blocks, grabs, and holds. The addition to the curriculum was a fast success, and soon became a highly anticipated aspect of the Becker nursing students' rotation.
"It makes them more secure in a clinical setting, even if they never have to use it," George said. "Once they get a feel for the moves, their instincts improve and that makes them more aware of potentially aggressive situations."
Now at AIC, George has resurrected the self-defense class, and is promoting the incorporation of self-defense in nursing curricula in order to address workplace violence within health care settings.
"There has been an explosion of violence in health care," she explained, noting that often, nurses bear the brunt of that violence because of their close interactions with patients. "Nurses think of themselves as good guys, but they are on the front lines of this problem. Not to mention it can be very traumatizing to be hit."
In addition, nurses commonly work atypical hours, increasing the likelihood of unsafe conditions.
"Many nurses in hospitals work night-shifts and many have to walk through parking garages to get to their cars. There are no guarantees that you'll always be able to protect yourself, but there is incentive there to have knowledge of ways to keep yourself safe."
George said her interest in self-defense for nurses also led her to some alarming statistics: for one, health care workers are 16 times more likely to experience violence in the workplace than any other profession. Many incidents – which can include anything from verbal harassment to assault, rape, or murder, occur in mental health settings, but violence involving nurses in all health care settings is also frequent, and on the rise.
George isn't the only health care professional who is concerned; the Mass. Nurses Assoc. has an ongoing focus on workplace violence, and recently collaborated with George to offer the same self-defense training she teaches her students.
In addition, OSHA (the Occupational Health and Safety Administration) has published a set of guidelines for preventing workplace violence among health care and social workers. The program includes development of a 'no tolerance' policy for any type of violence within a health care setting and a requirement that all incidents be reported immediately by staff. Most incidents, particularly in hospital settings, are never reported, George said, in part because many health care workers look at them as "part of the job."
She cited a number of variables that contribute to the problem: health care itself can be a frustrating industry, she said, especially when financial restraints, staff shortages, and organizational problems effect already fast-paced and high-stress situations.
"Patients don't want to be at the hospital," she said, "and when they are made to wait, they only feel worse, and aggression can be a product of that. That especially affects emergency department nurses."
But workplace violence is not limited to hospital settings, she said; nurses in long-term care settings are also vulnerable to abuse, as are occupational health nurses and home care nurses, who experience some of the highest rates of violence, said George.
"They often work in high-crime areas, alone," she said. "They are in isolated situations, and on top of that, they carry medicines and needles with them frequently, that can make them targets for robbery."
Adding To The Ranks
In order to address the problems of violence locally, George said she hopes to offer training programs at local hospitals, nursing facilities, VNAs, and other health care facilities. She is beginning to see the benefits of the added training within the health care community, and particularly among nurses; after just one full semester teaching at AIC, the college has decided to make basic self-defense a standard offering for all nursing students, and she has garnered the interest of some area health care providers hoping to further train their nursing staff to defend and protect themselves.
George also recently received a phone call from a former student, who wanted to tell her she had occassion to use the hands-on training of her college days – when she successfully blocked a patient going through alcohol withdrawal from striking her.
"She said it happened so fast, but when she saw him coming at her, she did exactly what she needed to do, and it worked. Her instincts kept her safe."