Dr. Lynnette Watkins Takes the Helm at Cooley Dickinson Hospital
'A Wonderful, Wonderful Fit'
By George O'Brien
Dr. Lynnette Watkins says she is most definitely her father's daughter.
By that, she meant she is a second-generation ophthalmologist, following the lead set by her father, L.C. Watkins, who is one of the first African-Americans practicing in that specialty in St. Louis.
"When I say that I stand on the shoulders of giants, I don't take that lightly, and first and foremost is my dad," she noted. "He's been my biggest supporter, mentor, and point of light."
But there were other influences as well, including her mother, an educator, and, more specifically, an early-childhood-development administrator, who was one of many who taught her the importance of giving back.
"It was always expected that, with the privileges and opportunities that were afforded to me, there was an expectation to serve and to give back," she said. "Which is why, with each position and opportunity that I've pursued, I've always had that mindset first and foremost in my mind; it's why I wanted to have a career in healthcare."
This is the philosophy Watkins brings to her latest assignment, as president and CEO of Cooley Dickinson Hospital in Northampton. 
"When I say that I stand on the shoulders of giants, I don't take that lightly, and first and foremost is my dad."
She takes the helm at CDH after a lengthy stint as chief medical officer for the Baptist Health System/Tenet Healthcare – Texas Group, and arrives at an obviously stressful, tenuous, and uncertain time for all healthcare providers, one still dominated in every way by the COVID-19 pandemic and its latest surge.
Watkins, who arrived at the hospital on Sept. 27, brings to this challenge, and CDH, a wealth of experience. Like a growing number of those leading hospitals and healthcare systems, she has made the transition from direct patient care to managing those who provide that care. For her, it was a seismic but, in many ways, natural change.
"Many people have asked if the transition was difficult, and I've said that it was not," she explained. "That's because I found myself at peace moving from a clinical role to one that still has clinical elements, but instead of being the one-on-one patient-physician relationship, which is incredibly treasured, it's one where I have the ability to impact multiple patients and improve the working lives of staff, medical staff, and other providers. I can make a bigger impact on a broader scale."
She said there were many factors that went into her decision to come to CDH, summing them up with that often-used phrase "it was a perfect fit." Elaborating, she said the area served by Cooley Dickinson, mostly Hampshire and Franklin counties, is one with a great deal of need, and she has experience working with such populations, as we'll see.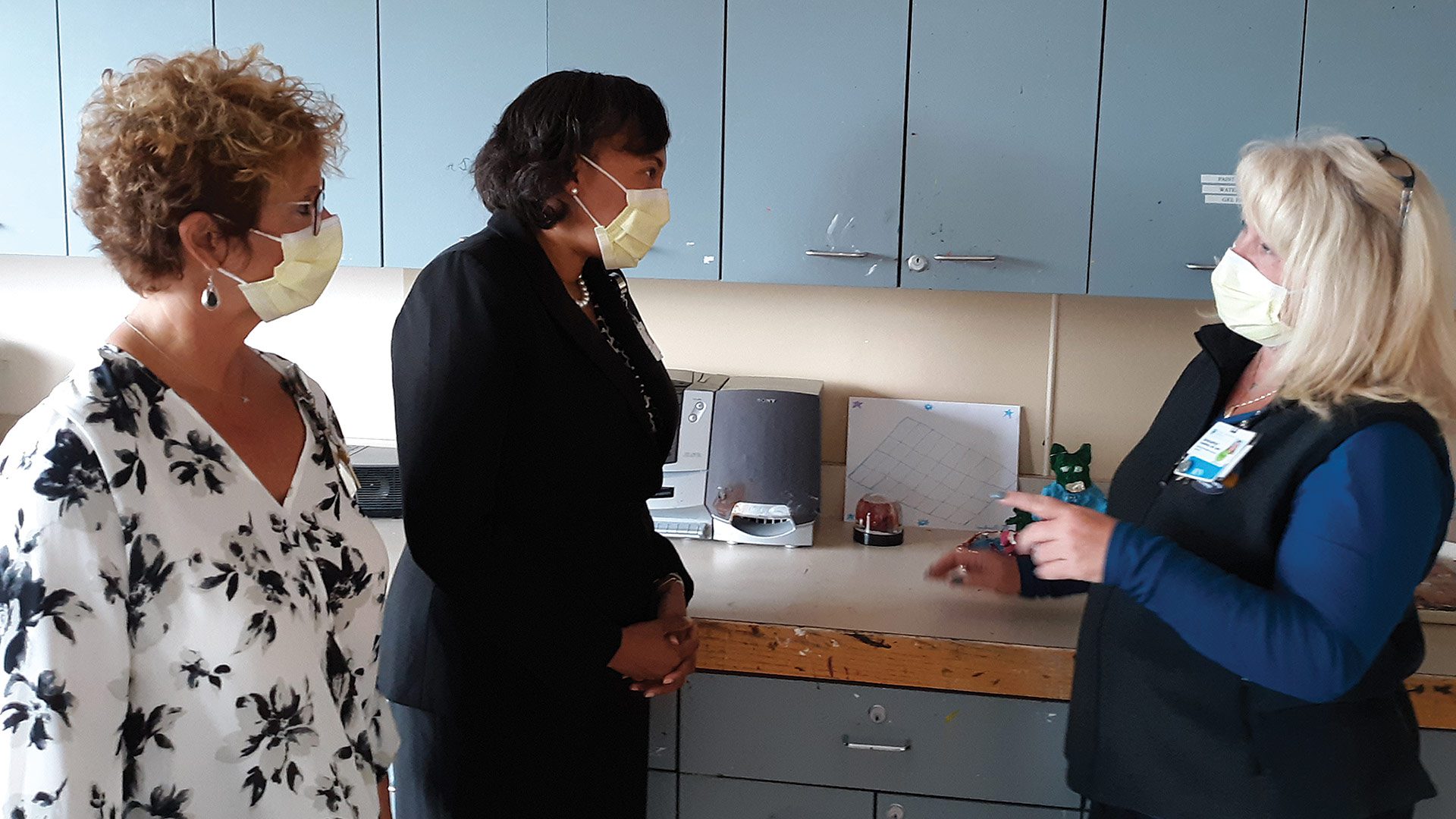 Beyond that, she said this opportunity allows her an opportunity to take what she has learned at many different stops during her career and apply them to what will be a different — and obviously significant — challenge.
Watkins said the learning process has continued through COVID, which she believes has brought out the very best in those working in healthcare, while also putting an even greater focus on teamwork, collaboration, and innovation.
"While there's been a lot of challenge and a lot of sadness during the pandemic, there's also been some wonderful lessons and teachings in the resilience of people, resilience of systems, the importance of self-care and downtime, and the importance of working with others and understanding that it's OK to say, 'I need help,'" she explained. "What this has also done is challenged us to innovate, whether it's in processes, such as supply-chain initiatives with PPE or the distribution of vaccinations and other pharmaceuticals such as monoclonal antibody infusions, or working together in groups to really take care of our community.
"That resilience, that collaboration, that innovation, that devotion to self and others have really been positive," she went on. "The patience and working with a team have really helped me grow — as an individual, as a physician, and as a healthcare leader."
For this issue, HCN talked at length with Watkins about her latest assignment, why she came to CDH, and … how being her father's daughter will help her as she takes on this latest career challenge.
Background — Check
In some ways, Watkins said, coming to CDH is like coming home — or at least coming back to that part of the country where she did her residency.
Specifically, that would be Mass Eye and Ear in Boston. But she did get out to the Northampton area on several occasions during those residency years, so she's not a total stranger to the 413.
There were several career stops between Boston and CDH, including a lengthy stint back at Mass Eye and Ear, where, from 1999 to 2004, she directed the Emergency Ophthalmology Service and walk-in clinic and was an attending physician in the Ophthalmic Plastic Surgery Service. And Watkins said all of them have helped her grow as both a provider of care and a manager of people. And she intends to put all of that experience to work at CDH.
Our story starts in Missouri, where Watkins, as noted, became intent on following her father into the medical field and earned her undergraduate and medical degrees at the University of Missouri – Kansas City and an internship in internal medicine at Truman Medical Center in Kansas City.
"I grew up wanting to go into medicine, and I was asked quite often if I was going to be an ophthalmologist like my father," she recalled. "Candidly, I got tired of the question. It was through a series of rotations and the fact that I needed money for car insurance that my father said, 'why don't you come work for me in my office?'
"I did, and I liked it," she went on. "I didn't tell him for a while, but I did make that transition, and eventually declared that this was the specialty I wanted to be in."
This decision brought her to Mass Eye and Ear in 1995 for her residency and stint at the at the walk-in clinic and Ophthalmic Plastic Surgery Service. She was there during 9/11, a moment in time and her career that convinced her to be closer to family and, in her words, "focus more on family."
Elaborating, she said she went into private practice in Indiana and eventually became managing partner of a multi-specialty group, one with a large geographic footprint.
"While there's been a lot of challenge and a lot of sadness during the pandemic, there's also been some wonderful lessons and teachings in the resilience of people."
The administrative leadership of that group would later put it in "a significant financial disadvantage," as Watkins put it, adding that she was thrust into the role of interim CEO. She said she would eventually wind down the two parent companies into multiple spinoffs, which are still ongoing today, an experience she described as both challenging and rewarding, and one that would in many ways inspire her transition into management and leadership roles.
"We were able to keep patients seen, keep people employed, and move colleagues forward so they were able to practice — it was a huge, huge learning experience," she told HCN. "I joined one of the spinoff groups, but found myself wondering why I went through that experience.
"And it was actually a couple of colleagues, neither of whom had medical backgrounds but did have healthcare-industry backgrounds, who said, 'this happened to you for a reason; you have this knowledge — why don't you consider leading a hospital or healthcare system and pursue healthcare administration?'"
She thought about it and talked with family members, especially her father, to get buy-in and support. After securing it, she started pursuing healthcare administrative positions.
Her first stop was at Trinity Health in South Bend, Ind., and from there she joined Tenet's Abrazo Community Health Network in Arizona as chief medical officer.
When that position was one of many eliminated in a round of budget cuts, she used connections she'd made to land a job as chief medical officer and chief operating officer at Paris Regional Medical Center in Texas, a system that was and is surrounded by some of the poorest counties in Texas and neighboring Oklahoma. Her time there was another important learning experience.
"One of the great joys of working there was working with people who keep in mind the individual who has limited access, limited transportation, and limited resources," she said. "And in rural facilities where often there is one specialist or one type of provider, and there is limited access, having a high level of collaboration, particularly with the medical staff and the provider staff, is very important.
"Overall, that was an incredible learning experience, understanding the intricacies of running a facility that's technically complex," she went on, adding that, as chief medical officer and chief operating officer, she had oversight over just about everything except nursing, finance, and HR.
Right Place, Right Time
The learning experiences continued at the Baptist Health System/Tenet Health Care, where that system confronted not only COVID, but the severe — and highly unusual — weather pattern that visited most of Texas near the end of February.
Some called it 'Snowvid,' said Watkins, adding that healthcare systems had to confront not only the pandemic, but extreme cold that knocked out power and water to many communities.
"We had COVID patients, we had no electricity, we were on generators, and we did not have water, she recalled. "Managing through all that was a challenge, although what each of these events has shown is that it has not changed why we do what we do, but it does force us to change how we do it."
Elaborating, she said some recent developments or trends will continue for the foreseeable future, including telehealth, which she described as a game changer for both the inpatient and outpatient sides of the equation. This became evident in Texas, as well as the hospital that would become the next line on her résumé.
Watkins told HCN that the position at CDH came to her attention through a recruiter, and after more talks with family and friends, she decided that managing a smaller community hospital would be an appropriate next step on her career journey.
"It's a wonderful, wonderful fit," she said of CDH, adding that her views on the delivery of healthcare and areas of focus are in sync with those of the hospital and its staff. "First and foremost, I'm a physician, and I want to make sure that we're delivering safe, high-quality care and that we're great stewards of resources, whether it's finance or personnel or capital, and that's what Cooley Dickinson does."
Elaborating, she said the opportunity to lead a hospital that is an affiliate of the Mass General Brigham system, formerly Partners Healthcare, was also appealing.
When she talked with HCN before her arrival, Watkins said one of her first priorities is to familiarize herself with the community and meet with many different leaders and constituencies — in whatever ways COVID will allow. Which means a lot of Zoom meetings, some phone calls, and, when possible and appropriate, in-person gatherings.
"My goal is to get out there and meet the community where they are at as quickly as possible," she said. "I think it's also important that I meet the team; meet our front-line caregivers, staff, and providers; and understand what's working well and where we have opportunities."
Returning to her thoughts on the lessons learned from the pandemic, Watkins said that managing through this crisis has enabled her to grow and mature as a leader — out of necessity.
"Physicians inherently have trouble delegating," she told HCN. "And I fully disclose that I am one of those physicians. It's been a journey, but the pandemic has really helped me to leverage and trust the team and be a better partner, a better collaborator, and a better support.
"One of the things I work hard to do is listen and gather information before executing," she went on. "And that's been incredibly important during this time."
When asked about the management style she brings to CDH, Watkins started by saying she is an optimist by nature, and she believes this is an important trait in this business.
"We have the singular privilege of being able to take care of patients and the community, whether it's one-on-one or on a larger scale," she explained. "And from that optimism, I assume good intentions and assume that those who chose this profession want to take care of people as well. We will have challenging conversations, and it will be important to challenge and push each other to do better and innovate, but I would like to consider myself to be collaborative, open, very much driven, direct, and someone who feels it's important to have fun at work. That's because this work makes for long days, and there needs to be some form of celebration, some sort of fun."