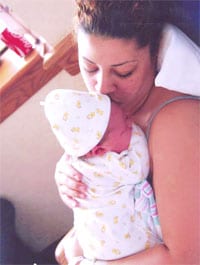 The cover of an informational brochure Holyoke Medical Center is offering to new parents.
HOLYOKE — Becoming a new mom can be isolating and overwhelming, said Lisa Pack, with emotions fluctuating between elation and excitement to anxiety, inadequacy, and depression.
Many new moms question whether they're doing things 'right' and whether they're being 'good mothers,' she said.
To help women transition into motherhood, Holyoke Medical Center (HMC) is pioneering a support program just for new moms: the MotherWoman Postpartum Support Group, which meets Tuesdays from 9:45 to 11:45 a.m. at Midwifery Care of Holyoke, 230 Maple Street. The meeting place is on the bus route, and snacks will be provided.
The goal of the free, confidential, and bilingual group is to create a welcoming, safe place for women with baby blues, postpartum stress, and anxiety and/or depression, to share their thoughts, feelings, and experiences of motherhood with each other for mutual support, Pack said. New mothers are welcome to bring infants and babies up to 1 year old.
Pack, a 16-year registered nurse who has helped deliver hundreds of babies at the Birthing Center at HMC and was formerly a doula (labor coach), is also a trained MotherWoman facilitator, who will lead the support group with a second bilingual facilitator.
Following an inspirational in-service workshop at HMC, Pack wanted to bring what she learned to women in the Greater Holyoke community, so she underwent the rigorous seven-month certification program with the Northampton-based, nonprofit organization MotherWoman.
MotherWoman's goals are to empower mothers by offering support groups, professional trainings, networking with over 40 providers and agencies, and working on policy and legislative advocacy.
"Up to 95% of postpartum mothers experience some form of baby blues or anxiety, while 5% to 8% experience postpartum depression," said Pack. "Motherhood is a blessing and a challenge, a huge adjustment. It's a given fact that support makes all the difference in the world. It can take someone from feeling stuck in the gutter to making it through the next day and celebrating small successes. Just knowing that you're in the same position as another mother can make such a difference."
All new moms (and pregnant women) are welcome at the support group, regardless of the age of their children, Pack said, although child care cannot be provided at this time. Pack said she is excited to be offering the support group in Holyoke, and grateful to Birthing Center Nurse Manager Ginny Thomas, her HMC co-workers, and Midwifery Care of Holyoke for backing the idea.
During support group sessions, Pack will encourage mothers to express themselves openly. Women will sit in a circle and respect each other while they're speaking, and not interrupt or talk over each other. Pack will use an egg timer to be sure every mother gets to speak equally, if she wishes to. She also has an extensive resource and referral guide to help postpartum mothers in need of additional services.
"There's nothing like this in Holyoke, and there is a real need for support for new moms here," said Pack. "It's very important that people know that this is not advice, and it's not therapy. It's a group of mothers talking about the rewards and challenges of motherhood."
Mary Carey, HMC lactation consultant and mother of three, attended a recent MotherWoman support group in Northampton. "New mothers tend to burden themselves with high expectations and the worst, in terms of being capable," she said. "It was a roomful of tremendous energy … for women looking for something real, intimate, powerful, and self-evolving. It helps women become who they really are as mothers."
For more information, call Pack at (413) 534-2700.