HNE Expands Behavioral-health Access with Telehealth
New Frontier
By MARK MORRIS
A psychiatrist and patient meet for their regular session, but they are in different states, conducting their meeting via a video link. What sounds like a scene from a futuristic movie will be available for Health New England (HNE) members starting in July.
While most health plans offer some form of telehealth, it's primarily used to treat non-emergency conditions such as cold and flu symptoms, allergies, etc. HNE works with national provider Teladoc to offer 24/7 telehealth coverage for its 161,000 members.
Telehealth is a broad term, typically defined as a clinical application of technology to enhance care delivery and education. The term 'telemedicine' was primarily used in the past, but telehealth is the more common term now because it encompasses more health disciplines and includes consumer interaction.
Laurie Gianturco, chief medical officer for Health New England, said expanding into behavioral health via telemedicine was a response to a request from several employer groups with employer assistance programs (EAPs) looking to improve their access to behavioral-health services — a demand driven by a significant shortage and wait times to get an appointment with behavioral-health providers in the region.
"The feedback from employer groups has been so positive, we plan to offer it to our commercial membership starting in July," she said.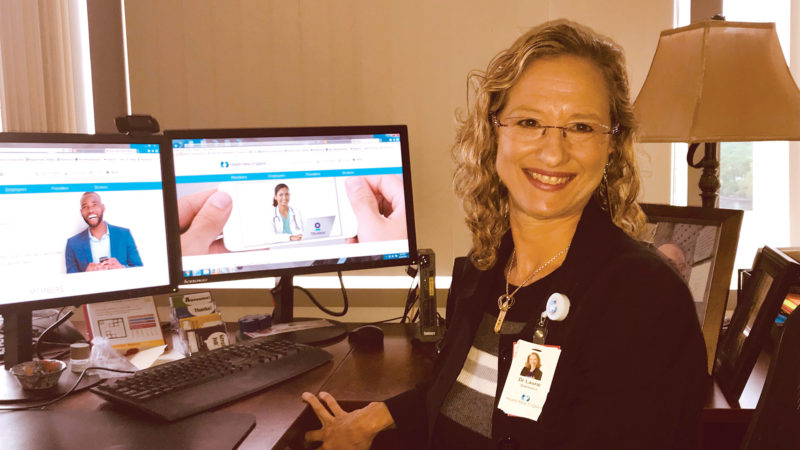 Currently, visits with Teladoc physicians for low-acuity urgent care, as an alternative to urgent-care centers or the emergency room, are not scheduled and tend to be one-time experiences. Gianturco said behavioral-health visits with a Teladoc behavioral-health provider will be different.
"It's a scheduled phone, mobile-app, or online-video visit with a behavioral-health provider — a psychologist or a psychiatrist — designed to give people an option to get behavioral-health treatment through an ongoing relationship," she explained.
She added that HNE's first preference would be to stay local, but Western Mass. is currently facing a shortage of behavioral-health providers. Earlier this year, MHA reported local wait times of up to eight months to see a doctor authorized to prescribe medications.
Through Teladoc, patients will be able to go online to request an appointment, usually available within several days, with a behavioral-health provider who is licensed in Massachusetts. Gianturco noted that there are certain conditions these providers can treat and a limited list of medications they can prescribe.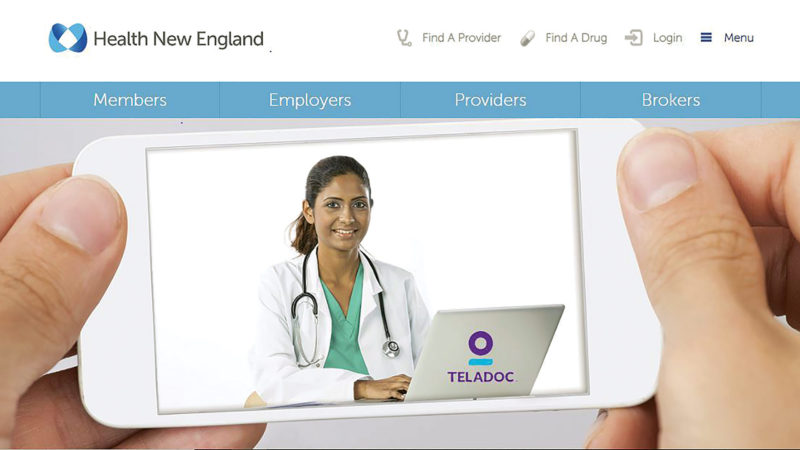 "If the scope of practice falls outside of what that provider is able to comfortably do through an interactive platform, Teladoc can contact us," she said. "We will connect with a local provider who can follow through on the services or prescribing for some medications."
Battling the Stigma
Acknowledging a still-prevalent societal stigma around mental health, Gianturco said Health New England is trying to remove some of the barriers to accessing behavioral healthcare.
"One barrier is access, and the other is confidentiality. If a person is nervous about seeking behavioral healthcare, telemedicine offers them access in the comfort and safety of their home and can help get them started on receiving care."
Gianturco said HNE is working with their providers to explore further applications for telehealth services. Dermatology is one potential expansion area, but many details need to be worked out before it can become viable.
When HNE first offered telehealth to its members in 2015, the idea was to give people an accessible and cost-effective alternative to going to urgent care or the emergency room.
Gianturco cited telemedicine as part of the transformation of healthcare — specifically, "the right care, in the right place, at the right time." By contrast, emergency rooms serve a vital purpose, but are often crowded with less-acutely ill people, which can delay care for people who really need it. "For too many people, it's accessible care, but it is also expensive care, provided in the wrong setting."
While urgent-care facilities and doctors with after-hours access help reduce some trips to the local ER, Gianturco said there is still a cultural dynamic of "if you're sick, go to the emergency room" because of its 24/7 access.
Current telehealth stats have not had much impact on reducing ER visits, as fewer than 1% of HNE members have used Teladoc for care. While the user numbers are small, she noted, 90% of those who used Teladoc said they were satisfied, and 55% said that, if they did not have access to it, they would have gone to an urgent-care provider.
Other usage stats show Teladoc is used primarily between the hours of 4 p.m. and midnight, when most doctors' offices are closed. Seventy-one percent of Teladoc users are females between the ages of 31 and 55. About 1% of Teladoc visits end up serving as a triage to recommend the member go to the emergency room.
"We send out educational materials on what's appropriate for a Teladoc visit, but Teladoc does triage the request," Gianturco explained. "If someone calls Teladoc and says, 'I'm having a crushing chest pain,' they are told to immediately go to the emergency room."
While Teladoc provides an important service, she stressed that it is not a substitute for having an ongoing relationship with a primary-care provider.
"We have a close relationship with our providers, especially our primary-care physicians. We encourage our members to seek treatment with their PCP first. When a member does use Teladoc, a copy of their visit note will automatically go to their primary-care doctor unless the member opts out, keeping their PCP informed."
Could telehealth become a virtual version of the old-fashioned house call? Gianturco said there are similarities and differences.
"House calls are usually made by primary-care doctors who already have an established doctor-patient relationship. Telehealth could be like house calls in the future when a doctor wants to follow up with a patient after a procedure or a low-acuity illness. The availability of video as well as audio capabilities makes that possible."
Unlike house calls, she stressed that telehealth is essentially a platform, and it's not yet clear what services can be provided that would be equivalent to face-to-face interaction.
Still, she added, telehealth offers advantages for providers who are able to see more patients and more efficiently use their time. Also, the technology can help patients gain access to specialists when there is a shortage — HNE's reason for entering into behavioral health via telehealth in the first place.
Not Going Away
One thing is for sure, Gianturco said: telehealth is here to stay.
"Telehealth is a platform for providing healthcare to members as an alternative to face-to-face visits," she noted. "As with all new technologies, it will be appropriate for some services and not for others. There is still the need to address issues around regulations, quality, and accreditation."
She predicted that telehealth will continue to evolve for a number of years before it finds its home in medicine and healthcare.
"At some point, I think telehealth will become pervasive; it will just be part of medicine," she told HCN. "It won't be seen as different; it'll be part of how care is delivered."