Investments in the Future $100 Million Expected to Spur Innovation, Economic Development
Ed Leyden called it "science — not science fiction."
That was his way of describing a product not yet on the market, but one he believes might be there soon. This would be a wristwatch-like device that would collect vital signs such as blood pressure, heart rate, blood sugar, and more, that could be sent to a doctor if needed.
"There's a push on now for diagnostics, and what's called 'self-diagnostics' — things you can wear, like a watch," said Leyden, president of Ben Franklin Design and Manufacturing Co. in Agawam and co-chair of the state's Advanced Manufacturing Collaborative. "They can monitor a number of bodily functions and download them right to your phone — it would be an extremely early-warning system."
Developing such a monitor, prototyping the device, and then eventually manufacturing it — preferably in the Pioneer Valley — are some of the many goals, if not expectations, that accompany $100 million in grants from the state via the Massachusetts Life Sciences Center (MLSC), that were announced at an elaborate ceremony earlier this month in the shadow of UMass Amherst's gleaming new $157 million Life Sciences Laboratory.
The awards — $95 million to UMass Amherst and $5.5 million to the Pioneer Valley Life Sciences Institute in Springfield — are part of a $1 billion, 10-year investment on the part of the state designed to stimulate growth of its life-sciences supercluster, considered the largest in the country.
When asked what this latest investment would mean for the Western Mass. region and the state as a whole, Susan Windham-Bannister, president and CEO of the MLSC, said simply, "drive economic development and job creation."
She then elaborated, telling HCN that this investment — which will fit out and equip a substantial portion of the Life Sciences Laboratory, which will house three new research centers (more on them later) — could help this region replicate the development of life-sciences-related businesses and jobs seen in Cambridge and Worcester, the two strongest pockets for that sector in the state.
To describe what's happened in those cities, she summoned the phrase "innovation-driven economic development," which she would use early and often.
"In this model, you begin to create some smaller companies, some spin-outs, and some specialized, innovative technologies," she explained. "And the large companies want to be around that; they want to be near to what's happening, so they begin to locate in that area.
"You have small companies growing up, and you have large companies putting up a footprint near these centers of activity," she continued. "This is the new model of innovation-driven economic development, and it's really upside-down from the traditional model. You're not looking to use lots of incentives to get a large company to move; instead, you invest in young companies, and you invest in these centers of specialized expertise that large companies want to be around and take advantage of."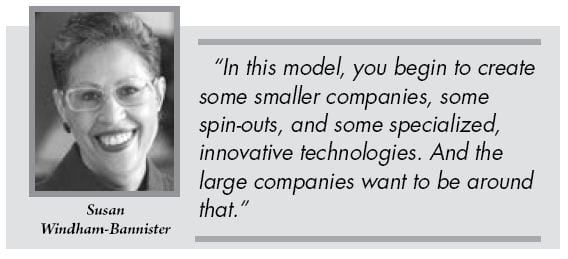 For this issue, HCN takes an in-depth look at the $100 million investment made by the state and what it means for this region and the life-sciences sector now stretching across the Commonwealth.
Down to a Science
Summing up the state's $100 million investment in the two Western Mass. facilities, Windham-Bannister said these grants are intended to build on the specific strengths of this region. Specifically, these include the university and the research currently taking place there and that will take place at the Life Sciences Laboratory, the ongoing work at PVLSI, as well as a precision-manufacturing sector that is expected to work with those researchers to eventually bring new products to the market — and, if all goes according to plan, manufacture them in the Bay State, and, more specifically, the 413 area code.
This strategic direction, if one wants to call it that, stemmed from work funded by a $300,000 training grant designed to identify the highest and best use for grants from the life-sciences center in this market, she explained. "We set out to determine what were the basic strengths within Western Mass. in the life sciences, what were the strengths at the university and PVLSI, how could we accelerate and build on those strengths, and, more importantly, how could they interact with the companies in the community to help them grow and also encourage startups?"
The answer, arrived at eventually, was to essentially fund three new research centers at the Life Sciences Laboratory, with the goal of creating collaborations with biotechnology firms, medical-device manufacturers, pharmaceutical companies, and other players to bring new products to the market and, in the process, create new jobs.
The three centers will each have a specific focus:
• Personalized Health Monitoring will focus on developing nanotechnology and large dataset management to improve healthcare through low-cost, wearable wireless sensors that analyze patient data continuously in real time, said Windham-Bannister. Biomanufacturing firms, medical-device manufacturers, 'big-data' analysts, and other healthcare industry partners will produce prototypes, test them, and assess their manufacturing feasibility.
• Bioactive Delivery will focus on discovery and application of new drugs, agricultural, and 'nutriceutical' compounds, she told HCN. "These are things that are very product-oriented, they are input to the development of drugs and devices, and they play to the strengths of the expertise not just at the university, but also in the region, where there is a lot of innovation going on with regard to materials."
• Models to Medicine will be focused on translating basic protein research by UMass Amherst experts into new therapeutic targets. This center will capitalize on an explosion of discoveries over the past 10 years suggesting that a variety of protein dysfunctions play a role in Alzheimer's, Parkinson's, cancer, and infectious diseases.
Meanwhile, the $5.5 million targeted for the PVLSI will support the development of a new Center of Innovation in Health Informatics and Technology, which will be focused on advancing public/private-sector partnerships and incubating innovative technology solutions developed by startups and larger, more established vendor firms in areas such as healthcare quality, big-data analytics, and mobile health.
Joel Vengco, vice president and chief information officer of Baystate Health, said the $5.5 million will essentially be put toward fitting out the third floor of the institute and creating an incubator facility that will become home to perhaps 15 to 20 startups that would eventually work with several vendor partners, or healthcare technology firms, to bring new products and services to the marketplace.
The work will be an extension of current research taking place at the institute — much of it focused on breast cancer and diabetes — and it will focus on the use of technology to help advance healthcare services delivery. This includes everything from the development of new healthcare-related apps for an increasingly mobile population, to the use of informatics in such areas as population health management.
"This would involve new-product development, but also acceleration of some current products already on the market," said Vengco. "The incubator would welcome startups from around the region and also around the globe that are focused on population-health-management applications or software — things like diabetes trackers or applications for helping people manage their diabetes."
Wearable devices, such as those described by Leyden, could become the focus of work by some of the institute's tenant startups, he went on, adding that there are products on the market or in development that can tell users how many steps they've walked or calories they've expended in a day.
And there will likely be work in the emerging realm known as 'big data.'
"This involves analyzing the information we have in our healthcare system and discovering new ways of understanding problems that patients may have, or discovering new trends in terms of chronic disease," he explained. "There's a lot of focus now on big-data analytics across industries, and healthcare must be part of this; we should try to promote the use of this information to really learn more about how we can manage our population's health."
 Work is expected to begin on the innovation center in the fall, he said, adding that while this project is about science, health care, and information technology, it is also about economic development and job creation.
"This is not just simply creating products and doing health informatics-related research," Vengco explained. "We're hoping to ignite the economic development of Springfield by drawing in talent and startups and vendors from around the globe."
Assessing these plans for PVLSI and the Life Sciences Laboratory, Leyden said the investments being made by the state could generate opportunities for precision-manufacturing shops like Ben Franklin and eventually bring new jobs to that sector.
He said his firm, which specializes in making parts for the nuclear, aerospace, defense, power-generation, and other sectors, doesn't do much work in medical-device manufacturing, but could, because it has the personnel, equipment, and ability to meet the high quality standards necessary to succeed in that specific niche. And there are many area firms in that category.
"The infrastructure is here," he explained. "We have a strong advanced-manufacturing base here, and even the companies that don't have experience with medical devices could move into that area — the work is very similar to what they're doing already.
"And, to me, being a strong manufacturer is being diversified," Leyden continued. "If you have the ability, and you're doing another sector's worth of work, you're further insulated from the ups and downs from the economy and the manufacturing world."
There are many existing firms in the area that could eventually benefit through the research that will take place at the university, at PVLSI, and through collaborative efforts with those teams, said Windham-Bannister, adding that the state's investment could also spur new startups and possibly prompt life-sciences companies in Worcester, Cambridge, and elsewhere to establish a presence in Western Mass. to take full advantage of the research going on here.
All this is part of innovation-driven economic development, she told HCN, noting that there has already been considerable interest in the three planned centers expressed by life-sciences-related firms not only in Western Mass., but across the state.
"I would think that these companies would want to have a presence close to these centers," she continued, "because that's what we've seen in Worcester and also what we've seen in Cambridge."
Making Things Happen
Windham-Bannister said it's impossible to place a timeline on this process of innovation-driven economic development. But, drawing on what's happened in Worcester, Cambridge, and elsewhere, she said she wouldn't be surprised if progress comes quickly, and that, as a result of these investments, Massachusetts was able to build on what is already considered a substantial lead in a national competition to create jobs within the broad life-sciences sector.
"The goal at the Life Sciences Center is to translate good science into good business across the Commonwealth, and to enhance this state's position as a global leader in this realm," she said, adding that these latest developments in Western Mass. will certainly help move the needle further in the right direction.