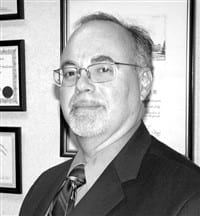 Gregory Miller
HOLYOKE — Dr. Gregory Miller has joined the Providence Behavioral Health Hospital in Holyoke and Brightside for Families and Children in West Springfield as the new chief medical officer.
He is board-certified in general psychiatry and as a certified physician executive. He also holds a master's in business administration from Baruch College.
Most recently Miller was the chief medical officer and chair of psychiatry and the residency program at North General Hospital in New York.
Miller said he looks forward to helping to establish a strong affiliation with medical school departments of psychiatry. As the chief medical officer, he will promote evidence-based medicine and outcome-driven practices.
"The Providence/Brightside system is blessed with some of the most highly skilled psychotherapists, psychiatrists and mental health clinicians in the field. We provide cutting edge mental health treatment in a caring environment. I am very excited to be a part of this team," said Miller, who began his work at Providence in January.
Miller obtained his medical degree from George Washington University School of Medicine in Washington, D.C. His residency training was at Vanderbilt University Medical Center, New York Hospital, and Cornell Medical Center.
Providence Behavioral Health Hospital, part of the Sisters of Providence Health System, is a 124-bed behavioral health hospital that provides both inpatient and outpatient psychiatric and substance abuse services for people of all ages. Providence offers crisis intervention and stabilization, assessment, inpatient acute psychiatric treatment for children, adolescents, adults and seniors; inpatient detox for adults; methadone services and outpatient services and counseling for behavioral and substance abuse issues, including family individual and group counseling and family and caregiver support and education.
Providence Behavioral Health Hospital is part of the Sisters of Providence Health System.