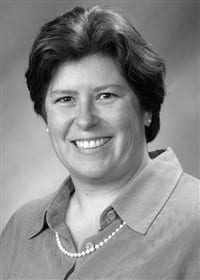 Annginette Anderson Moos
GREENFIELD — Annginette Anderson Moos has been appointed project manager and physician recruiter for Franklin Medical Center.

She comes to this role from the Baystate Health System in Springfield, where she had served as a strategic planner since 1991, working on several projects for FMC during the course of her tenure.

"I always enjoyed my day-a-week at Franklin," said Moos, "and was delighted to have the opportunity to shift my role from project planning to project implementation. The physician-recruitment aspect of my work is especially rewarding, as I strive to find just the right match between the doctor and community."

Moos is a graduate of Wellesley College and the Wharton School of Business at the University of Pennsylva-nia. "I thought I would like to be an editor after finishing my undergraduate work in literature," she said, "but then found a job with the Health Research and Educational Trust of New Jersey, and got involved in health policy research. It was an incredible introduction to the health care field."

Moos went on to work for the Department of Health in New Jersey, where she was involved in reforming the hospital licensure process. "It was like another graduate program in health care," she recalled, "part of which included conducting 100 focus groups in which we asked representatives from different health professions to define appropriate quality measurements for their areas of expertise and institutions."

In addition to her work in special projects management, Moos serves as music director of 'Clinical Notes,' Franklin Medical Center's a cappella group, which she began in 2003 while still working as a planner with Baystate. A classically trained soprano, Moos also plays guitar and mandolin, and formerly performed with several contra dance bands in New Jersey and Philadelphia.