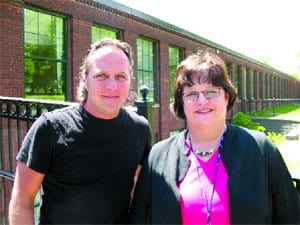 Joe Pellegrino, here with Kathy Wilson, rehabilitated the Liberty Street buildings that now house Behavioral Health Network — itself no stranger to the concept of rehabilitation.
The Behavioral Health Network — with its extensive web of substance-abuse, mental-health, and crisis-intervention services — has long straddled the dual worlds of care and commerce, meeting critical health needs while ranking among the region's top employers, and in doing so benefiting the community in multiple ways. Now, add neighborhood revitalization to that list, as BHN — along with the developer of its new, multi-purpose headquarters — has played a key role in turning blight into rebirth on Springfield's Liberty Street.
When the economy suffers, says Katherine Wilson, so do people. And these days, there's a lot of suffering out there.
"We provide a safety net of services for individuals in need," said Wilson, president and CEO of Behavioral Health Network. "With the change of economic climate we have right now in Massachusetts, there is a growing demand for the services we deliver.
"People are out of work, they're stressed, they become depressed, and many families are in chaos," she continued. "That results in more physical violence, emotional withdrawal, erratic behavior … and all these things might be a reason why someone might seek help from a therapist or counselor, before things get worse."
At the same time, Wilson said, with a $37 million operating budget and more than 950 employees, this nonprofit entity is a key player in the regional economy, providing services across the four counties of Western Mass. "Nonprofits are important to communities for a lot of reasons," she said, "for the economic impact as well as being that safety net."
That's why she's keeping an eye on the state budget — still in flux at press time — and how it will affect the funding that this network of substance-abuse and behavioral-health services receives.
BHN, she explained, is in many ways woven into the fabric of the community, and is a go-to resource for police, hospitals, schools, and other institutions that refer individuals with substance-abuse issues or behavioral disorders. "Hospitals call us when someone needs more than medical attention; we can make a determination where to send them for care," she said. "Unfortunately, with the economic times of today, the demand for our services is going up, so we're watching very closely what the Senate, House, and governor do about the accounts that support the human services that we deliver."
An early budget proposal on Beacon Hill "decimated" those accounts, Wilson said, but the funding was largely restored in the next version. It makes for plenty of anxiety. "These are what I consider to be essential safety-net services," she said, conceding at the same time that lawmakers are faced with a tough balancing act.
"In 37 years of doing business, I've never seen it this bad," she added. "Income to the state is drastically down, and when that happens, some services and essential needs paid for by the Commonwealth have to be cut. When communities get cut, that affects education, police, and fire. And when human services get cut, people's lives are affected. That's our challenge. We rely on state funding and federal funding that comes through the state. I understand the process they have to go through, but cuts don't happen without pain for some people."
Even in tough economic times, however, BHN has reason to celebrate, having moved several of its operations into new facilities on Liberty Street — formerly abandoned mill buildings in a run-down area of Springfield, to be precise. That story is one of an effective partnership between a nonprofit health services provider and a private developer who saw potential where some saw only blight.
The Four Rs
Renewal, recovery, rehabilitation, resiliency.
Those four words, Wilson said, describe steps along the journey for many people treated at a BHN center for substance abuse, developmental disorders, and other behavioral-health issues. But they also reflect the process by which the network found a new home on Liberty Street.
Efficiency is crucial to an operation with the reach of Behavioral Health Network, she continued, if only because personnel takes up about 75% of the budget, and the state hasn't increased its contracts with providers in 20 years. So, about four years ago, the nonprofit began reviewing its facilities to possibly seek cost savings through physical consolidation of sites.
As it happened, in 2002, Joseph Pellegrino, owner of Honore, LLC, drove by the abandoned factories bordering the overgrown Gurdon Bill Park at 417 Liberty St. Looking to consolidate the physical location of two other companies he owns — Comcolor, a trade show and exhibit company; and Atwater Studios, a commercial photography studio — he bought the property and started looking for other tenants to fill the remaining space.
Robert Greeley president of R.J. Greeley Company, BHN's real-estate agent, found on Liberty Street a strong possibility to bring three of the network's sites — two on State Street, one on Birnie Avenue — under one roof, and further expand services along the way. Wilson agreed, but said she needed more than the remaining 27,000 square feet of space. So Pellegrino got creative, buying up other abandoned buildings on the property and moving his two companies into them, thus freeing up adequate space for BHN.
"This complex was a natural for all involved, but it takes special people to not only see potential, but to be willing to adjust for the future," Greeley said. "There is a lesson to be learned here that, when unique solutions are accomplished, everyone benefits, even those outside the original plan."
BHN now has a multi-use home for its services among the new gardens, terraces, and plantings that have sprung up in the city park. Those departments include:
The corporate office for executive staff and the departments of Human Resources, Fiscal Services, Payroll, Billing, and Information Technology Services;
BHN Crisis Services, the 24-hour response team serving individuals of all ages experiencing a crisis due to acute or chronic psychiatric and/or substance abuse conditions.;
The Crisis Stabilization Unit, a 15-bed, community-based, voluntary psychiatric program that provides consumers with a safe, supervised, structured environment for brief crisis treatment, hospital step-down, medication evaluation, and service coordination;
The Warm Line, a consumer-staffed endeavor providing a response to individuals in the community in need of non-emergent support;
The Trauma Response Team, assisting members of communities and organizations in coping with the emotional and psychological aftermath of traumatic events, such as major fires, accidents, suicides, or natural disasters;
BHN Liberty Street Clinic, the consolidation of two BHN programs, Community Care Mental Health Center and Pioneer Valley Mental Health Clinic. This clinic now provides a wide array of counseling and specialty treatment services for individuals needing mental health and/or substance-abuse outpatient treatment. For clients needing more intensive treatment than a counseling session, BHN offers psychiatric day treatment and partial hospitalization; and
Residential and individual support programs funded by the Springfield/ Westfield Area Office of the Department of Developmental Services, offering community-based services and support to individuals with developmental disabilities. BHN staff also provides outreach to the homes of clients.
New to the network is the Hope Center, a 30-bed program in a separate mill building for individuals with substance-abuse disorders who have been discharged from area detox services and need continued treatment.
That program came about after lawmakers approved $5 million last year to create six 'step-down' substance-abuse programs, one of them through BHN. Wilson called the Hope Center a key link between inpatient detox programs, which typically don't last long, and home life.
Stepping Up
Liberty Street certainly feels like home, Wilson said, but the entire development required some vision on Pellegrino's part. He said the perception of crime in the neighborhood was worse than reality, but it isn't exactly a posh community, either; some nearby houses are still completely boarded up.
"When we moved in — even when we started talking, in 2006 — we saw some changes happening in the neighborhood," Wilson said, citing a Salvation Army building just south on Liberty Street, plus some additional subsidized housing.
"We haven't had any crime, really," she said. "Parks and Recreation started cleaning, trimming, and keeping the park clean, and we've seen much more investment from the city. And the park is getting more use; I see people enjoying the weather, walking their dogs. This is because of the work Joey did in taking on an urban-renewal project. He found a way to take a beautiful, old building and bring it back to use."
It's important, Wilson said, to have Crisis Services and the Crisis Stabilization Unit working 24/7 at the site, because a business that never closes is less likely than a dark or, worse, abandoned property to attract negative elements at night.
Pellegrino agreed, recalling having to chase out everyone from skateboarders to drug users while starting to rehabilitate the mill buildings. "Having activity at night pushes people away," he said. "They don't want to hang around where there's this kind of activity."
Now, Wilson must wait to see what the state's budgetary leaders think about the activity in which BHN engages. What lawmakers need to understand, she said, is that investments in many behavioral-health services bring an even greater financial return. Take, for example, a caregiver support program for people with developmental disabilities such as mental retardation. The program sends someone into the home to provide care and supervision while the caregiver works or does other necessary tasks of daily life.
"It's an inexpensive way to keep a person with a disability at home," she said. "Well, one of the first rounds of the budget process totally eliminated family support from the DMR budget." After an outcry from families, the line item was restored, which she called simple common sense.
"Without this essential service, they might be put in an expensive, 24-hour care program," she said. "Or, the family member might have to quit their job to stay home, and what does that do for the economy, for the local workforce? Here's a well-established employee of a company who can no longer go to work because their disabled loved one doesn't have any support."
It's an idea Wilson returned to several times in speaking with The Healthcare News — the idea that budget cuts affect not only the region's behavioral health safety net, but the very fabric of the community and local economy.
"It's really gratifying to see how it all finally fit together," Pellegrino agreed. "Moving our business to make way for BHN's needs only added to the benefit for both companies, and we feel the neighborhood will continue to profit."
No matter what shape the economy is in.