River Valley Counseling Center Golf Tournament Raises Funds, Awareness
Teeing Up for Mental Health
Golfers had a great time on and off the course at River Valley Counseling Center's (RVCC) sixth annual golf tournament held on Sept. 10 at the East Mountain Country Club in Westfield. The event raised $32,000 to support the essential services that RVCC provides to children and teens in the community, in schools, and through local partnerships. The event also raised awareness about mental health and the critical role RVCC plays in bringing hope to those who receive its services.
"River Valley Counseling Center has continued to be a ray of hope during the COVID pandemic," said Rosemarie Ansel, RVCC's executive director. "Our team has pivoted successfully to meet the needs of the youth in the communities we serve during this challenging time. The funds raised will help us to continue providing caring, compassionate, and life-saving services to those in need."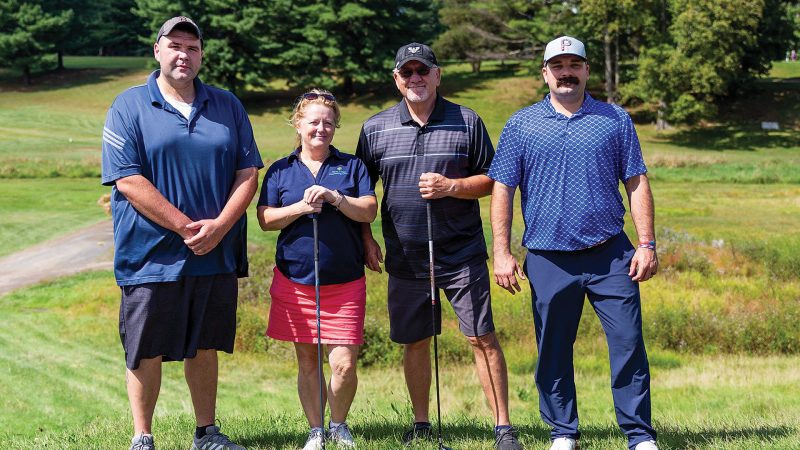 The event was made possible through the sponsorships of local businesses, including Action Ambulance Service Inc. as the presenting sponsor.
"On behalf of myself, our Regional Vice President Rock Thibeault, and our entire Pioneer Valley division, we can't thank the good folks at River Valley Counseling enough for allowing us to be part of this great event each year," said Frank McNeil, chief strategy officer at Action Ambulance Services. "We know our support allows RVCC the ability to extend their services out into the community and help those who need it the most. We certainly share that mission. We can't wait until next year."
River Valley Counseling Center is a multi-faceted mental-health agency and a member of Valley Health Systems in Holyoke, which also includes Holyoke Medical Center, Holyoke VNA Hospice Life Care, and Holyoke Medical Group. RVCC's services include outpatient mental-health clinics, substance-use services, school-based health centers (teen clinics); CBHI services; the HIV/AIDS Project; CONCERN Employee Assistance Program; and mental-health services in schools, physician offices, and community organizations.