Two New Behavioral Health Hospitals Coming to Holyoke in 2022
Answering a Need
By Mark Morris
For many years, behavioral healthcare in Western Mass. has experienced persistent shortages of hospital beds for inpatient treatment.
Two new hospital-affiliated projects, both located in Holyoke, may start to change things for the better.
In late July, Baystate Health announced a joint venture with Kindred Behavioral Health to build and operate a $43 million behavioral-health hospital for the region. During a news conference to announce the Baystate joint venture, Dr. Mark Keroack, president and CEO of Baystate Health, described the 120-bed facility as "a contemporary healing environment for children, adolescents, adults, and seniors."
While not yet final, Keroack said the favored site for the behavioral-health hospital is the former Holyoke Geriatric Authority site on Lower Westfield Road, selected in part because of its proximity to both Interstate 91 and the Mass Pike.
The announcement comes on the heels of Holyoke Medical Center (HMC) revealing its proposal back in March to build a $40.6 million, 84-bed behavioral-health facility on its campus. If all goes according to plan, both hospitals will open in 2022.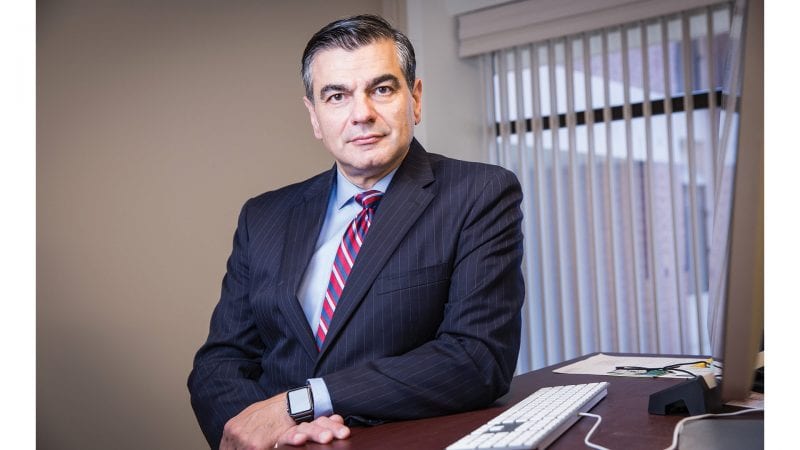 The prospect of additional behavioral-health beds for the region was welcome news after Trinity Health Of New England announced earlier this year it would close 74 inpatient beds at Providence Behavioral Health Hospital.
Trinity spokesperson Mary Orr said the hospital is increasing its emphasis on outpatient care but is working with Holyoke Medical Center and three other hospitals to make sure those who need inpatient care will get it.
"We have expanded our focus on inpatient psychiatric diversion and outpatient care to reduce the need for patients in crisis to access Mercy's Emergency Department," Orr said in a statement provided to HCN. "At the same time, we are planning an expansion of the ED's behavioral-health area to include additional evaluation and treatment areas and adapting our care model to include behavioral-health clinicians."
Besides HMC, Trinity is sending patients to Harrington Hospital in Southbridge, as well as Trinity-owned hospitals in Hartford and Stafford Springs, Conn.
The influx of more behavioral-health beds in 2022 is expected to stem the practice of sending patients outside the area for care. Last year, of the 4,000 patients who needed inpatient treatment for behavioral health at Baystate, 1,000 had to leave Western Mass. to get care. Dr. Barry Sarvet, the health system's chair of Psychiatry, said patients are currently staying in emergency departments for days, and sometimes weeks, because of a shortage of beds. Often, the only available beds for behavioral health are located on the other side of the state.
"This is a real struggle for patients who pay the highest price, but also a challenge for staff who want to see patients get the care they need," he said.
The timing of HMC's announcement of its new facility — around the time Trinity made news with its intended closure of Providence — is merely a coincidence, according to Spiros Hatiras, president and CEO of HMC, who said his staff had already been assessing the need for more behavioral-health beds in the region.
"We had started this process long before Trinity decided to close the Providence campus," Hatiras said. "Their decision confirms that our project makes even more sense to pursue."
Persistent Shortage
When complete in spring of 2022, HMC's behavioral-health facility will have a net gain of 64 new inpatient beds. The hospital currently maintains 20 behavioral-health beds in its main building, and those are slated to move to the new facility once it's built.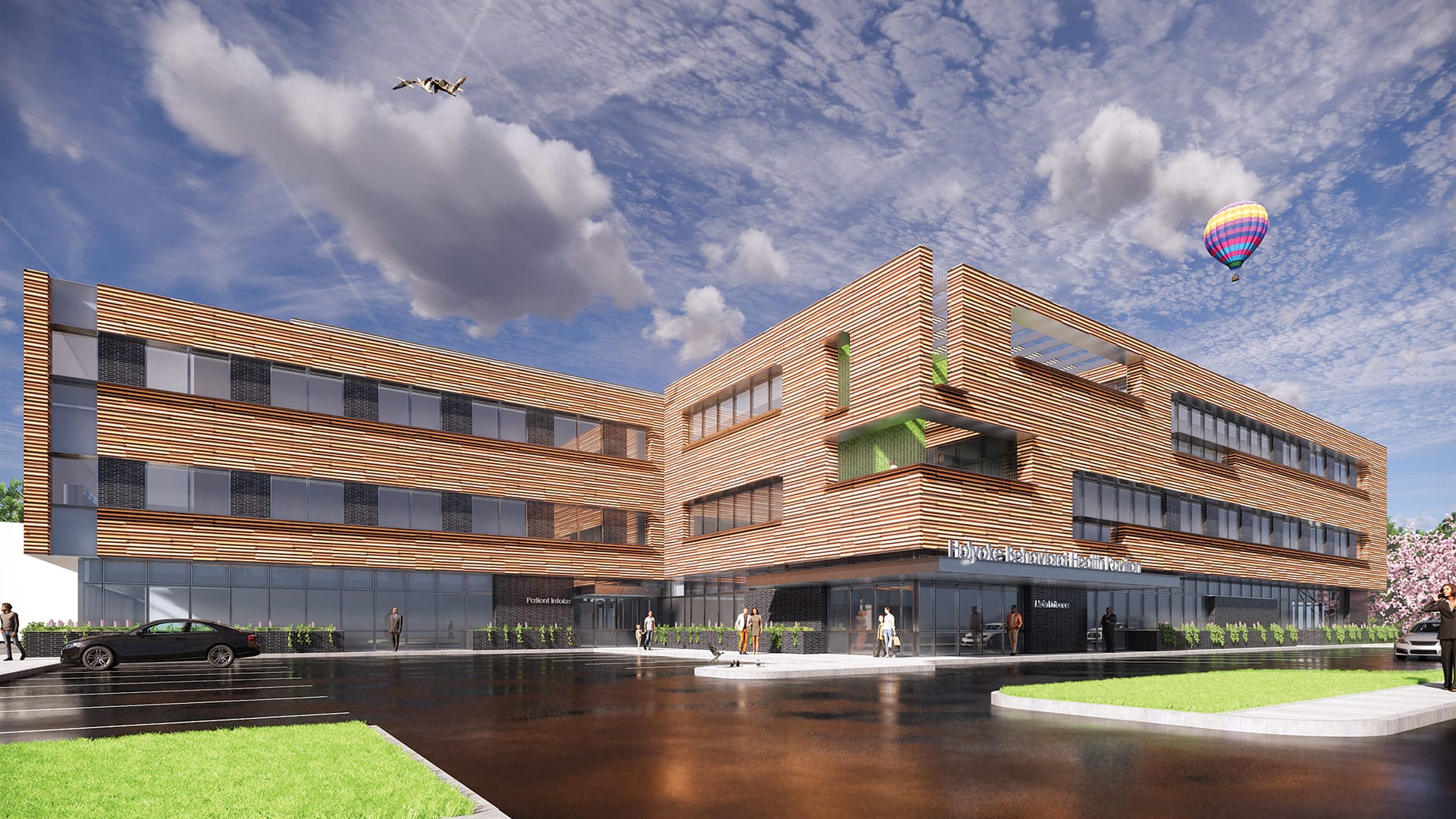 Trinity cited a severe shortage of psychiatrists as one of the reasons for closing its inpatient units. Asked about that concern, Hatiras said he's not worried because building a state-of-the-art facility and creating a culture of people who like where they work can overcome the shortage of professionals.
"In general, we have not had issues in finding good people and keeping them," he said. "And, when you have a new building, I think that becomes an attractor for new staff."
Baystate has invested in its own "pipeline" for development of new psychiatrists, Sarvet said.
"We have a psychiatric residency program that's been operating for over 10 years, and we are able to produce four newly minted psychiatrists every year through that effort," he noted, adding that Baystate also has a fellowship program to specifically train child and adolescent psychiatrists.
Sarvet told HCN two new hospitals is not too much; he's confident there will be more than enough work to go around between the two facilities. In fact, he anticipates that behavioral-health needs will increase in the context of the COVID-19 pandemic and post-pandemic phase.
A recent Kaiser Family Foundation study seems to confirms Sarvet's point. In April, the study reported that 45% of respondents said coronavirus had a negative impact on their mental health. Among that group, 19% said it had a "major" negative impact on their mental health, while 74% believe "the worst is yet to come."
When Baystate studied community needs, the analysis showed that, even with both hospitals in operation, the region was still 50 beds short. Sarvet suggested the shortage may be even greater.
"We may need to adjust our plans to potentially increase even further, so in terms of having too many beds, I'm very certain that's not going to be the case in 2022."
Currently, Baystate has 69 behavioral-health beds at four of its locations: 27 at Baystate Wing Hospital, 22 at Baystate Franklin Medical Center, and 20 at Baystate Noble Hospital. When the new facility opens in the fall of 2022, these three locations will close. A fourth location, the Adult Psychiatric Treatment Unit at Baystate Medical Center (BMC), which accommodates up to 28 medically complex behavioral-health patients, will remain open.
We may need to adjust our plans to potentially increase even further, so in terms of having too many beds, I'm very certain that's not going to be the case in 2022."
Despite the closures, Keroack said keeping the BMC location open and adding the new 120-bed facility will significantly increase the number of inpatient behavioral-health beds at Baystate.
"We don't want to sugarcoat the genuine loss of these units," Sarvet added. "They have been providing excellent care, and they continue to do so, but the advantage of having a new facility outweighs the losses."
He cited advantages including better access and quality of care once the new facility is online. "We believe the new hospital will allow us to improve patient experience and clinical outcomes in ways we could not accomplish with our current configuration."
Better Together
Both new projects are partnerships of sorts. In the Baystate venture, Kindred will manage the day-to-day operations of the behavioral hospital, while psychiatrists and advanced practitioners will be supplied by Baystate. Non-medical employees of the Baystate units that are closing will no longer be BMC employees, but will be eligible to apply for positions at the new facility.
Meanwhile, for its new facility, Holyoke Medical Center is partnering with Signal Health Corp. to manage the operation and with the Leo Brown Group to design and build the hospital.
While the new Baystate facility is expected to provide behavioral-health beds for children and adolescents, the organization has not committed to a specific number for that group. At HMC, Hatiras acknowledged the need for child and adolescent beds but said dedicating a unit for them is an expensive undertaking with reimbursements that don't nearly cover the operating costs. Plans for the new HMC facility do not include pediatric beds, but Hatiras is not completely ruling them out.
"We're not against the possibility of figuring out a way to deliver those services," he said. "While I can't promise today that there will be pediatric and adolescent beds, we are certainly exploring that option."
Whatever the details of each project, all involved agree on one thing: this is the right time, if not long overdue, to address a regional need for inpatient behavioral-health services that only continues to grow.