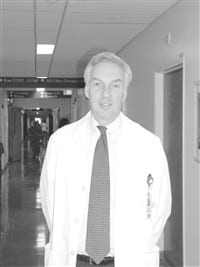 Dr. Loring Flint says physician recruitment and retention will improve only if the health care work environment in Massachusetts — and its damaged reputation — improve.
Dr. Gary Reiter has no problem breaking down the mountains of statistics, studies, and anecdotal evidence to their barest essence.
"People don't want to come here," he said bluntly. "And that was not the case 10 years ago."
Even five years ago, a study like the one released last month by the Mass. Medical Society (MMS), showing a striking trend of physician flight from the Commonwealth, might have elicited some kind of surprise from those who work in the health care industry. Not anymore, however.
I think we as a society need to wake up to the nature of the crisis in terms of the availability of physicians and other skilled people like X-ray technicians and respiratory therapists, and in terms of the stress on the whole system," Reiter, medical director of Holyoke Hospital, told The Healthcare News. "If we don't start to address that, we're going to have a huge problem."
That is, if Massachusetts doesn't already have a huge problem. According to the Waltham-based MMS, job vacancies are rising in specialties such as radiology, anesthesiology, and gastroenterology, and a large percentage of medical students in Massachusetts are leaving the state to pursue their careers.
Furthermore, the organization's Physician Practice Environment Index, which measures the quality of the work environment in physicians' practices, declined for the eighth straight year in 2001, recording a 6% drop from 2000 and a 23% drop from 1992. It is tempting to draw conclusions between the two studies, between quality-of-life issues for doctors and the current staffing problems.
What is happening? Well, James M. Howell, a former chief economist of the Bank of Boston, who conducted the Index study, cited enormous rises in malpractice rates, in addition to basic supply-and-demand issues felt nationwide. Others look first to inadequate reimbursement from public and private insurance payers, which puts added financial strain on physicians.
The truth seems to be a mix of these factors and others. But in the coming years, as the population ages and needs additional medical care, if Massachusetts develops a reputation as a place not to practice medicine, serious patient access problems could emerge — and then it won't be only doctors struggling with quality of life.
The Funding Fight
Reiter, for one, does see the reimbursement problem as a major factor in the current staffing crunch.
"The rate we have is so low compared to the rest of the country," he said. "There has been a 25% loss of average physician income since 1996. That's a hard thing for doctors here to swallow — and that's a hard thing to sell to people outside the state. It's too bad."
Dr. Francis X. Rockett, president of the 17,000-member MMS, said he was not necessarily surprised by the continuing decline in the quality-of-life index, but he is troubled, particularly when he hasn't seen much movement from lawmakers to reverse some of the funding trends that have stressed the system.
"Witnessing another year of decline in the physician practice environment is more than just discouraging; it's actually very alarming when set against the backdrop of the state's failure to provide adequate resources to the Medicaid program and additional cuts to Medicare at the federal level," Rockett said. "Access to patient care is quickly becoming this state's biggest health care problem."
And it's not just a public-payer issue, added Robert J. Suchecki, CEO of Hampden County Physicians Group. Many other states, he said, including Connecticut, boast higher fee schedules, on average, from commercial insurance payers.
"Everyone here is concerned with Medicaid payments, of course, and when combined with the fact that commercial payers are paying just slightly above Medicare, if at all, physicians have an opportunity to earn greater salaries in other states and enjoy a better lifestyle," he said.
"In general," Reiter echoed, "I think it's very hard to recruit physicians to work in Massachusetts when the reimbursement rates we have are so low compared to the rest of the country."
Howell agreed, saying the nearly decade-long decline in the quality-of-life index "shows that the environment in Massachusetts is demonstrably more difficult here than for the nation as a whole."
Flight Risks
The numbers bear this perception out. For the first time, the organization measured a quality-of-life index for the nation as a whole, and though that figure did drop, the decreases — 3% from 2000 and 16% from 1992 — don't approach the alarming levels of the Bay State figures.
But it's in the newer study of physician flight that the numbers really take shape, fleshed out by attitudes expressed in surveys. The MMS was quick to note that in similar professional labor market studies, it is rare that more than 10% of respondents indicate a labor shortage.
In stark contrast, 36% of general physicians responding to the MMS study felt that the pool of physician applicants is inadequate to fill vacant positions or expand a practice. In addition, 46% said they are currently experiencing some degree of difficulty filling physician vacancies. Perhaps most troubling, 25% said the physician shortage has forced them to alter services, and 27% said they have changed their professional staffing patterns due to this shortage.
When it comes to hospitals, the numbers are even more stark. Of the department chiefs surveyed in academic medical centers, 74% said the current pool of physician applicants is inadequate to fill existing vacancies, and 85% reported difficulties in filling those spots. As a result, 52% said they have had to alter their services, and 67% reported having to adjust their staffing patterns due to physician supply problems.
Almost certainly related is a troubling trend among those studying in Massachusetts medical schools. The Commonwealth is known for its educational institutions, but the health care industry is having trouble hanging onto students once they finish their training. Since 1997, the MMS said, 55% of residents and 68% of fellows have left Massachusetts upon completing their student work.
Current residents and fellows surveyed as part of the study don't give much hope for a reversal of that trend. One-third had already decided not to pursue a career in Massachusetts, and another 25% were still undecided about their career prospects.
When asked to give specifics, these residents and fellows overwhelmingly rated Massachusetts unfavorably on salary levels, salary arrangements, and the cost of living. They did respond favorably to professional factors such as the strength of their peer groups, research opportunities, and intellectual stimulation.
Deeper in the surveys, other trends emerge. Notably, doctors are increasingly concerned about the mounting cost of malpractice insurance premiums. The average premium in Massachusetts rose 14% in 2001, and it is expected to rise significantly again this year. Industry analysis attribute the surge to higher jury awards and an increase in multi-million-dollar claims, even though the number of claims settled has remained somewhat steady.
"Malpractice premiums are going up across the country, not just in Mass-achusetts," said Dr. Loring Flint, senior vice president of Medical Affairs for Baystate Health System. He noted that the MMS, along with other advocacy groups, are on record supporting medical tort reform legislation. "Without some sort of tort reform, this will continue to be a huge source of dissatisfaction."
It's more than that, doctors say. Soaring malpractice costs often make it difficult to hire additional physicians to expand a practice, adding to the strain on patient access.
Worse yet, if the negative trends in reimbursement, malpractice, and understaffing lead physicians to abandon the Commonwealth, the remaining physicians must shoulder an additional load — and that extra stress, manifested in 80-hour or longer weeks, sends up yet another red flag to those choosing a state in which to work, Suchecki said.
Bad Reputation
Perceptions have a way of morphing into reality over time, said Dr. Mark R. Tolosky, president and CEO of Baystate Medical Center. That seems to be what is happening now, and it has already had measurable effects on the ability of health care providers to do an effective job.
"When there's more demand than supply and your environment, in reality and reputation, is not a friendly one for physicians to practice and be compensated, each of our hospitals is at a significant disadvantage in the national recruiting marketplace," he said.
The net effect, many fear, will be felt by patients — if it isn't already. Since the last MMS Index was released, Rockett said, the organization has heard numerous reports of patients having access problems because of a lack of physicians to serve them. "This is echoed by the reports we get from practices that are having great difficulty recruiting and keeping physicians because the conditions in Massachusetts are so unfavorable."
Indeed, the MMS concludes in its report on physician flight that the physician shortage, and the factors that exacerbate the crunch, do threaten patients' access to health care. At minimum, the group says, waiting times for appointments will rise, but the problem could grow worse quickly, threatening the overall viability of health care in the Bay State, if the causes of the shortage are not addressed.
For some, the only question is whether the Commonwealth can turn these trends around before an aging population and advancing technology bring about a dramatic increase in the need and demand for health care.
"The Baby Boomer population is going to age no matter what we do," Reiter said. "And as these people age, they're going to need more hospital beds — and we might not have the hospital beds."
After all, hospitals are still closing faster than they're being built, and over the next five years, between 250 and 300 are expected to shut their doors nationwide, he said.
The financial stress on the health care industry has been compounded by a lack of foresight, he added, comparing the trend to the rash of school closings 20 years ago when enrollment decreased nationally — leaving communities to scramble to rebuild when classrooms got too crowded in the 1990s.
"We're going to need those hospitals back," Reiter said, "and it's much more expensive to build them than to maintain them now."
The trouble is, it's becoming more and more expensive just to be in the business of health care — for both hospitals and individual practitioners — and it can be easy to forget that it is a business, and one of Massachusetts' most important.
"How do we make the environment locally more advantageous for doctors? How do we deal with reimbursement? How do we deal with lifestyle issues?" Flint asked. "These are three unique issues being discussed on a nationwide level, and they won't be solved quickly."
The Bottom Line
For now, physicians are armed with hard statistics in their struggle to ensure that a growing, aging population is well-cared for in the 21st century. For the moment, however, the numbers don't paint a pretty picture.
"Things are continuing to decline, and unless that changes, Massachusetts is just going to be a tougher environment in which to practice," Flint said.
And if that proves to be the case, he worries, it won't be only physicians feeling the strain, but patients as well.