Introducing the Area's Nursing Graduates
Hundreds of nursing students recently graduated from the area's colleges. American International College, the American Women's College at Bay Path University, Elms College, Greenfield Community College, Holyoke Community College, Springfield Technical Community College, UMass Amherst, and Westfield State University have announced the names of their 2021 nursing graduates. HCN congratulates all of the graduates on their success.
---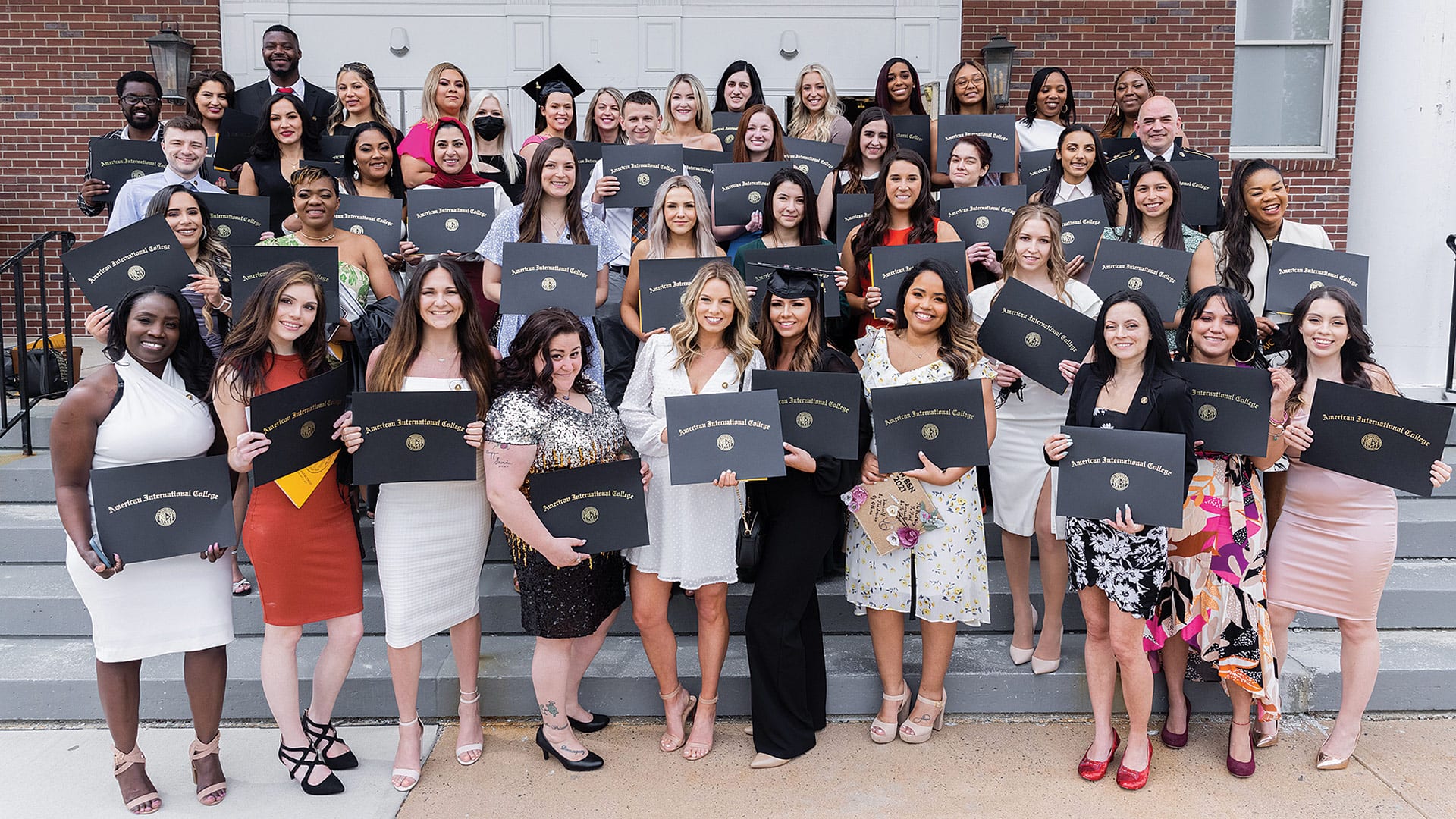 American International College Bachelor of Science in Nursing
Ariel Alvarez
Louis Martial Anwobor
Arlenis Baez
Jennifer Baez
Shamika Barrett
Hagar Bentil-Addai
Aseena Bibi
Darrick Blackburn
Elyse Brummett
Brooke Bruneault
Daniel Dineen
Funmi Edebiri
Nicole Gauthier
Irina Gonchuk
Haley Gould
Eileen Hernandez
Madalyn Izoita
Estera Janik
Nadine Kabula
Stephanie Kaczmarczyk
Elizabeth Kenyon
Jesse Kokosa
Leah LaBrecque
Elizabeth Lobik
Sarah Lombardo
Jennifer Lopez
Rebecca Macomber
Hannah Manzi
Michelle Mateo
Andrea Mazzarella
Erika Mitchell
Antony Mwangi
Ijeoma Nwosu
Yuliya Putsykovich
Alyssa Reardon
Brenda Salinas
Alexia Scarlato
Madalyn Skowranek
Wendelys Smith Diaz
Janelle Thomas
Aleah Valderrama
Taia Vivenzio
Madasyn Ward
Eva Yusenko
The American Women's College at Bay Path University RN to BSN
Erikka Florence
Stacy Hilton
Natasha Johnson
Kemesha Johnson-Braham
Leah Khodunov
Clarencia Lawrence
Monica Martins
Heather Menard
Linda Richardson-Tremblay
Chynna Santana
Elms College Bachelor of Science in Nursing
Omotola Adeyemi
Heather Adrian
Kwabena Andrews Agyei
Kennecy Alvarado
Evelyn Anning
Abigail Anselmo
Gloria Appiah
Linda Asare
Alfredina Asomaning
Esther Atanga
Marie Barthelette
David Berry
Erin Berthiaume
McKenzie Bingham
Jonathan Burnside
Ardra Carignon
Ashley Cavar
Kimberly Cook
Juliana Cooley
Christian Courchesne
Kelsea Cristoforo
Cora Danchision
Rosemary Danso
Amber Dinicola
Madison DiSanti
Nargiza Dorosidze
Rae Duda-Horrigan
Cathleen Eastman
Jaclyn Esparza
Nydiah Fisher
Alyson Flahive
Suzanne Fogarty
Emma Forest
Jodi Fortin
Julie Fraher
Courtney Fudger
Kinga Galecki
Billie Thompson George
Kayla Harrison
Rebecca Hill
Molly Howe
Meghan Jolivet
Samantha Judicki
Aleksandra Kagan
Helen Kamau
Mercy Kamau
Kaila Keene
Kailynn Kingsley
Regina LeBlanc
Madison Lopez
Tara Lynch
Charles Maina
Jacquelyn Marinelli
Jennifer McCready
Brianna Minie
Regina Miru
Emma Morton
Sara Moye
Fredrick Mutitu
Emma Noble
Michelle Nolette
Lisa Nuttall
William Osafo
Dora Osei
Nishma Otero
Peace Ovabor
Emmanuella Owusu-Ansah
Amanda Parmele
Karleigh Pfau
Diana Preston
Mariah Pulver
Nordia Ralph
Taylor Reedy
Jenna Richards
Maria Rivera
Meg Ryan
Amanda Saczawa
Sara Scagliarini
Elizana Sierra
Karina Silva
Natalia Skoczylas
Shannon Steinman
Elisa Taylor
Nicholas Taylor
Diana Tereshchuk
Donna Thorner
Samantha Tobey
Courtney Urban
Alice Verbetsky
Melanie Virtuez
Jackline Wairimu
Shaina Weber
Tammy Winters
Jiaoyu Xiong
Melanie Young
Madison Zigmont
Elms College Master of Science in Nursing
Oksana Anohina
Debra Baker
Joyce Boadi
Doreen Browne
Melissa Buxton
Marissa Connell
Jennifer Delaney
Ashley Dennis
Jessica Douglas
Felicia Easton
Mollie Ehrlich
Karen Fedora
Doris Haber
Amy Jacques
Gale LaBelle
Jessica Lacroix
Cheryl Mitchell
Jacquelyn Ouellette
Shannon Peters
Karen Pulit
Lou Rios
Nichole Russell
Shelli Silverberg
Elizabeth Starzyk
Jill Sweet
Holly Tavano
Sarah Thompson
Dawn Wright
Elms College Doctor of Nursing Practice
Suzy-Ann Baker
Sharifa Bayer
Michelle Bedard
Beth Burke
Brianna Cavanaugh
Salvatore Dimino
Karen Fasano
Deborah Hackett
Sophia Hayward
Amanda Hughes
Paige Lafountain
Caitlin Mathers
Anne Mistivar
Molly Pennell LaFortune
Scarlette Grassetti Pikul
Kathryn Reinmann
Karen Schiaffo
Shawn Selby
Kristin Shelsy
Kimberly Starr
Mohamed Turay
Greenfield Community College Associate of Science in Nursing
Daniel Adjei
Stephanie Alden
Angela Allard
Briana Benz
Kristen Burnett
Syrus Carey
Bryan Clarke Jr.
Kimberly Day
Anne DeCosta
Carrie Diehl
Bridget Diggins
Jessica Dion
Sara Edwards
Elliot Ezcurra
Tylor Gosselin
Jillian Gulow
Kristen James
Michelle Kopka
Aya Kotaich
Anne Kuloba
Alexis Kumar
Sonny Lalchandani
Kelly Lampron
Asha Letendre-Cahillane
Serena Libardi
Jennifer Long
Gabrielle Machnacz
Rebecca Miller
Stephanie Niquette
Aviva Rabins
Dylan Rogers
Jaskiran Saini
Morgan Sallee
Samantha Scanlan
Hannah Stebbins-Parker
Courtney Summers
Olga Taran
Becky Cohn Tucker
Dan Tutelya
Ashley Walker
Miles Warneau
Jiayi Yang
Kerry-Alisa Young
Holyoke Community College Associate of Science in Nursing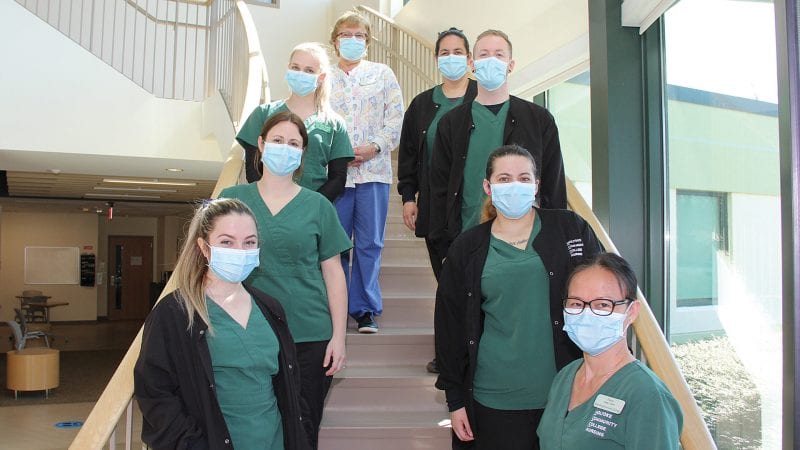 Salina Aguilar
Elena Aguirre
Candy Owusu Asante
Ana Bedinelli
Chelsea Bergeron
Kayla Cardona
Ashley Carr
Kathy Collado
Nicole Colon
Shaun Connor
Chelsea Douglas
Dayle Douglas
Denis Dyachkov
Brianna Ecklin-Fournier
Nicholas Fales
Justin Ford
Zofia Harmata-Wegrzyniak
Rosemarie Harvey
Maria Hernandez
Brittany Hogan
Zipporah Irari
Nicole Kwatowski
Jessica LaFortune
Rachel Lambert
Mildred Lefebvre
Krista MacGillivary
Phuong Mazza
Hope Moynahan
Versaviya Okhrimenko
Kayla Opalenik
Eric Piquette
Xiomara Rigau
Stephanie Singh
Lyudmila Tkachenko
Selena Toro-Brown
Melanie Turgeon
Jessica Walsh
Phyllis Wangi
Marley Waterman
Miranda Williams-Coleman
Ellondy Wray
Zodi Wray
Xinhong Wu
Springfield Technical Community College Associate of Science in Nursing
Alexander Agnitti
Melissa Aubuchon
Milleycha Balleste
Jenny Barrera
Amanda Bilkay
Wendolyn Billingsley
Katie Brier
Chelsea Budd
Kristine Cao
Kasey Carter
Brenda Charron
Maria Cieplik
Greg Cotto
Jean Dailey
Brianna Damon
Savannah Daniels
Shannon Meade
Kelsey Famiglietti
Sariann Figueroa
Hemanta Gautam
Marina Gavrilyuk
Hardik Gogri
Breanne Gouvin
Michael Hajdamowicz
Ling Huang
Diep Huynh
Marie Jacques
Julia Karpolyuk
Elinor Kent
Alfiya Khuzhakhmetova
Hannah Kincaid
Marissa Kopyscinski
Danielle Kupiec
Jessica Lara
Miranda Lebel
Kristin Loftus
Theresa Loschiavo
Diana Lukina
Joseph MacKenzie
Thembinkosi Makovere
Mary Malone
Lynn Marhefka
Shelby Lauer
Bianca Miller
Terri McCahill
Alexandra McNally
Gabriella Morales
Wilber Moreno
Xiaoyu Moutinhou
Sara Nepus
Heather Nguyen
Nam Nguyen
Tyralynn O'Toole
Kayla Peters
Kaylynn Renaud
Andrea Ripley
Freishla Rivera de Jesus
Kyera Rivera
Brandon Romaniak
Theresa Ruiz
Nathan Shorette
William Skala
Lindsay Smith
Lyudmila Solokhin
Sammy Tan
Kenneth Tanon
Sarah Toomey
Sacha Vazquez
Stefanie Velazquez
Ebony Wheeler
David Woodsome
Chelsea Zalewski
University of Massachusetts Amherst Bachelor of Science in Nursing
Isabel Andrzejewski
Lauren Bean
Emma Bendall
Matthew Biagi
Alyssa Blake
Katie Blake
Emily Boeri
Sophia Boyd
Alexis Butler
Lily Chamberlain
Catelin Chamberland
Sharlie Chan
Alison Choate
Aoife Clinton
Matthew Dagenais
Nicole Dardia
Gerard Delmar
Meegal Downer
Olivia Eiten
Isabella Este-McDonald
Amy Fong
Siobhan Ford
Christian Friedel
Daniel Gacek
Julia Gittlen
Natalie Gray
Margaret Haley
Jasmine Hambaro
Michael Harris
Robert Hart
Jordan Hoey
Lucy Howes
Olivia Kansanen
Kyle Kendall
Marymargaret Lacey
Thuylan Le
Fiona Mackenzie
Shauna Mahan
Caroline McLaughlin
Megan McNally
Alison Moore
Emma Mosqueda
Erin Murphy
Emma Neagle
Emily O'Connell
Madison Paine
Juliet Patrick
Olivia Peltier
Kasey Perkins
Anne Phipps
Caroline Ricciardi
Hayley Robartes
Renee Sanguinet
Jaclyn Santo
Katelyn Schindler
Ashley Senosk
Clare Sullivan
Madeline Terry
Derek Thayer
Emily Tolland
Allissa Tupper
Lauren Voccio
Chloe Wespiser
Megan Yee
University of Massachusetts Amherst Accelerated Second Bachelor's Degree
Jacqueline Adams
Judith Antwi
Cara Balsamo
Lesley Baxter
Olakunle Bolarinwa
Dora Bruce
Margaret Bruce
Courtney Bussiere
Melina Canter
Courtney Carron
Katheryn Chandler
Edyta Christenson
Emily Chrzanowski
Tristin Clark
Michael Collins
Sarah Crosby
Emma Crouse
Emily Cummings
Heather Defranzo
Israel Egeruo
Andrew Flewelling
Emily Florence
Alba Fuertes
Yajaira Garcia
Nina Germain
Samantha Graves
Conner Griffin
Austin Guilmain
Margaret Hark
Allison Haryasz
Evelene Hawley
Vanrong Ho
Ashley Jolin
Emily Kaufman
Kevin King
Betty Kodoso
Tyler Labombard
Ashley Lapriore
Courtney Lebrun
Allison Lessard
Celestine Logo
Lauren Longley
Kenya Louis
Mariel Lugosch-Ecker
Kimberlee McCarthy
Victoria Mielnikowski
Kelsey Mills
Joy Minichello
Olivia Moshier
Em Moulton
Shakirah Namagala
Timothy Nikopoulos
Matthew Noonan
Lani Nunokawa
Mewe Okoh
Babatunde Olatinwo
Alvaro Ortiz-Palacios
Dairis Pacheco
Melissa Petersen
Keisha Pierre
Rae-Lyn Pina
Jaimie Ramirez
Amanda Robare
Devado Ruddock
Alyssa Sagan
Serena Sarage
Aubrey Senterfitt
William Shrenker
Nicholas Sibley-Jett
Noah Spady
Jessica Sproehnle
Crystal St. Germain
Daniel Sullivan
Carlo Tan-Alberto
Esther Uka-Amaral
Sarah Vallejo
Elizabeth Vanwormer
Cynthia Vigeant
Andrea Vinard
Karissa Winkler
Halle Yeboah
Loudouba Yedena-Wassoua
Jie Zou
Westfield State University Bachelor of Science in Nursing
Grace Benson
Tess Bilodeau
Lauren Blakeley
Hannah Brown
Isabella Castro
Taylor Darcy
Maggie DeForge
Evelina Dimitrova
Rachael Farley
Isabella Fazio
Samantha Florio
Jessica Fontaine
Jayde Gaudet
Hannah Griswold
Hailey Guest
Anna Gupta
Shelby Houle
Hunter Kadra
Kaitlyn Kelly
Charlene Meserve
Emily Morin
Casey Murphy
Lydia Natal
Kendall Neidig
Jennifer Nixon
Taylor Nodwell
Catherine Plante
Hallee Tripp
Andrew Stroiney
Jordan Wytrych
Hannah Zimmerman
Westfield State University RN to BSN
LaTorya Adams-Nieves
Caroline Aguirre
Monica Aldrich
Odile Baker
Mikayla Bennett
Kimberly Dotiwalla
Benjamin Duffy
Brittany Emerson
Kaitlin Esposito
Erica Gaboury
Tamar Gervais
Mary Godin
Vineecia Harvey-Martinez
Michelle Ivey
Claralee James
Nitchel Josinvil
Caitlin Kenefick
Yulia Kline
Samantha Kostrzewa
Nicholas Labelle
Alexandria Libbos
Daniela Lopez Munoz
Denise Martinez
Kimberlee Mattoon
Paulette Merrill
Tenzin Nyima
Donnalee Reid
Sydney Richard
Kayla Robinson
Samantha Schneider
Jameelah Straughn
Lauren Taylor
Ashley Wilk
Elizabeth Zhirnov