Send your photos to: Picture This; c/o Joseph Bednar, The Healthcare News, 1441 Main Street, Springfield, MA 01103; or e-mail bednar@healthcarenews.com. Please include detailed caption material and your name and contact information.
---
Mutual Appreciation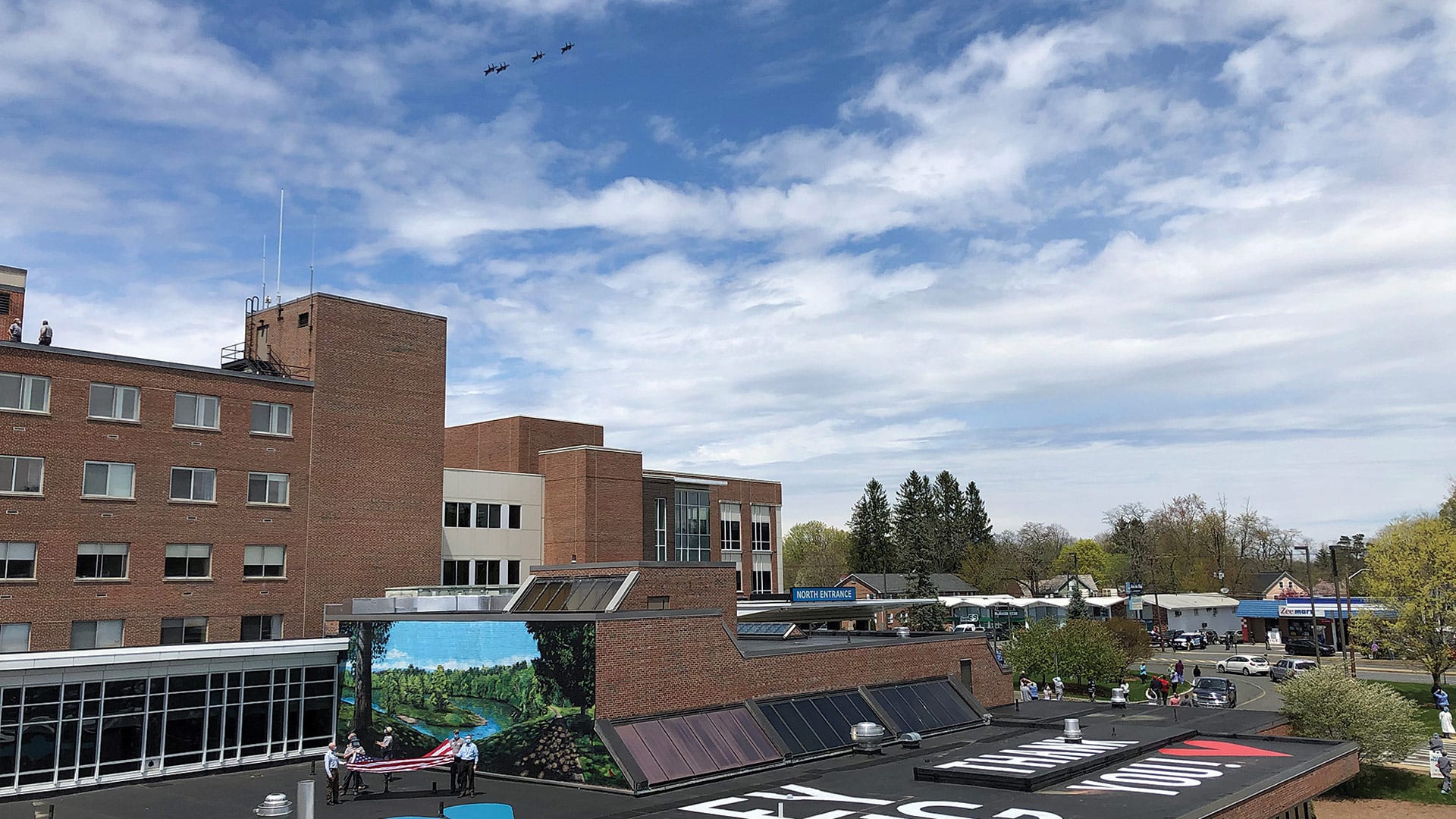 Four F-15 fighter jets from the 104th Fighter Wing of the Massachusetts Air National Guard flew over hospitals across Massachusetts on May 6 to show support for workers on the front lines of the coronavirus pandemic. The eight Western Mass. flyovers included Mercy Medical Center and Baystate Medical Center in Springfield; Holyoke Medical Center and the Holyoke Soldiers' Home; Cooley Dickinson Hospital in Northampton and Northampton VA Medical Center; and Western Massachusetts Hospital and Baystate Noble Hospital in Westfield. Before the Cooley Dickinson flyover, hospital maintenance workers painted seven-foot letters on a hospital roof reading, "COOLEY STRONG. THANK YOU."
---
Sunday Drive
A parade of 75 antique cars, hot rods, and special cars paraded through the grounds of Loomis Lakeside at Reeds Landing on May 3. Dozens of residents of the continuing-care retirement community watched the parade from inside and outside, employing social distancing. Members of Cars of New England and three other classic-car groups provided and drove the cars onto the grounds for the enjoyment of residents.
---
Needed Supplies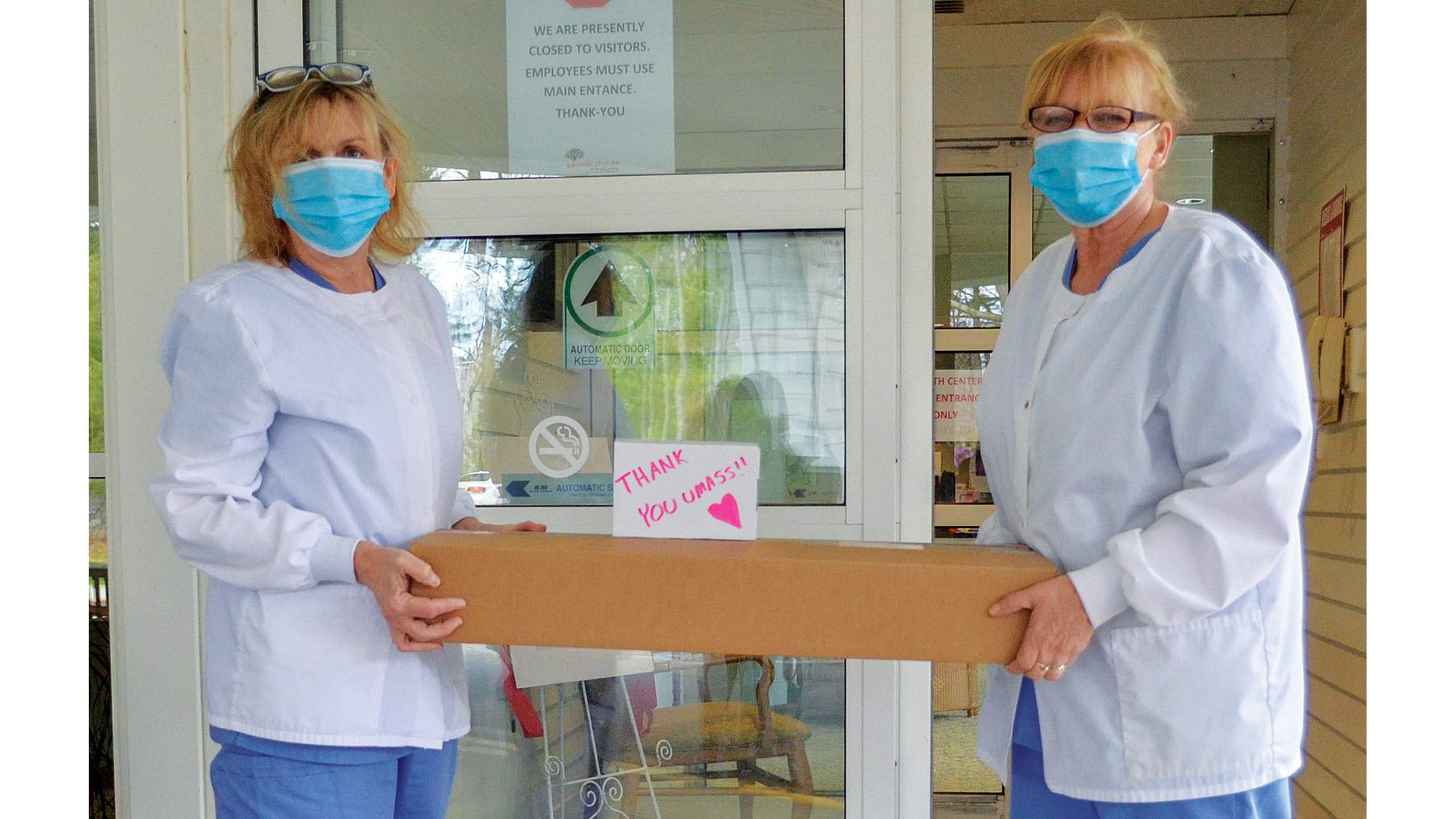 UMass Amherst recently donated 300 face shields — developed by UMass researchers, engineers, nurses, and other healthcare professionals — to the Skilled Nursing Center at Loomis Lakeside at Reeds Landing. UMass contributed more than $30,000 toward the initial production of face shields and hundreds of volunteer hours designing, testing, revising, and manufacturing them. Pictured: Tomara Meegan (left), assistant director of Nursing and infection preventionist at Loomis Lakeside, and Patty Coughlin, director of Nursing at Loomis Lakeside, carry a box of shields designed and donated by UMass Amherst.
---
Meeting the Need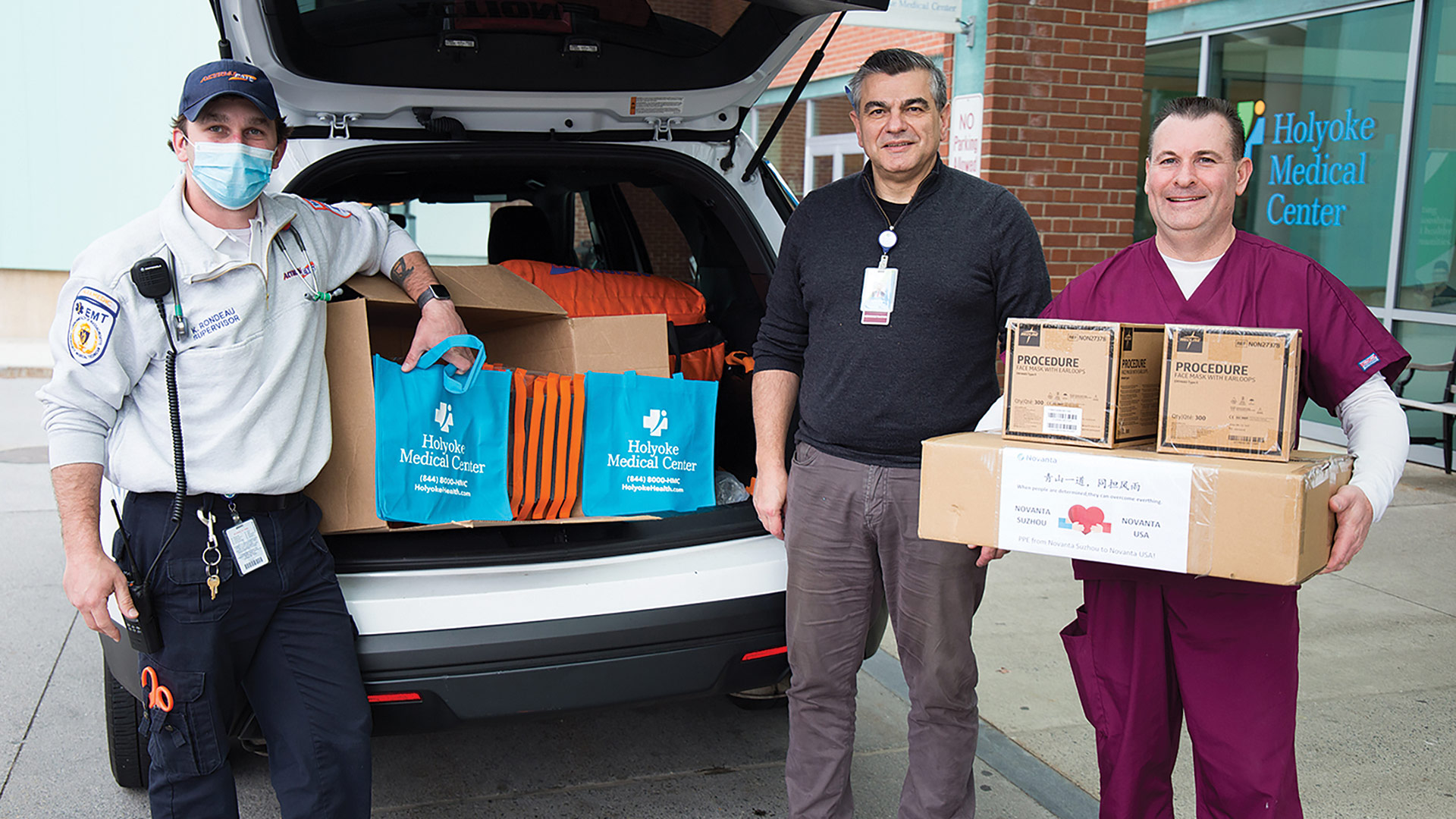 Holyoke Medical Center has shared personal protective equipment (PPE) with local first responders, including Action Ambulance, South Hadley Fire Department, and the city of Springfield. The donations included 700 face shields, 1,000 KN95 face masks, and 1,500 standard face masks for the responders to give to people they interact with at a distance closer than six feet. Holyoke Medical Center executives also spoke with officials in other surrounding municipalities, most of which had an adequate current supply of masks and face shields. Pictured: Action Ambulance Supervisor Kyle Rondeau, HMC President and CEO Spiros Hatiras, and HMC Chief Operating Officer Carl Cameron.
---
Mask Maker, Mask Maker, Make Me a Mask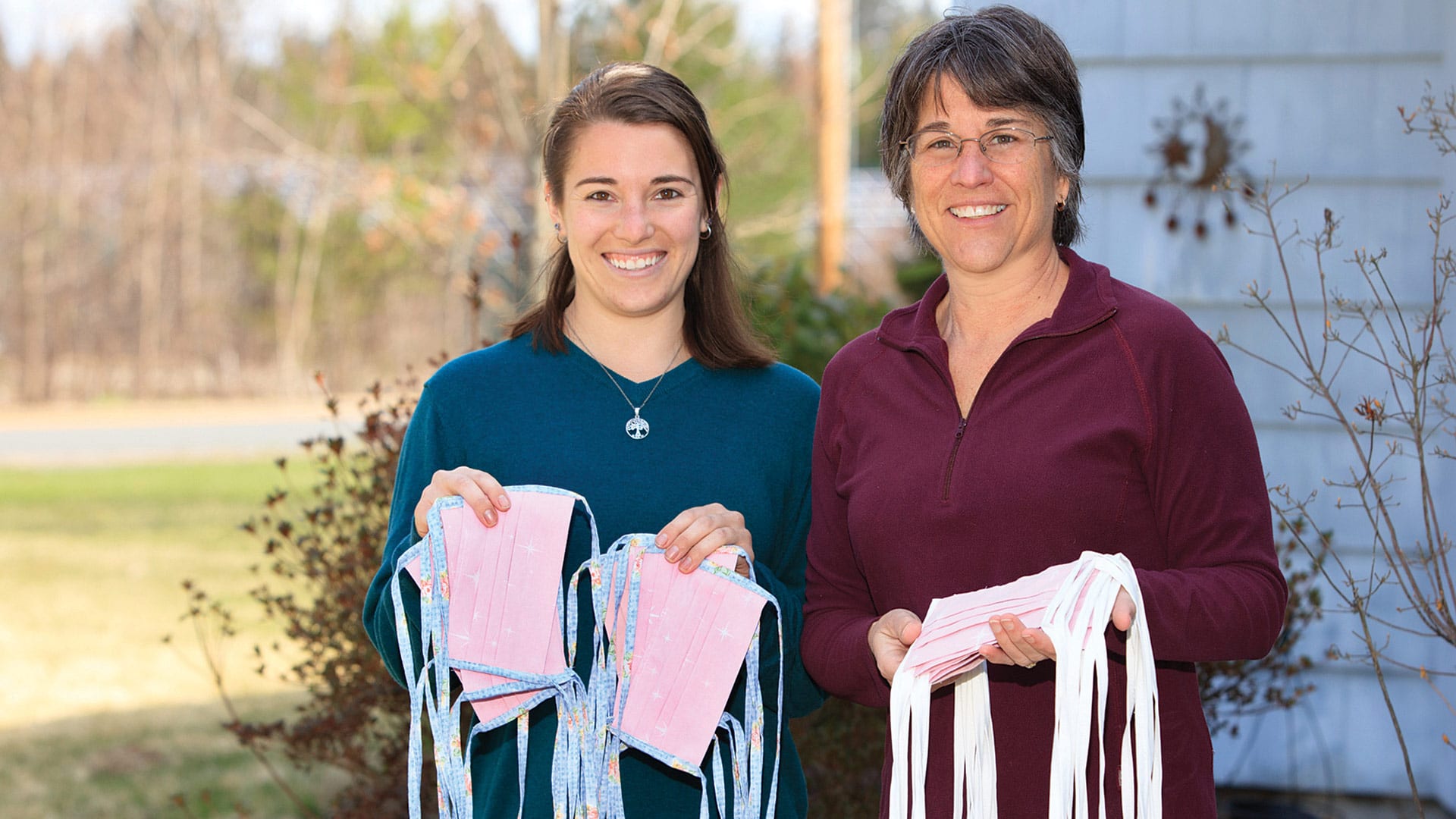 When the COVID-19 pandemic made wearing face masks a public health concern, those masks suddenly become hard to find — and Lauren Hummel and Donna Fournier sprang into action. Fournier's mother taught her to sew long ago, and she had a lot of fabric on hand, so she started making masks — 50 to begin with, mostly for her family. Hummel started by making a mask for herself, and friends reached out wondering if she would make masks for them. Both eventually connected with the Mental Health Assoc. to make masks for staff who work in MHA's group homes, who are considered essential workers. Hummel got her daughter, Kellie, involved as well (pictured), and MHA continues to look for volunteer sewers.
---
Gear for the Front Lines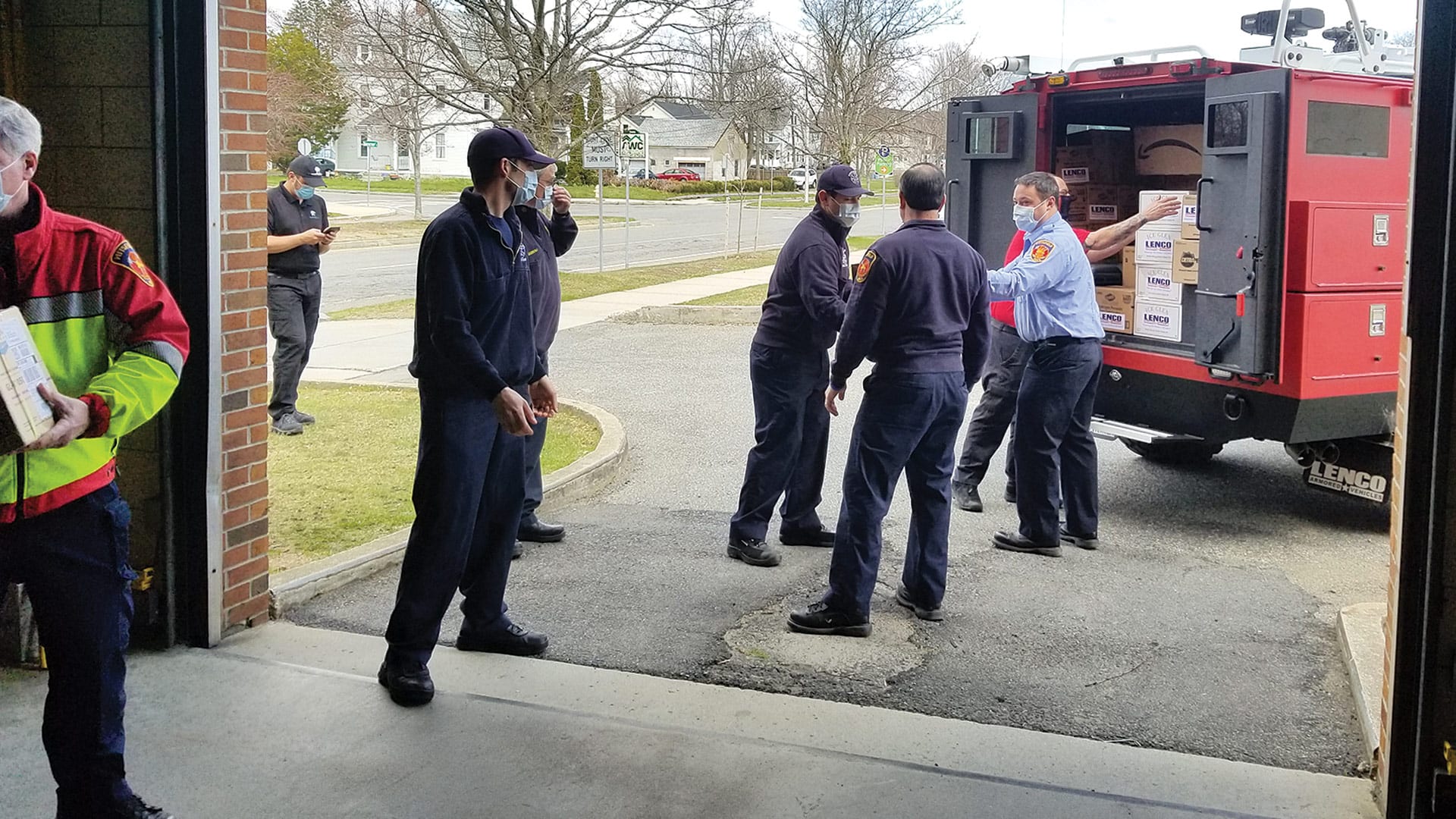 Lenco Armored Vehicles recently donated nearly $300,000 worth of personal protective equipment to regional first responders working on the front lines of the coronavirus pandemic, including sanitizer, disinfecting wipes and spray, respirators, masks, eyewear, gloves, protective clothing, and power air respirator supplies — about 35,000 pieces of equipment in all. Recipients include Dalton, Lanesborough, Pittsfield, and Richmond fire departments; Dalton, Lanesborough, and Pittsfield police departments; County Ambulance and Action Ambulance in Pittsfield; and the emergency room at Berkshire Medical Center in Pittsfield.
---