Marqusee to Step Down as Cooley Dickinson President, CEO
NORTHAMPTON — Joanne Marqusee, president and CEO of Cooley Dickinson since 2014, announced she will leave that role to become chief integration officer for Wellforce, a growing healthcare system in Eastern Mass. that includes Tufts Medical Center, four community hospital sites, a broad provider network, and a homecare/hospice agency.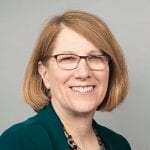 At Wellforce, she will be responsible for developing and enhancing system-wide services to support operational excellence and growth. Marqusee joined Cooley Dickinson following its affiliation with Massachusetts General Hospital (MGH) and the larger Mass General Brigham (MGB) system.
During her tenure at Cooley Dickinson, Marqusee oversaw the creation of a behavioral-health pod in the Emergency Department, the opening of a new Breast Center, and substantial expansion in provider practices across a range of locations and specialties. She will also be remembered for her diversity, equity, and inclusion work, starting with LGBTQ programs and more recently launching a comprehensive anti-racism plan. In addition, she has frequently spoken out on important public-health and policy issues, particularly those that affect marginalized communities.
Prior to her tenure at Cooley Dickinson, Marqusee, a graduate of Cornell University and the Harvard University Kennedy School of Government, was COO of MelroseWakefield Healthcare (formerly Hallmark Health) and spent 16 years at Beth Israel Deaconess Medical Center, where she consistently was promoted to positions of greater responsibility, including vice president of Access; vice president of Ancillary, Support and Community Services; and senior vice president of Operations.
Marqusee is a board member of the Massachusetts Health and Hospital Assoc. and serves on the steering committee of Extraordinary Women Advancing Health Care. In addition to her roles in Massachusetts, she previously worked for the New York State Department of Health in the Division of Health Care Financing, the New York City Health and Hospitals Corp., and the New York City Office of the Mayor.
Forbes DiStefano Named President, CEO of Square One
SPRINGFIELD — On the heels of the recent retirement of Joan Kagan, Square One named Dawn Forbes DiStefano its new president and CEO.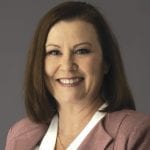 Following a 25-year career with the YWCA of Western Massachusetts, DiStefano joined the Square One team in 2016 to lead the agency's grant-research, grant-writing, and program-compliance efforts. She was quickly promoted to chief finance and grants officer, where she added oversight of the agency's financial team to her list of responsibilities. In 2019, she was promoted to executive vice president and took on oversight of the agency's early-education and care programs and family-support services, as well as management of operations, including transportation, food service, and IT.
Kagan, who led the agency for 17 years, announced her retirement plans last summer. She continues to serve as an advisor to the leadership team during the transition.
DiStefano serves on the boards of directors for the Massachusetts Council on Gaming Health, Dress for Success Western Massachusetts, the Springfield Regional Chamber, the Baystate Community Benefits Advisory Committee, and Businesses to End Human Trafficking. She also serves as a commissioner on the Hampden County Commission on the Status of Women and Girls.
She received her bachelor's degree from UMass Amherst and her master's degree in public administration and nonprofit management from Westfield State University.
Holyoke Medical Center Welcomes Vitarisi as CFO
HOLYOKE — Spiros Hatiras, president and CEO of Holyoke Medical Center and Valley Health Systems, announced the appointment of Dean Vitarisi as chief financial officer (CFO) at Holyoke Medical Center and Valley Health Systems.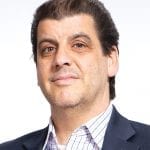 Vitarisi's prior experience included executive-level finance positions with Essen Health Care, Trinity Health Of New England, Yale New Haven Health, St. Mary's Health System, and St. Raphael Healthcare System. He received his bachelor's degree in business administration with a concentration in accounting from Bryant University. He then completed an MBA from Quinnipiac University, followed by a master certificate in healthcare leadership from Cornell University School of Human Ecology.
"I am excited to join this organization, with its strong culture and commitment in providing the highest standards of quality, safety, and cost-effective care for all patients," Vitarisi said. "One of my first goals will be to focus on the revenue cycle and reimbursement strategies, which are ever-changing due to legislation, regulation, and marketplace reform."
WNEU's Pezzuto Listed Among Top 2% of World's Scientists
SPRINGFIELD — Western New England University (WNEU) announced that Dr. John Pezzuto, dean of the College of Pharmacy and Health Sciences, has been recognized in Stanford University's recently released list of "Top 2% of Scientists in the World." The list names an elite group of scientists with criteria based on the citation impact of their publications.
In the overall category of career impact, Pezzuto is ranked in the top 4% of the top 2% of scientists. His placement is even more remarkable in the discipline-specific ranking of medicinal and biomolecular chemistry, where he is placed 21st among 80,622 researchers in that field — the top 0.02% of the top 2%.
Pezzuto joined Western New England University in August 2020 as professor and dean. Over the years, he has investigated natural products as drugs, with special emphasis on cancer therapy and prevention. He is well-known for his pioneering work concerning resveratrol, a component of grapes and grape products, that has been shown to mediate a raft of biological responses. His work on investigating the effect of grapes on health and longevity continues at WNEU.
"Nature provides many clues for the treatment and prevention of human disease. I have been blessed to work with many icons in the field, and to continue being active in research and discovery at WNE," Pezzuto said. "It is heartening that my work has been recognized by colleagues and become integrated with the continuum of science searching for the truth. Academia provides the perfect environment for scholarship, and this is imbued by the spirit of WNE."
HCC Hires Brandt as Dean of Health Sciences and Culinary Arts
HOLYOKE — Holyoke Community College (HCC) recently welcomed Amy Brandt as its new dean of Health Sciences and Culinary Arts.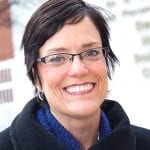 Brandt most recently worked as associate vice president and dean of Health Sciences at Broome Community College in Binghamton, N.Y., which is part of the State University of New York system. At SUNY Broome, she focused on developing partnerships with local area hospitals to address healthcare-worker shortages and advocated for enhanced use of simulation to improve clinical education and position programs to remain current with emerging national trends in healthcare education.
At HCC, she will oversee seven academic programs: Foundations of Health, Medical Assisting, Medical Billing and Coding, Nursing (associate of science and practical), Radiologic Technology, Veterinary and Animal Science, and Culinary Arts.
Brandt holds a master's degree in social work from California State University, Sacramento, and a Ph.D. in social work from the University of California Los Angeles. After earning her Ph.D., she began working in education, initially at the University of California Berkeley in the School of Social Welfare, where she focused on program administration and teaching introductory social-work courses. In 2007, she transitioned to the community-college setting in California, focusing on allied-health education, and she has worked on allied-health program development in California, Florida, Texas, and New York.
Brandt has extensive experience working with state regulatory agencies, as well as developing self-studies for programmatic accreditation. She has served as a site visitor for the Middle States Commission on Higher Education, reviewing institutions for compliance with general education and educational-effectiveness standards.
She has collaborated with multiple programs on developing assessment plans to assess educational quality and delivery and has co-led a variety of different campus committees related to program review, general education, professional development, COVID-19 reopening, and student retention and equity initiatives.
Miarecki Joins Team at Christopher Heights of Northampton
NORTHAMPTON — Christopher Heights of Northampton, an assisted-living community, recently welcomed Amie Miarecki as its new marketing and admission director.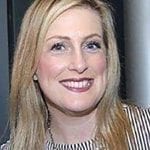 She brings nearly 20 years of experience working in the health and human-services field in both Greater Springfield and Greater Boston, providing marketing, community-relations, and development expertise. She will promote the company's mission by engaging with the community and healthcare partners to help individuals find their next home while maintaining their independence and a dignified quality of life.
Miarecki holds a master's degree in corporate and organizational communication with a specialization in leadership from the College of Professional Studies at Northeastern University and a bachelor's degree in psychology with a minor in sociology from UMass Amherst.
She is the president of the Young Professional Society of Greater Springfield, a board member of the Professional Women's Chamber, and a committee member for both the civic and community-engagement committee of the Springfield City Library and the Greater Northampton Chamber of Commerce community-engagement committee. In addition, she holds memberships with Hampshire County Young Professionals, the Western Mass. Elder Professionals Assoc., and the Retirement Marketing Directors Assoc. of Western Mass. She is also a past recipient of the BusinessWest 40 Under Forty award.
Bitsoli Named Trustee of Mass. Health & Hospital Assoc.
SPRINGFIELD — The Massachusetts Health & Hospital Assoc. (MHA), the state's leading voice for hospitals and health systems, announced the appointment of Deborah Bitsoli, president of Mercy Medical Center and its affiliates, to its board of trustees.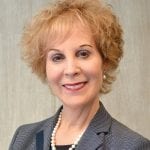 Through advocacy, education, and collaboration, MHA's mission is to improve the overall health of the Commonwealth and support providers' efforts to offer high-quality, affordable, and accessible care. MHA has used its platform to serve as a nexus of coordination for the healthcare system throughout the COVID-19 crisis, bringing leaders together and forging solutions to the challenges presented by the pandemic.
Bitsoli has over 25 years of experience in the healthcare industry and has spent the last 19 years in leadership roles. Before taking the helm at Mercy Medical Center, Bitsoli served as president of Morton Hospital in Taunton and as chief operating officer and executive vice president at Saint Vincent Hospital in Worcester.
She holds an MBA from Babson College in Wellesley and a bachelor's degree in accountancy with a management minor from Bentley University in Waltham. She is a certified public accountant in Massachusetts.
Florence Hearing Health Care Welcomes Niemi to Team
FLORENCE — Florence Hearing Health Care, a private audiology clinic serving Western Mass. and beyond, recently welcomed Dr. Anna Niemi to the team.
Current patients of the practice have likely already met Niemi while she was completing her fourth-year externship under the direction of Dr. Jennifer Sowards. Having worked nearly 20 years managing finances for various small businesses in Western Mass. and Connecticut, Niemi decided to pursue a new profession where her work would have a more direct impact on the lives of those in the community that she serves.
She received her doctoral degree in audiology from UMass Amherst last spring. She is a fellow of the American Academy of Audiology, the Massachusetts Academy of Audiology, and the Academy of Doctors of Audiology. She also holds a certificate of clinical competence (CCC-A) from the American Speech, Language and Hearing Assoc.
The practice aims to educate the community about hearing healthcare, including the signs of hearing loss and the available treatment options that can improve quality of life for those who experience it, as well as encourage adults to get a baseline hearing test and protect the hearing they do have. FHHC works with their clients to meet them where they are in their hearing healthcare journey.
Women's Health Associates Welcomes Marks to Practice
SPRINGFIELD — Women's Health Associates recently welcomed Patience Marks to its practice. An experienced women's health nurse practitioner, Marks provides comprehensive care to women across their lifespan, including, but not limited to, gynecology, pregnancy, well-woman care, health screenings, fertility, and menopause.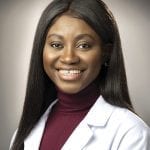 "Patience is a dedicated and diligent women's healthcare provider," said Dr. Robert Wool, medical director. "She is very approachable and takes pride in building lasting relationships with her patients."
Marks earned her bachelor's degree in nursing from Boston College and her master's degree from the University of Pennsylvania. She comes to Western Mass. from her previous position at a health center in New Jersey, where she provided reproductive care to women and men, including well exams, STI screenings and management, contraceptive counseling, and gynecological care. She previously spent some time in Monrovia, Liberia, providing ob/gyn care to the local community.
Adamczyk Named Executive Director at Providence Ministries for the Needy
HOLYOKE — The board of trustees of Providence Ministries for the Needy (PMN) announced the appointment of Jennie Adamczyk as executive director. This appointment comes at a critical time, as Providence Ministries celebrates its 40th year and the demand for community services is exceptionally high. As executive director, Adamczyk will oversee the operations of Kate's Kitchen, Margaret's Pantry, St. Jude's Thrift Store, and three sober-living homes — Loreto House, Broderick House, and McCleary Manor.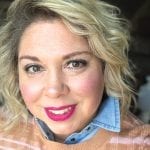 Prior to this appointment, Adamczyk served in multiple PMN leadership roles, including program director, associate director, and, most recently, interim executive director. In the interim role, she guided operations through the COVID-19 pandemic, implementing numerous safety precautions to maintain the health and well-being of staff, residents, and community members. She gained community support as she adapted PMN's programs to meet the community's extraordinary needs for food and other resources.
Prior to joining PMN, Adamczyk served as director of Sales and Marketing for Ross, Webber and Grinnell Insurance Agency and was an active PMN volunteer, developing the Family Game Night program, one of PMN's premier fundraisers.
BMC Awards Inaugural DAISY Award to Alibozek
PITTSFIELD — Cardiac-care nurse Susan Alibozek has achieved a first at Berkshire Medical Center. She was honored with the hospital's first DAISY Award for Extraordinary Nurses, a national nursing recognition program that has been adopted by thousands of hospitals to honor individual nurses who have had a tremendous impact on patient care. Based on a nomination received from the granddaughter of a BMC patient, Alibozek had a huge impact on the patient and family.
"My grandmother fell and broke her femur around her hip-joint implant. It was a bad break that required a lengthy surgery. When we got to BMC, the doctors were also concerned about her heart, so she was admitted to the fourth floor. During her stay, communications with the nursing team was wonderful," said Crystal Van Deusen in her nomination. "Sue Alibozek was the amazing nurse that got stuck listening to me. She took all the time that was needed with me to explain and calm me. She walked me through everything that had happened — all that I was either unaware of or had little knowledge of. She also told me what the next steps were and what options we had. She treated me and, more importantly, my grandmother with dignity, grace, compassion, empathy, and respect."
Using the acronym PETALS, BMC's criteria for nominating a nurse for a DAISY Award include passion and compassion, empathy, trust and teamwork, admirable attitudes, love for patient and profession, and selflessness.
Sullivan Named to Board of MLK Family Services
SPRINGFIELD — Dr. Allison Sullivan was recently named to the board of directors at Martin Luther King Jr. Family Services Inc. (MLKFS).
Sullivan is lead faculty for the Occupational Therapy doctorate program at American International College. As an occupational therapist and educator, she has dedicated her 27-year career to improving the lives of individuals with intellectual and developmental disabilities across the lifespan, working in day-habilitation services, school-based occupational therapy, and residential settings. She is the chair of the MAOT Western Massachusetts Mental Health Special Interest Group, a certified group-exercise and yoga instructor, and the co-founder and leader of #OTalk2US, a Twitter chat for occupational therapists with tens of millions of views of tweets carrying this tag.
Sullivan earned a bachelor's degree in fine arts from Amherst College, a master's degree in occupational therapy from Springfield College, and a doctorate in occupational therapy from Temple University. She currently volunteers as an advisory board member for Lighthouse and a board member and social media committee chair for Allen Cognitive Network, and serves on the human rights committee for Viability.
Other new MLKFS board members include Rose Colon, a criminal-defense and personal-injury attorney based in Springfield, and John Garvey, founder of Garvey Communication Associates Inc.