Cardiac Surgeon, Baystate Medical Center
Dr. Kelly Wanamaker, FACS, joined Baystate Medical Center as a cardiac surgeon in the hospital's Heart & Vascular Program in 2019. She previously served as a cardiothoracic surgeon at Lehigh Valley Health Network Heart Institute in Allentown, Pa.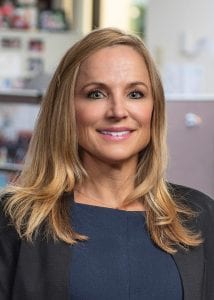 Wanamaker earned her medical degree from Drexel University College of Medicine in Philadelphia after completing a bachelor's degree in psychology and mathematics and later a bachelor's degree in nursing, both from Old Dominion University in Norfolk, Va. She also completed a categorical general-surgery internship and residency at Allegheny General Hospital/Drexel University and a cardiothoracic surgical research fellowship at the Gerald McGinnis Cardiovascular Institute at Allegheny General Hospital in Pennsylvania. She then completed her residency in cardiothoracic surgery at Brigham and Women's Hospital/Boston Children's Hospital and an advanced fellowship in cardiac surgery at Brigham and Women's Hospital/Harvard Medical School.
What did you want to be when you grew up? A teacher. In elementary school, I had a chalkboard at home and started teaching neighborhood kids how to spell. Math was my strength, and I was inspired by my high-school math teacher, Ms. Simon, so I set out to college to become a math teacher.
How did you become interested in your specialty? As a nursing student in 1996, I was first introduced to cardiac surgery during a Yale New Haven internship. I was immediately drawn to the complexity of it. Even as a nurse, I was always drawn to understanding physiology and complex conditions. There was never a dull moment in cardiac surgery. I was bored by anything else.
"There was never a dull moment in cardiac surgery. I was bored by anything else."
What elements of your field do you find most interesting? Complex aortic surgery, coronary artery bypass grafting, emerging aortic valve repair … basically anything that involves thoughtful planning, new techniques or approaches, and using fine motor skills.
What should people think about more often when it comes to heart health? Proper diet and exercise, particularly after heart surgery, as secondary prevention. Patients often ask me why this happened or what could I have done to prevent it (i.e., coronary artery disease). I tell them it is multi-factorial, but often it is genetics, and you can't change that (for now, anyway). My job is to fix the problem, but also help patients recover and prevent recurrence or progression of disease. Post-op wellness cardiac rehab is vital. We have a robust rehab program at Baystate with monitored exercise. When we agree to surgery, I tell my patients this is a commitment. You must put in the work to start on the road to wellness and longevity of life. The key to recovery is getting out of bed and start moving.
What is most gratifying about your work? Successful surgery, but also the human connection. I love seeing an improvement in symptoms after a successful operation. There is immediate gratification for a technically and mentally challenging job. I equally value bringing joy to patients and families. Just the other day, for example, without knowing it (I was told later by the mother), I apparently inspired a 10-year-old girl — because I am a woman in a male-dominated field. The 10-year-old hugged me for helping her grandfather after his open-chest surgery. That meant a lot. Then, a few hours later, I was making a 90-year-old laugh at the bedside during a consultation for coronary disease. Those responses bring me great joy.
What three words best describe you? Passionate, determined, caring.
What are you passionate about? Doing the right thing. Sometimes that means not offering an operation if the risks are too high for a meaningful recovery. I don't believe in operating just because we can.
Who inspires you, and why? A good, solid athlete. I love sports and value a dedicated player and teammate — examples like Cal Ripken, Joe Theismann, Tom Brady, and Patrick Mahomes, who have solid traits that translate into our field as surgeons: confident, cool under fire, great communicators, hard workers, dedicated, responsible, and take time to recharge (the medical field is just now recognizing this as important; we must take care of ourselves to take better care of others). I squeeze in healthy meals and exercise so I can perform best at my job. I love being part of a team. I can do a perfect operation, but need a solid team to get my patient home: nurses, advanced-care practitioners, perfusionists, anesthesiologists, intensivists, and physical therapists.
What goal do you set for yourself at the start of each day? To learn something new.
How do you define success? Accomplishment of a goal (especially in the setting of the naysayers). I became a cardiothoracic surgeon even in the face of questions like, "how may it interfere with family life?" (Yes, I was still asked these questions at a few general-surgery residency programs; let's just say I took those programs off my list.) To this day, I have never met a cardiac surgeon who doesn't love his or her job — and that speaks volumes to me.