Encompass Health's Stroke Program Touts Individualized Approach
When Everything Changes
By Joseph Bednar
John Hunt has been in the rehabilitation field for 30 years, so he's seen plenty of evolution in the way stroke victims are treated.
"It really has evolved, just the knowledge and science behind things," said the CEO of Encompass Health Rehabilitation Hospital of Western Massachusetts in Ludlow. "When I first started, we used to get patients from the hospital to rehab 12 or 14 days after their stroke. Now we're getting them three or four days after their stroke. And in the old days, we used to keep patients for three months. Now, because of regulations and insurance, we're keeping them 16 or 17 days, on average."
In turn, the intensity of therapy has increased, with the focus on getting people better in a shorter period of time, he told HCN. "That's why what we do here is at a much higher level — because of the intensity level. We're keeping patients for a shorter time, we're providing more therapy, and we're getting better functional outcomes faster."
At the same time, however, the inpatient rehab stay is only a small part of the picture. That's typically followed by outpatient care, perhaps home care, support groups, and a constant focus on educating the patient and his or her family so that they can continue to improve at home. The stroke team along the way may include an internal-medicine physician; a rehab physician; nurses; physical, occupational, and speech therapists; a dietitian; a social worker, a case manager, a pharmacist, respiratory and therapeutic-recreation professionals, and sometimes others.
"You've heard it said, 'a stroke is not a stroke is not a stroke.' Every stroke is different. Years and years ago, a stroke patient came into the hospital, and they were treated simply as a stroke patient. Now, we have a very individualized approach."
The journey is never the same from patient to patient, Hunt said.
"You've heard it said, 'a stroke is not a stroke is not a stroke.' Every stroke is different," he explained. "Years and years ago, a stroke patient came into the hospital, and they were treated simply as a stroke patient. Now, we have a very individualized approach.
"Everything is based on evidence-based research," he went on. "So each of our patients, the first few days they're here, they're evaluated by the whole team, and we look at their function and in which specific areas their function is decreased. And then we put together a treatment plan specific to that patient. There's no cookie-cutter approach."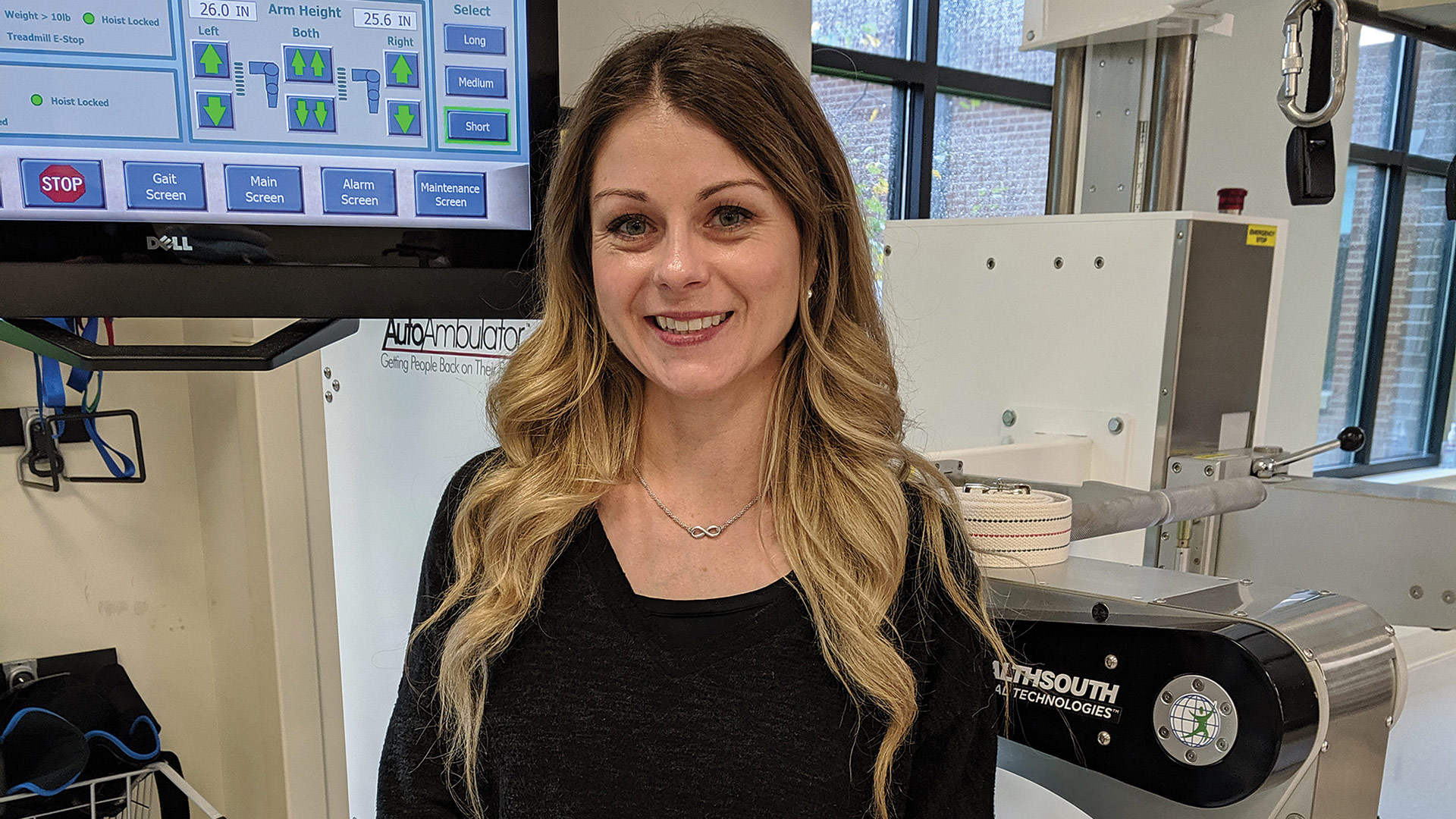 There are two major types of stroke. The more common, known as ischemic stroke, occurs when a clot blocks a vessel supplying blood to the brain. Hemorrhagic strokes, typically more serious, occur when a blood vessel ruptures in the brain. But even within each type, strokes can result in a wide variety of outcomes and functional deficits, each requiring a specialized care plan, said Deb Carney, director of Therapy Operations at Encompass.
"If you have an issue with a stroke in your frontal lobe, you might have some deficits with insight and higher-level problem solving and safety awareness — making good choices, things of that nature," she explained. "In the back of your brain, the occipital lobe, for example, those patients might have difficulty with their vision, which can impact their safety and ability to function in their environment.
"We look at the patient's function and their barriers," she went on, "but, more importantly, what are their goals, and what are their family's goals? We want to promote the highest level of independence to get them back to doing the things they love."
For this issue's focus on stroke care, HCN paid a visit to Encompass to learn about the many ways the hospital is doing just that.
Sudden Impact
The effects of a stroke aren't always immediately evident, Hunt said.
"When you see someone who's had a stroke, you can see they have a paralyzed arm or a paralyzed leg. But some of the things people don't see are problems with language, memory, problem solving, even swallowing," he explained. "Almost all our patients who come here have some physical manifestation of stroke. But then we have patients who don't just have physical and occupational needs, but also have problems with language, speech, cognition — all those unseen things that present challenges to patients and the people who will be taking care of them."
In fact, he said, one of the most common issues for stroke patients is swallowing problems. "They can go from being very mild to profound, and they may need a feeding tube for a while. When those patients come here, our goal is to get them off the feeding tube and be eating and drinking foods and liquids again."
Hunt, whose background is in speech and language pathology, noted that Encompass employs a technology known as Synchrony, which uses virtual-reality-augmented biofeedback to essentially retrain people in how to swallow.
"There are other technologies on the market that make a person swallow, but it doesn't sustain it," he noted. "This teaches the patient to swallow again."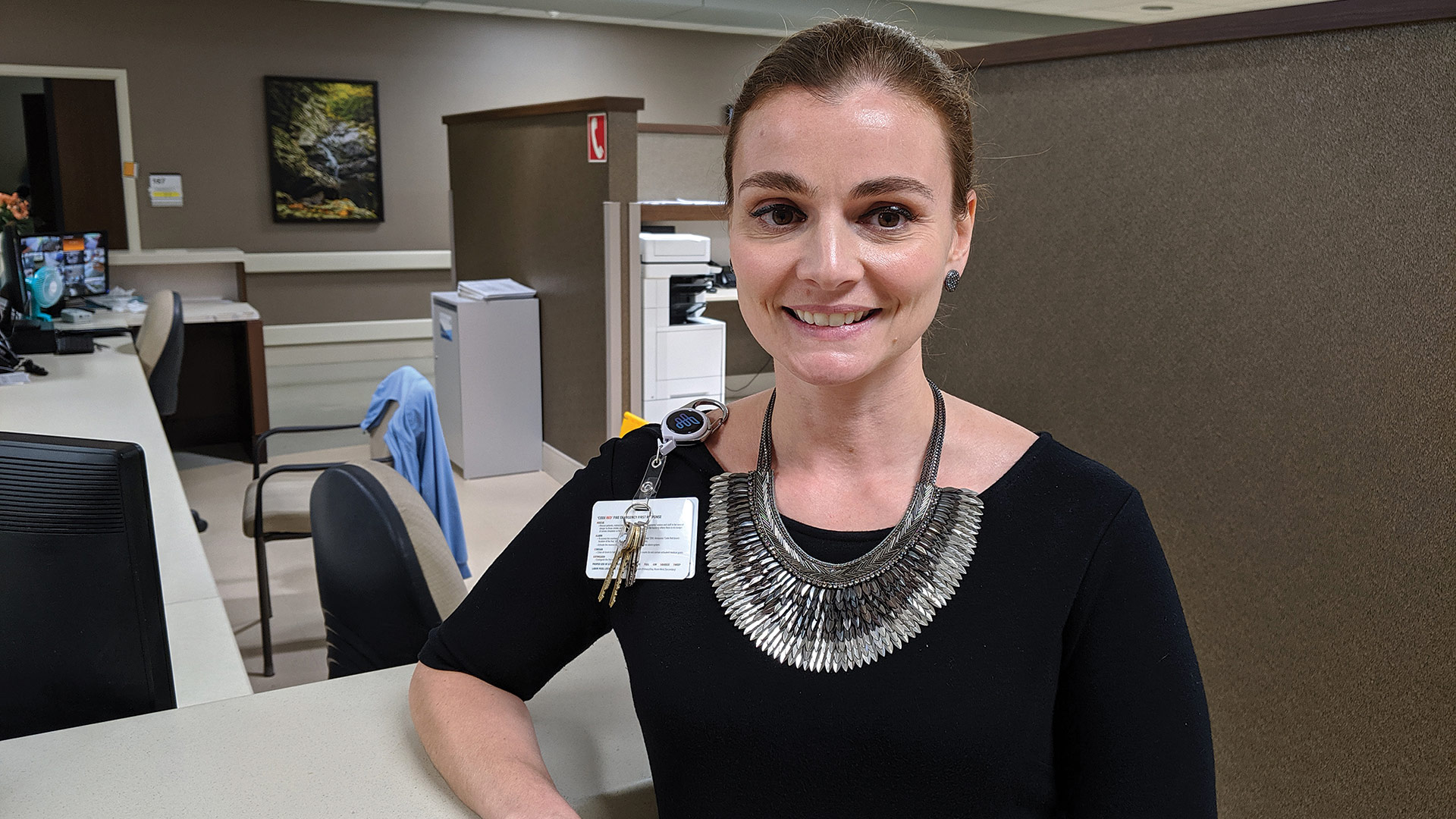 That's far from the only cutting-edge rehabilitation technology Encompass uses. Others include AutoAmbulator, a sophisticated treadmill device that uses robotics to help patients with gait disorders; the Bioness Integrated Therapy System, an interactive touchscreen that helps patients improve coordination, balance, recall, reaction time, and cognitive abilities; DriveABLE, which assesses one's cognitive fitness to drive; NESS L300, a wireless electric-stimulation alternative to bracing for the gait abnormality known as foot drop; and NESS H200, which electrically stimulates thumb and finger movements for improved hand function, just to name a few.
"We're constantly at forefront of getting what's new," Carney said. "There's always new evidence coming out about what's effective and what's not effective, and that drives what we bring into the hospital to utilize with our patients."
Still, while cutting-edge technology and up-to-date research are critical, Hunt said, an equally important but often-overlooked element to rehabilitation is a far less high-tech quality: empathy.
"As a team, we're making sure that patients' emotional and social needs are met too, not just their physical needs. Looking at them as a whole is really important."
"How do we put ourselves in the shoes of the patient? If I've had a stroke, I'm lying on my back, looking at the ceiling, thinking, 'what could possibly happen to me from here on?' Someone coming in my room with a smile on their face or a kind word can make a difference. As a team, we're making sure that patients' emotional and social needs are met too, not just their physical needs. Looking at them as a whole is really important."
Cidalia Vital understands that factor from both sides. She first worked at HealthSouth Rehabilitation Hospital of Western Massachusetts (it took the Encompass name in 2018) as a rehab nursing tech.
"Strokes always were … I don't want to say my favorite patients, but the patients who needed the most support from a nursing perspective," she said. "In the time we spent with them, we make a huge difference."
After she left the organization to go to nursing school, her father had a stroke, and she chose the HealthSouth site for his rehab.
"He was completely flaccid on one side, no trunk strength. And he left HealthSouth actually walking," she recalled. "Rehab changed him. He had some mental impairment from his stroke, but the therapy he received and the empathy he received — which is my favorite thing here — made a huge difference for him, and we was able to live a better life after leaving, even though his stroke really did change the way he can move."
Three months ago, Vital rejoined the Encompass staff as the chief Nursing officer — choosing to work there in large part because of the empathetic culture she always observed. It's a culture that extends beyond the hospital walls into the community, where she conducts a lot of educational outreach, teaching people about stroke signs and risk factors.
It's an education that happens inside as well, Carney said. "We make sure patients and caregivers are educated in what to do. What are their personal risk factors? Are they able to identify those things? What lifestyle modifications are they willing to do? It's one thing for me to say, 'you should do this, this, and this,' but what are you willing to do for yourself to prevent this from happening again, to make healthier life choices? Your caregiver is involved too, so we also provide them with education and give them those resources."
Many people don't realize their chances of stroke actually go up after having one, Hunt added.
"So much of what we do is education," he said. "People think, 'I've had a stroke; I'll never have another one. What worse can happen to me?' They don't realize you can have a second one — or a third one or fourth one. Education around preventing a second stroke is huge."
Destination: Home
Hunt cited guidelines recently published by the American Heart Assoc. and American Stroke Assoc., strongly recommending that stroke survivors be treated at an inpatient rehab hospital or similar facility rather than a skilled-nursing facility.
It's a recommendation that affects many people — in fact, nearly 800,000 Americans suffer a stroke each year. Because of advances in the way they are treated in emergency rooms, a higher percentage of stroke sufferers survive, but many still emerge from the initial treatment with moderate to severe physical and cognitive deficits, communication problems, and swallowing disorders.
All that makes the stroke program at Encompass — with its multiple layers of care, from inpatient to the home setting — so critical, Carney said.
"We do a lot of education, starting with initial orientation at our hospital, department-specific education, as well as the opportunity to go to conferences and continuing education and support all members of the interdisciplinary team in terms of providing the highest-quality care, the best evidence-based practices, and the most up-to-date practices."
As she noted earlier, it's an education that fully involves the family and other caregivers.
"They're going to need support," she told HCN. "It could be learning new techniques to bathe or dress themselves. It could be how to move or helping them with their medications so they can do that safely. We encourage families to come in and be part of the patient's care, to practice all that and develop comfort with being able to handle those things in preparation to be able to do it at home.
"We'll invite them into the therapy gym for training," she went on. "They'll work with the nursing team, maybe, to do a feeding. We will go out and do a home evaluation and determine what might be an issue and make sure they have the necessary equipment and supports."
The hospital also offers support groups, like a stroke/brain-injury group that meets the first Thursday of each month at 2 p.m. in the cafeteria conference room. Those meetings are open to the public.
"A stroke isn't just something that has happened to the patient; it's happened to the whole family," Hunt said. "My life is pretty good right now, but if I have a stroke in a couple hours, it affects my wife, my kids, everybody for a long time."
There's also a psychological component to rehab, especially as it sinks in that some of the physical changes might be more or less permanent, he added.
"We teach people not only to increase their function, but to compensate for the things that may not get better. A leg might get stronger, but not to where it was before. So they're not just improving their function, but they're compensating for something they had and lost and don't have as much anymore."
The idea, he went on, is simply to give stroke survivors the best life possible.
"As a team, we meet regularly to talk about three things: the patient's current function, any barriers to a safe discharge, and the interventions to get around those barriers. Our goal here is to bring in anyone who's had a stroke from point A to point B and get them home safely. That's the goal for all patients — to get them home."