Bachelor of Science in Nursing; American International College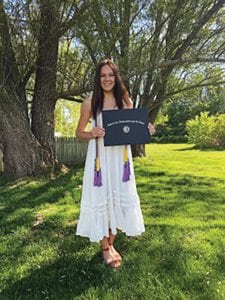 What three words best describe you? Compassionate, resilient, outgoing.
Is there a particular nursing specialty that interests you, and why? I will be working on an adult medical surgical telemetry floor. Medical surgical nursing interests me simply because it is so versatile. There is always a plethora of diagnoses that require meeting diverse patient needs. I feel medical surgical nursing is a conducive environment to learn, grow, and evolve as a registered nurse. I am excited I get to start my career in medical surgical nursing, as I believe this will expand and enhance my skillset immensely.
What are you most passionate about when it comes to your chosen field? I believe nurses are integral in transforming healthcare, and I feel inspired more than ever before to be a part of this profession. The element I love the most about the field of nursing is being there for patients in the midst of their most vulnerable moments. I find it incredible that I get to combine the aspects of art and science within this profession. Each day, each shift, each moment will demand a different version of myself.
What was your educational experience like at AIC? It was phenomenal. Our program was rigorous, supportive, and hands-on. It was exactly what I needed. I am extremely grateful for the nursing faculty at AIC, as all the professors have made astronomical efforts to ensure our success over the years. They have made themselves available 24/7. They were always there, whether I had questions, concerns, or just needed to talk. Through lectures, lab simulations, and clinical experiences, AIC has given me all of the tools to become a well-prepared graduate nurse. As nursing is a profession that depends on human contact and interaction, the end to senior year became very challenging as distance learning was put in place due to COVID-19; however, the nursing faculty worked tirelessly to provide us with the correct tools and resources to learn remotely.
What do you like to do in your spare time? In my spare time, I enjoy spending time with my friends and family. The beach is also my absolute favorite place to be. For a hobby, when there is a special occasion or something to celebrate, I love making homemade cards for my friends and family. I love getting creative, while creating something that is so personal.