Send your photos to: Picture This; c/o Joseph Bednar, The Healthcare News, 1441 Main Street, Springfield, MA 01103; or e-mail bednar@healthcarenews.com
Please include detailed caption material and your name and contact information.
---
Marching Against Hunger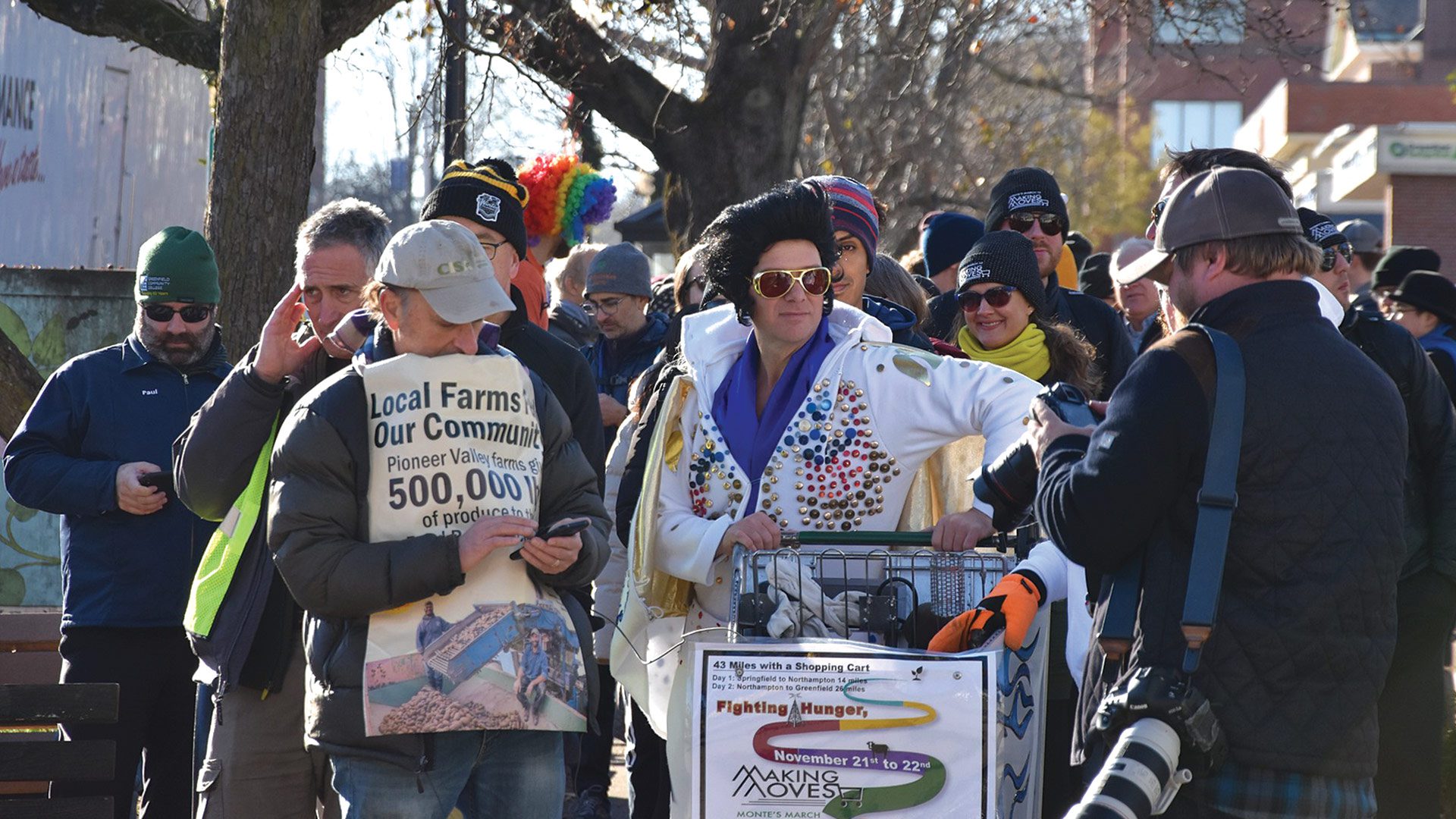 For the 13th consecutive year, Monte Belmonte, radio personality at WRSI 93.9 the River, led a 43-mile, two-day march on Nov. 21-22 to benefit the mission of the Food Bank of Western Massachusetts to feed neighbors in need. This year's event has raised close to $500,000 and will help provide nearly 2 million meals across Western Mass. During the annual march, Belmonte, joined by supporters and civic leaders, pushes an empty shopping cart, as a metaphor for hunger, from Springfield to Greenfield while broadcasting live on WRSI to raise awareness about food insecurity, while inviting listeners to donate funds to provide emergency food assistance across Western Mass.
---
Fore the Kids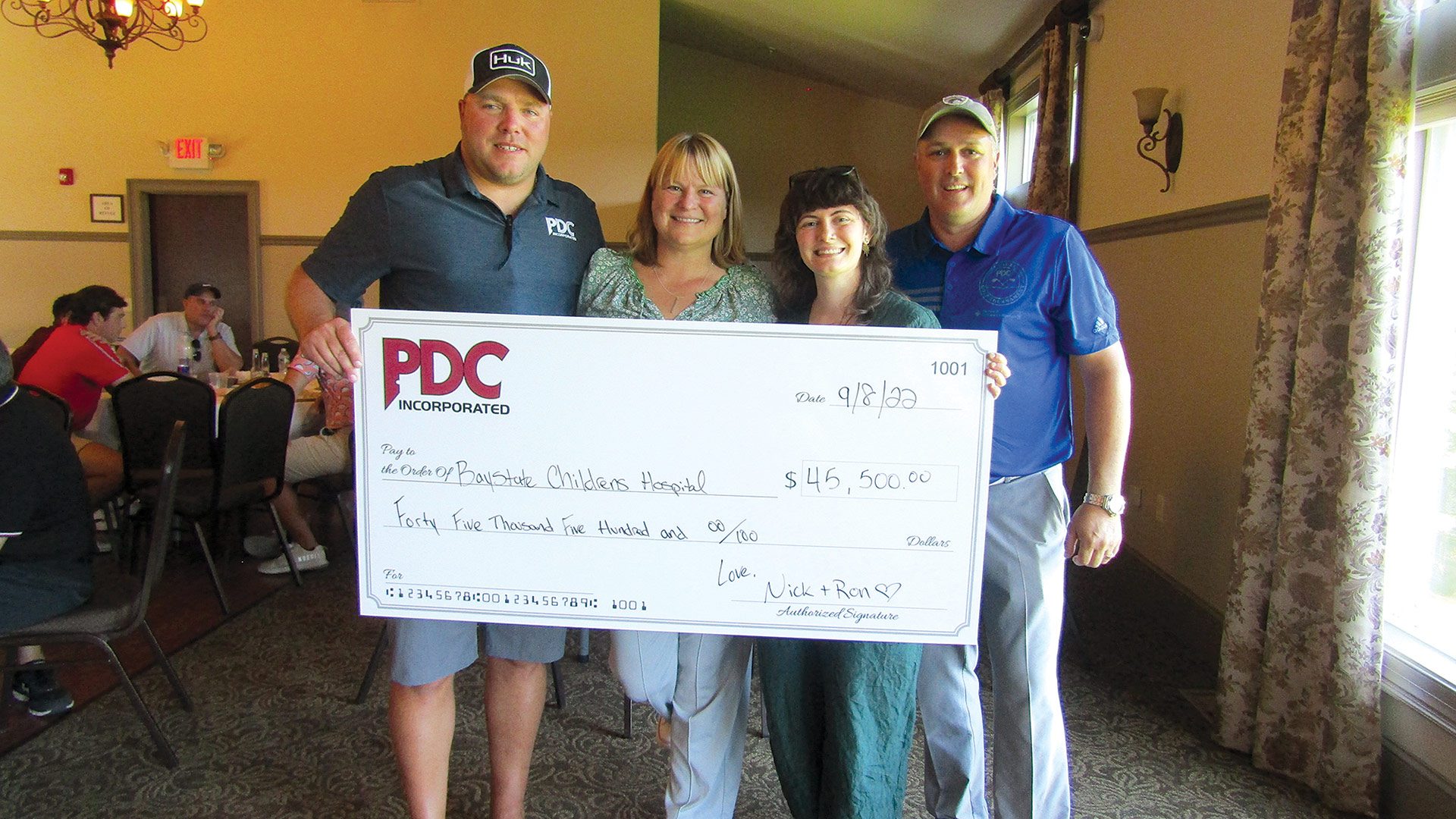 Professional Drywall Construction Inc. (PDC), a commercial drywall company headquartered in Springfield, raised $45,500 for Baystate Children's Hospital at its sixth annual PDC Charity Golf Tournament at Southampton Country Club. The tournament featured an 18-hole round of golf, lunch, and a dinner reception. A total of 108 golfers participated in the tournament, and nearly 40 sponsors helped PDC surpass its fundraising goals. Pictured: PDC Owners Nick Shaink and Ron Perry with representatives from Baystate Children's Hospital. (Photo by Market Mentors)
---
Serving Up a Milestone
As part of its 50th-anniversary celebration, Greater Springfield Senior Services (GSSSI) recently hosted a luncheon for its staff, providers, local politicians, and community partners at the Carriage House at the Barney Estate in Springfield. The event featured speeches by Springfield Mayor Dominic Sarno and GSSSI Executive Director Jill Keough, and a letter of recognition from U.S. Rep. Richard Neal. Pictured, from left: state Reps. Jacob Oliviera and Carlos Gonzalez, and GSSSI's Nilsa Cintron, Keough, and Magy Ramos.
---
Funding the Fun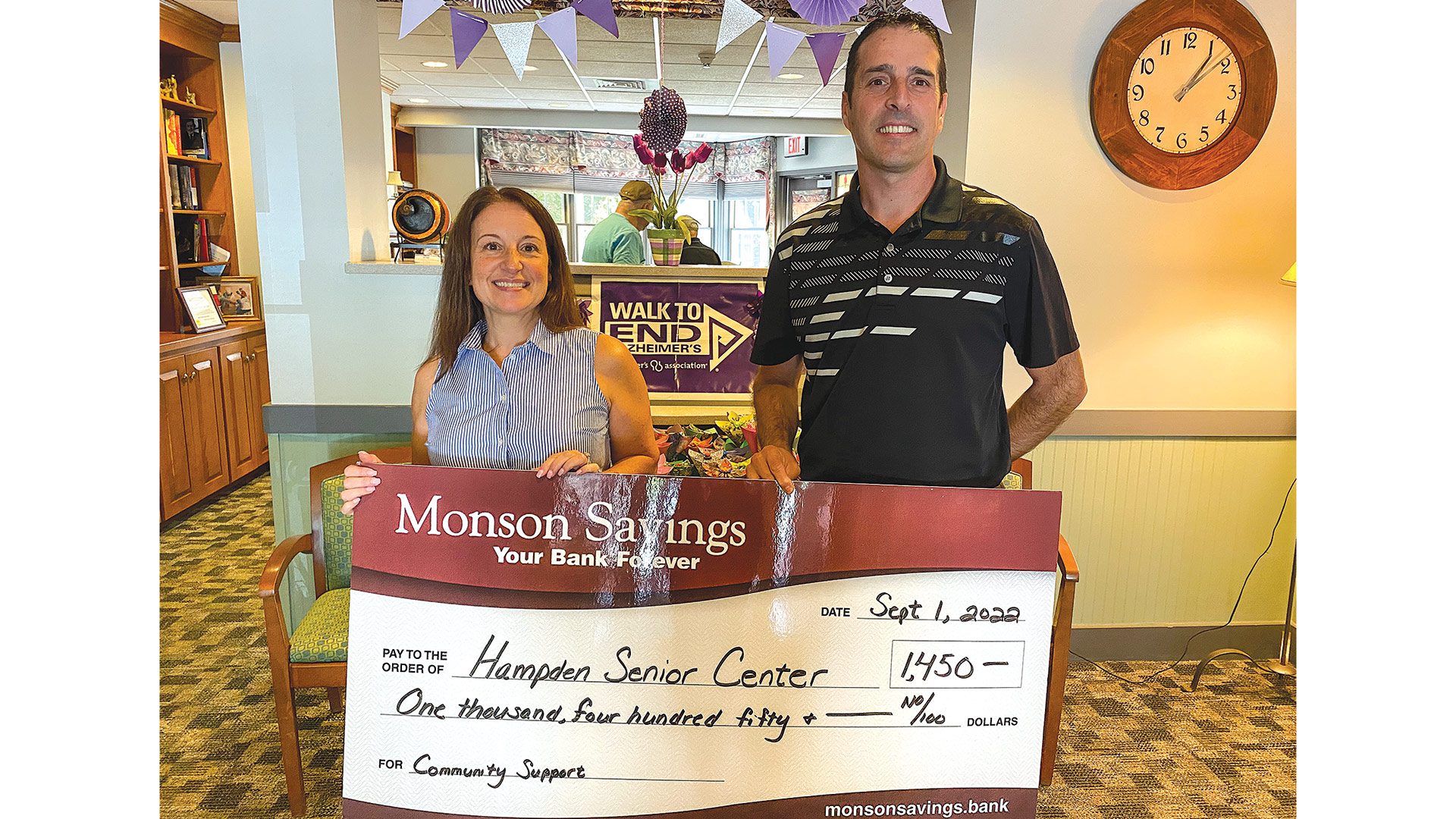 Monson Savings Bank recently donated $1,450 to the Hampden Senior Center in support of the facility's many fun events it hosts throughout the year. The donation will help offset the cost of the center's Alzheimer's Association Dinner, Grandparents Day, Halloween Luncheon, Thanksgiving Grab and Go Lunch, and Holiday Luncheon. Pictured: Adriano dos Santos (right), Monson Savings Bank's Hampden branch manager, delivers the $1,450 donation to Wendy Cowles, outreach coordinator for the Hampden Senior Center.
---
Load Up the Van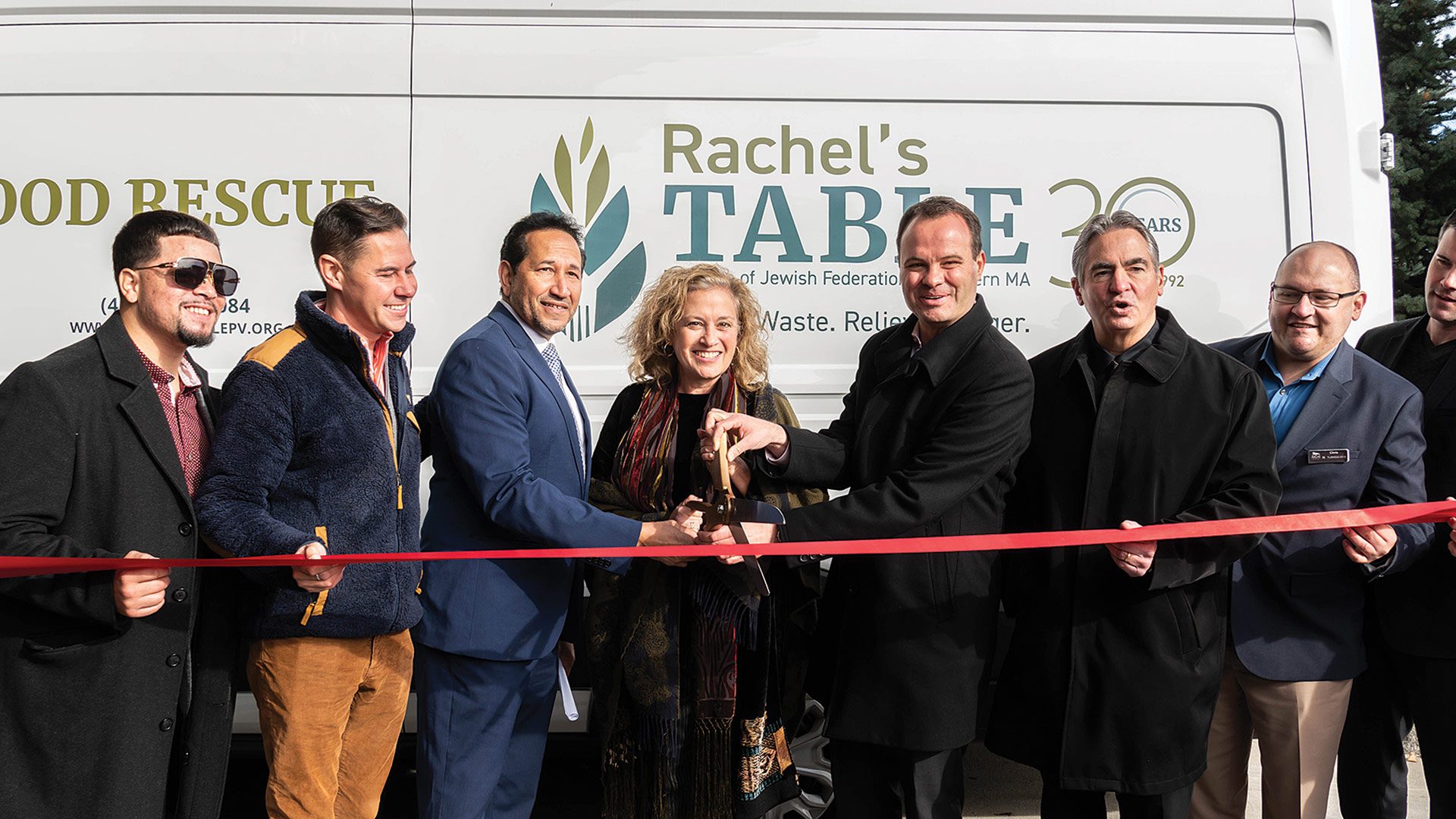 On Nov. 15, Rachel's Table unveiled its first refrigerated van, made possible by a $75,000 in American Rescue Plan Act funds. Rachel's Table also announced a new food-rescue partnership with MGM Springfield and that it would receive an additional $75,000 from the FY23 state budget to support the program's food-rescue work. Pictured, from left: Armando Oliveras from state Sen. Adam Gomez's office, state Reps. Jacob Oliveira and Carlos Gonzalez, Rachel's Table Director Jodi Falk, Lesser, Springfield Mayor Domenic Sarno, MGM Springfield Executive Director of Hospitality Chris Smigel, and MGM Springfield President Chris Kelley.
---
Teaming Up for Child Safety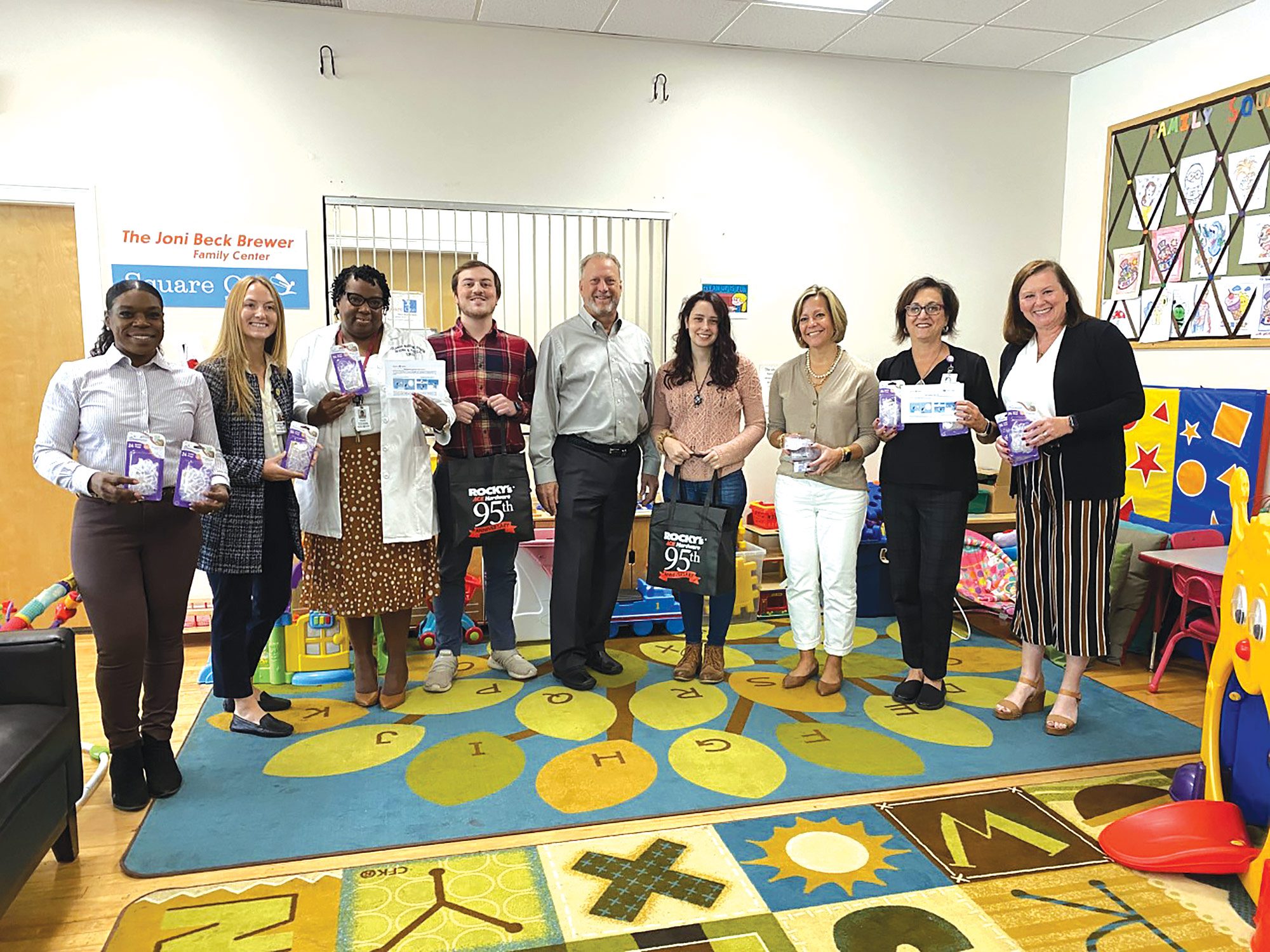 Baystate Health and Rocky's Ace Hardware recently joined forces with Square One on the issue of electrical-outlet safety. UMass Chan Medical School – Baystate student Kendall Burdick initiated the idea to provide electrical-outlet safety plugs to all Square One households, and Rocky's stepped in to donate thousands of outlet plugs to support the safety initiative. Pictured, from left: Melissa Blissett of Square One; Burdick; Yolanda Marrow of Baystate Health; Jonathan Cosenzi, Rocco Falcone, and Caitlin Petrone of Rocky's Ace Hardware; Kristine Allard of Square One; Ida Konderwicz of Baystate Health; and Dawn DiStefano of Square One.